Last month, I autored an article entitled "High Dividends + Low Volatility = Alpha", which demonstrated a tilt from the S&P 500 (NYSEARCA:SPY) towards a certain subset of high dividend-paying stocks. That strategy - the S&P 500 Low Volatility High Dividend Index - takes the 75 highest dividend-yielding stocks in the S&P 500, selecting the 50 stocks with the lowest realized volatility over the trailing year.
Since the advent of the index in 1990, the S&P High Dividend Low Volatility Index has strongly outperformed the S&P 500 with lower return volatility. That's the best of both worlds for investors - higher returns with lower risk. This index has had an average return of 12.45%, besting the S&P 500 by 287 bps per year. This absolute outperformance was achieved with 82% of the return volatility of the S&P 500 as measured by the standard deviation of annual returns. This is a strategy that has delivered structural alpha over a time period approaching three decades as graphed below: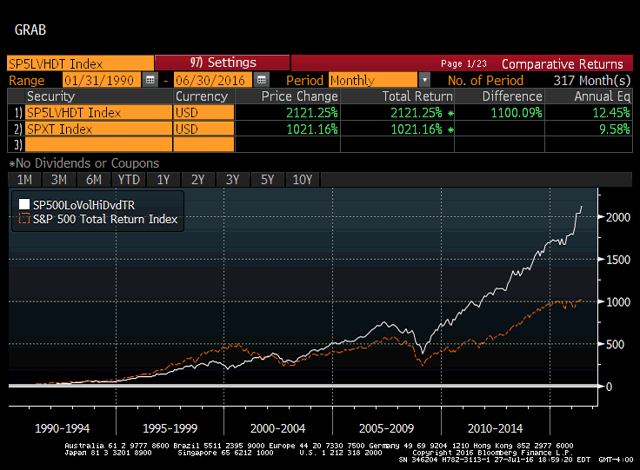 Source: Standard and Poor's; Bloomberg
In an October 2015 piece from Standard & Poor's entitled "The Beauty of Simplicity: The S&P 500 Low Volatility High Dividend Index", the rating agency and index provider demonstrated that just two simple screens - dividend yield and low volatility - can produce above-market returns with lower variability of returns. To demonstrate the value creation of combining these two screens, S&P created three high dividend portfolios and compared them to the historical performance of the S&P 500.
The highest-yielding 75 stocks (left column on graph above) produced a 12.0% annual return with annualized volatility of 15.3%. This return bested the S&P 500 annualized return by 2.6%, but did so with about 6% more average volatility. The higher average returns of this strategy compensated investors for this marginally higher risk, producing a market-beating risk-adjusted return.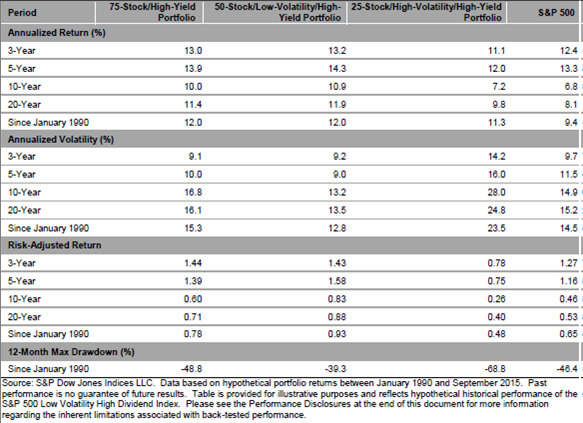 The point of this article is to describe the stocks in the third column. What are the 25 stocks that fall in this bucket that has produced lower total returns than the other high dividend yield portfolios with more than 60% higher risk than the market?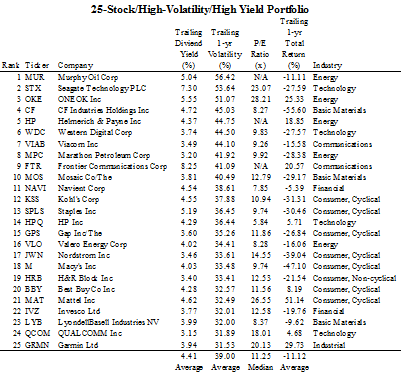 This list of twenty-five companies has had trailing volatility roughly 2.5x that of the market. Investors have been rewarded with a dividend yield roughly twice that of the market, but the arithmetic average return of these constituents has been -11%. Five of the twenty-five constituents are in the Energy sector: Murphy Oil (NYSE:MUR), OneOK (NYSE:OKE), Helmerich & Payne (NYSE:HP), Marathon Petroleum (NYSE:MPC), and Valero (NYSE:VLO). Six of the twenty-five constituents are in the beleaguered brick-and-mortar retail business: Kohl's (NYSE:KSS), Staples (NASDAQ:SPLS), Gap (NYSE:GPS), Nordstrom (NYSE:JWN), Macy's (NYSE:M), and Best Buy (NYSE:BBY).
The fifty companies that would be in the high dividend, low volatility cohort are listed below. These companies, like the ETF that replicates this strategy - PoewrShares S&P 500 High Dividend Low Volatility Portfolio (NYSEARCA:SPHD) - have produced very strong returns over the last year.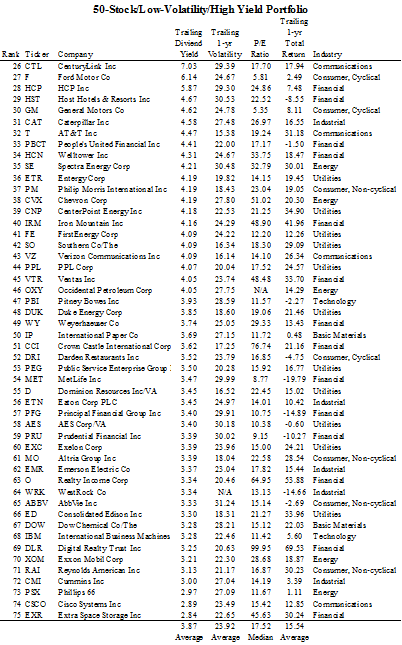 The average constituent of this subportfolio has experienced much lower volatility, but still commands a dividend yield that is meaningfully higher than the market. Utilities and REITs, sectors that have benefited from the move lower in interest rates, are prominently featured on the list.
The total return differential of 26% between the two sub-portfolios is large, but will the lower volatility cohort outperform prospectively? There is historical evidence to suggest that it will. The more salient point might be that the higher volatility, high dividend cohort may be at risk for dividend cuts that could hurt forward returns. There are two ways to get a high dividend yield - increasing the dividend or seeing your share value fall - and this screening methodology may lessen the likelihood that you end up owning stocks that are forced to cut their payout. For dividend-focused Seeking Alpha readers this list may provide a good screen.
As I demonstrated in "The Graph All Dividend Investors Should See", I illustrated that stocks that pay the highest levels of dividends do not outperform, especially when adjusted for their higher volatility. Historically stocks with stable growth in distributions have produced higher returns with less risk. Hopefully, these tables demonstrate the difference between high and low risk dividend stocks for Seeking Alpha readers.
Disclaimer: My articles may contain statements and projections that are forward-looking in nature, and therefore inherently subject to numerous risks, uncertainties and assumptions. While my articles focus on generating long-term risk-adjusted returns, investment decisions necessarily involve the risk of loss of principal. Individual investor circumstances vary significantly, and information gleaned from my articles should be applied to your own unique investment situation, objectives, risk tolerance, and investment horizon.
Disclosure: I am/we are long SPHD, SPY.
I wrote this article myself, and it expresses my own opinions. I am not receiving compensation for it (other than from Seeking Alpha). I have no business relationship with any company whose stock is mentioned in this article.