By Parke Shall
Ford (NYSE:F) earnings were certainly not what we expected this morning. There were a myriad of surprises in numerous metrics and at first glance, the company's guidance is making it look as though the second half of the year isn't much to look forward to either.
Those that have been reading us know that the company's business holding up domestically is a large part of the backbone of our thesis. The company's admission this morning that North American sales missed last quarter, but also that incentive selling was basically pushed as hard as it could be pushed and these numbers still missed was an obvious disappointment.
The stock is reflecting this disappointment as it is down over 7% this morning already.
We had said in our last few articles that hedging a long position in Ford by shorting Credit Acceptance (NASDAQ:CACC) may be a great way to go long and trap Ford's yield but also have short exposure on if the auto market bubble starts to collapse.
We expect that CACC shares will sell off this morning on Ford's commentary.
Statements from Ford management this morning seem to make it look as though the bubble in North America may be pushed as far as it can go. We continue to think that shorting CACC is a prudent strategy if one is going to keep their Ford long in place.
While revenue impressed and it was nice to see the top line growing as a result of international growth, margin collapsed and the company's net income suffered.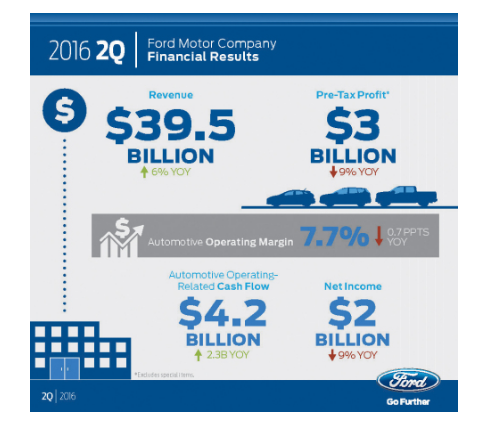 With better than expected numbers in Europe, we were hoping that net income would at least come in-line with expectations instead of missing them widely. We had largely projected that rising margin and better EBIT in International venues would be the driver for new EPS growth for Ford. In today's case, it looks at though it is simple what's holding Ford's EPS together as North America is withering away.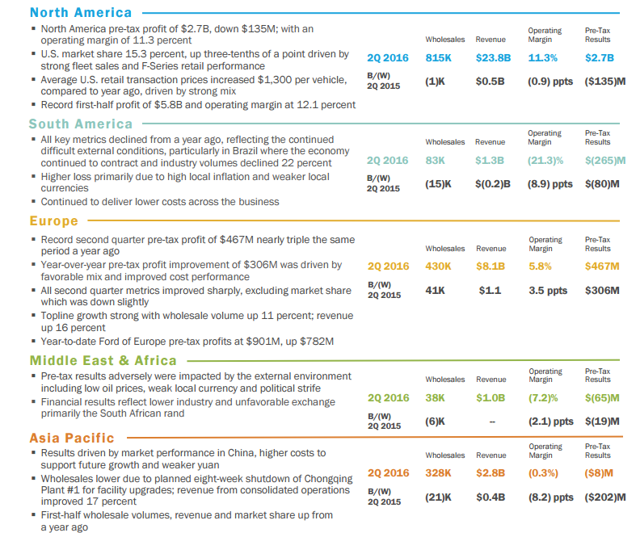 Here were some other takeaways from this morning's report, summed up by Seeking Alpha,
Ford (NYSE:F) brought in over $2B in profit during Q2, but EPS fell 13% from the level of a year ago and missed the consensus estimate of analysts.
Revenue by region: North America $23.8B, South America $1.3B, Europe $8.1B, Middle East/Africa $1.0B, Asia Pacific $2.8B.
Automobile revenue increased 5.1% Y/Y to $36.9B.
Operating margin by region: North America -90 bps to 11.3%, South America -890 bps to -21.3%, Europe +350 bps to 5.8%, Middle East/Africa -210 bps to -7.2%, Asia Pacific -820 bps to -0.3%.
Ford CFO Bob Shanks says demand in the U.S. will be lower than it was a year ago. Full-year guidance is at risk with the impact of Brexit and higher incentives also major factors.
It is also disappointing to see margin fade in numerous other locations aside from the U.S. The company building infrastructure in places like Asia and Africa is supposed to help give them a leg up. Focusing on the causes of these margin falls will be part of our follow up work that we likely publish tomorrow.
What is most disappointing to us is that General Motors was able to deliver a fantastic quarter and Ford was not. Generally, these two automakers trade in line and General Motors' report gave us optimism for Ford's report. This optimism obviously was not warranted, however, we don't think the report was absolutely terrible.
The top line growth is a nice indicator for the future that we may be able to see more sales drop to the bottom line.
One of the big parts of our thesis was that Ford was going to be able to turn international markets into profit centers that can capitalize on for some consistency wherever there is an economic upswing. What we saw in Europe was some of the better results from the company in its history. Europe is turning into a profit center due to strategic investments that the company has made an infrastructure there.
That is good news.
Ford is working on the same type of progress in geographies like China and Mexico. Those investments clearly have not paid off just yet.
Ford kept its dividend at $0.15, meaning that the yield is still going to be impressive if the stock pulls back even further. We are going to continue to hold our shares long, and may put on CACC on as a short to hedge against further signs of an auto market bubble collapsing.
Despite the bad news, Ford's profit was still decent (annualized at around $2) and Ford stock remains at between 6X and 8X earnings depending on where it winds up today. This, plus the yield which will top 5% if the stock moves lower, should continue to give Ford a foundation.
We plan to be on the conference call this morning and review Ford's results further later in the day today. We will likely update this article over the next day or two with our revised long term outlook on the company.
Disclosure: I am/we are long F.
I wrote this article myself, and it expresses my own opinions. I am not receiving compensation for it (other than from Seeking Alpha). I have no business relationship with any company whose stock is mentioned in this article.