Pernod Ricard SA (OTCPK:PDRDF) (OTCPK:PDRDY) came to my attention when I was looking to find the owner of Jameson Whiskey. Everyone I know seems to love the stuff, despite my subtle attempts at pushing them towards whiskey brands owned by either Brown Forman (NYSE:BF.A) (NYSE:BF.B) or Diageo (NYSE:DEO). I was pleased with what I found. The French company not only owns Jameson, but also notable brands such as Absolut vodka, Malibu rum, and Kahlua. The next step in the research process was determining how well Pernod Ricard stacked up to the liquor companies I already owned.
The liquor producer trio - one French, One British, and one American
Despite my initial enthusiasm for Pernod Ricard because of its recognizable brands, my excitement quickly waned. The metric I chose to compare the three previously mentioned liquor producers is return on equity. This is where I realized that premium brands don't always equal premium franchises.
Pernod Ricard's return on equity for fiscal 2015 was a lowly 7% and its five year average was only a little higher at roughly 7.88% - hardly exciting when looking at Diageo's ROE of a little under 33% and five year average ROE of roughly 36%. Jack Daniels owner Brown Forman's return on equity hit 34.75% for its fiscal 2015, with the five year average (excluding fiscal 2016 to keep comparisons constant) is about 31.30%.
Looking at these wide discrepancies, two things stand out - financial leverage (which magnifies return on equity) and the asset turnover ratio, which boosts ROE the better it is. Looking at leverage first, Pernod Ricard's leverage sits at 2.32 times assets to earnings. Diageo uses the most, with a leverage ratio of 3.32, but Brown Forman's leverage was only 2.2 times for fiscal 2015. Even if we adjusted PDRDF's ROE with Diageo's higher leverage ratio, it would still be less than 10%.
The biggest anchors - Asset turnover and margins
Pernod Ricard's asset turnover of 0.29 times revenues to assets is weak compared to Diageo's average asset turnover ratio of 0.44. Brown Forman's ratio of 0.74 times is almost triple that of Pernod's. This lack of efficiency in regards to its assets is a major anchor dragging down its ROE. Its balance sheet also holds the most goodwill as a % of assets, which might explain its weak asset turnover a little more, as Pernod has a history of paying dearly for some of its past purchases.
But perhaps the biggest albatross around Pernod's neck when looking at ROE is its weaker margins. At the gross level, this might not seem concerning (PDRDF's gross margins above 60% aren't as comparable to BF's superior margins, but they're higher than Diageo's), but when we get to operating, pre-tax, and net margins - there's a considerable difference.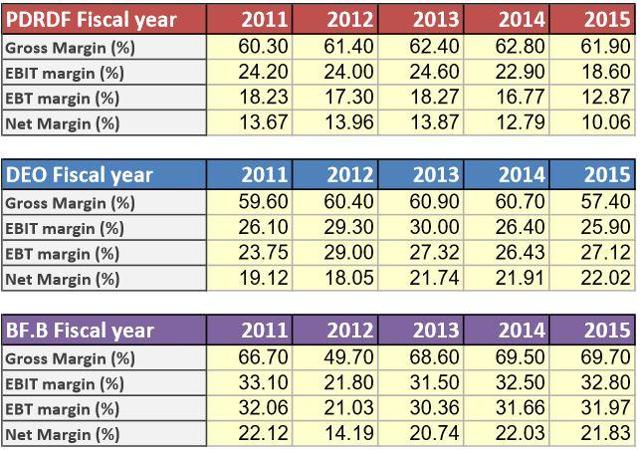 Created by Joseph Harry with data from Morningstar
This is another fault for Pernod Ricard, which when taken into context with its weaker asset turnover, provides some more detailed information as to why the firm's profitability ratios are so much weaker than peers. Not only do crippling margins weaken ROE, but it also means the company needs to grow faster to achieve the same level of earnings as its higher-margined peers.
Conclusion: Focus on super-premium liquor
I think one of the major drags on margins is probably attributable to Pernod Ricard's wine business. Diageo already decided that shedding its wine business was probably a good idea, and Brown Forman's portfolio is even more concentrated - focusing primarily on whiskey and tequila.
The French spirits firm recently shed one of its fortified Australian wine producers, but still remains one of the largest global producers of wine. Perhaps it could boost margins by selling off even more of its wine business and taking a play out of Diageo's playbook by focusing on super-premium brands?
Looking at Australian wine producer (and one of the only, if only, pure-play wine producers in the developed markets) Treasury Wine Estates (OTCPK:TSRYY) for guidance, its gross margins are rarely above the low 30% range. That's half the higher-margins of the larger liquor and beer producers, but perhaps it's a matter of scale. Treasury is only around $5 Billion in size.
Looking at the company's Wine volumes in relation to its top 14 brands, its "priority premium wines" accounted for almost 19% of cases sold in fiscal 2015. Priority premium wines sold about as much as Absolut did by itself, in fact. This highlights another aspect that could be improved - expanding further into whiskey instead of vodka, as consumer tastes continue to shift. To put things in perspective, 11.2 million cases of Absolut were sold in 2015, while only 5.1 million of Jameson were moved.
Pernod Ricard is obviously the proud owner of some very solid, premium whiskey brands - its Chivas scotch brand recently beat out Diageo's Johnnie Walker in India for instance. It's also becoming deeply entrenched in faster growing emerging markets. I think ditching wine to focus on more premium and ultra-premium liquor brands would be a net positive.
I wanted to like (and own) Pernod Ricard, but unfortunately I think Brown Forman is the "best of the best". Diageo is second, with a currency-related advantage, as it operates in cheap Pounds while receiving most of its sales outside of the UK. I'd buy BF.B and DEO any day over shares of PDRDF, which is a shame because I think Pernod Ricard has some enviable brands that could achieve so much more. It's also growing faster than its closest rival Diageo - but margins matter.
If you enjoyed this article and would like to receive further updates and articles in the future, please feel free to hit the "Follow" button at the top of the page next to the author's name.
Disclosure: I am/we are long BF.B, DEO.
I wrote this article myself, and it expresses my own opinions. I am not receiving compensation for it (other than from Seeking Alpha). I have no business relationship with any company whose stock is mentioned in this article.
Additional disclosure: Articles I write for Seeking Alpha represent my own personal opinion and should not be taken as professional investment advice. I am not a registered financial adviser. Due diligence and/or consultation with your investment adviser should be undertaken before making any financial decisions, as these decisions are an individual's personal responsibility.
Editor's Note: This article discusses one or more securities that do not trade on a major U.S. exchange. Please be aware of the risks associated with these stocks.