Since my October 2015 article, Arctic Cat (NASDAQ:ACAT) has not seen any dramatic change in its fortunes. Sales are flat and profits are down. Strife within the market has seen lawsuits between competitors who are viciously fighting to eek out every percentage point of market share possible.
Arctic Cat holds a number of powerful patents in the recreational vehicle space. This became clear on June 1st of 2016 when they were awarded $46.7 million USD against Bombardier Recreational Products Inc for Bombardier's infringement by their Sea-Doo personal watercraft products. While Arctic Cat exited the personal watercraft business in 1999, much of their technology and many components of their snowmobiles, ATV's, and side-by-sides share similarities with technology today. The case focused on "steerable thrust" whereby when the engine was turned off riders would still have a reasonable degree of control over the vehicle, with the potential to prevent a substantial number of injuries.
Profits dropped by $29 million last year, resulting in an operating loss of $16 million. Cash and equivalents were depleted from $40 million to $17 million. The company points to "a softening powersports market" in 2016 as the reason behind its decreased profits and foresees such conditions continuing to play out.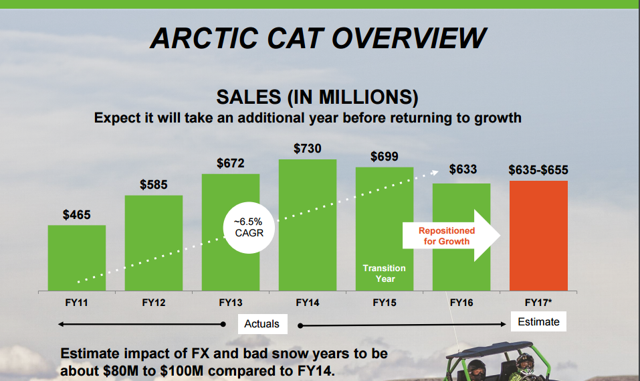 Some forex headwinds are said to have affected 2016's profits given that 1/3 of the net sales were made using foreign currencies. The softening of the Canadian dollar is estimated to have affected pre-tax earnings to the tune of $50 million USD. Currency hedging strategies are being aggressively employed to ensure that further potential losses are minimized. About 70% of projected Canadian revenue for 2017 will be covered by forex contracts.
$1 billion in sales by the fiscal year of 2021 is the management's long term vision. This represents a 58% growth from 2016 numbers.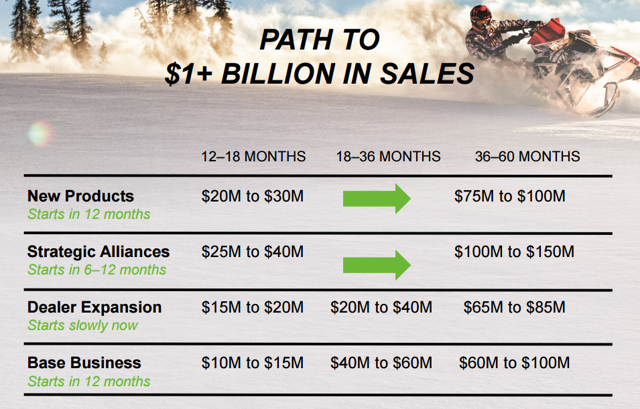 The unpredictable nature of weather patterns - executives contend - has lead to decreased revenues for 2016. It's no surprise that as snowfall rises in a region, so too do snowmobile sales. Future plans aim to limit this weather exposure by increasing Arctic Cat's market share in the ATV and land-based vehicle markets so that, ultimately, they account for the majority of sales. The company estimates that parts, garments and accessories (PG&A) and snow-based vehicles will combine to account for less than land-based products in terms of total revenue.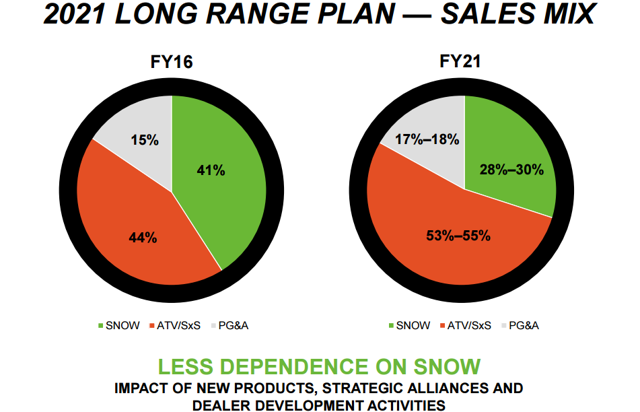 Arctic Cat's ambitious long term vision is challenged by stalling revenue growth projected for the year ahead. What we've seen of late, however, is that even years of revenue growth doesn't necessarily translate into profits. Recent underwhelming years have been cause for pause, but if management's vision comes to fruition then these lean years will make way for seasons of fortune. This uncertainty is presently priced into the stock, undergoing a steap decline since a high in the 50's 2 1/2 years ago.
Disclosure: I/we have no positions in any stocks mentioned, and no plans to initiate any positions within the next 72 hours.
I wrote this article myself, and it expresses my own opinions. I am not receiving compensation for it (other than from Seeking Alpha). I have no business relationship with any company whose stock is mentioned in this article.