Alimera (NASDAQ:ALIM) said today that Q2 revenues should be between $9.3 million to $9.5 million, which is significantly ahead of the $7.25 million consensus. The significant sequential improvement is something I said should happen in my last article, but I did not expect such a strong showing and am very pleased with Iluvien's progress in the second quarter. Alimera was running low on cash and the low market cap and a capital raise at the current price would be really unfavorable to its shareholders.
The company was also in breach of its debt covenants and the market probably did not believe that the issue would be resolved favorably before the Q2 earnings report. The permanent J-code is having a very positive effect on demand this year and I think that the company's goal of reaching cash flow break-even by the end of 2016 or early 2017 is now realistic and that it should be achieved without significant dilution (or with no dilution at all).
Q2 pre-announcement drives the stock significantly higher
There was no end in sight to Alimera's decline until today. The stock steadily declined as if the company was going bankrupt and as if there was no residual shareholder value. The company's market cap before today's jump was just around $50 million, which is very low considering Iluvien's potential. The concerns I mentioned in my latest article on Alimera were weighing on investor sentiment and the company's share price: The company was running low on cash and was in breach of its debt covenants. The market also did not believe management's words that the company should reach cash flow break-even by the end of 2016 or in early 2017.
And today, Alimera pre-announced Q2 revenues and said that the debt agreement with Hercules was amended. The company expects Q2 revenues between $9.3 million and $9.5 million, representing a 63% Y/Y increase and a 62% increase over Q1 at mid-point. U.S. revenues are expected to be between $7 million and $7.2 million, representing an 87% Y/Y and a 73% sequential increase at mid-point. It is also encouraging to see that revenues outside of the U.S. are growing (sequentially) again.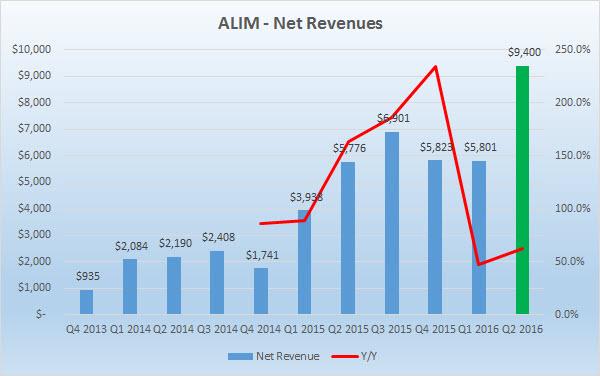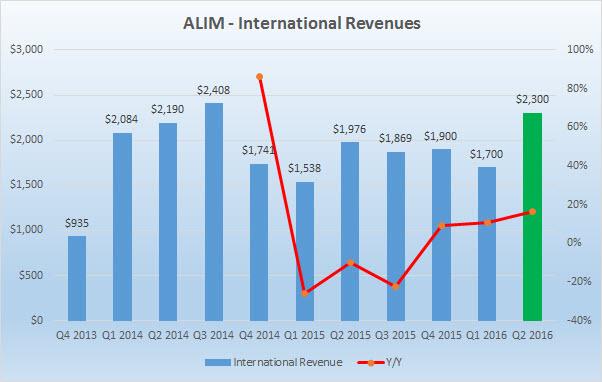 Source: Alimera earnings reports
I expected a solid sequential increase in revenues, but thought it would be somewhere around the Street consensus or slightly higher and was pleasantly surprised to see that revenues were more than $2 million (or almost 30%) above the analyst consensus. But this is actually not a major surprise considering the significant jump in benefit investigations in Q1 due to the company receiving a permanent J-code in early January.
Based on the growth in benefit investigations in Q1 and solid execution in Q2, I think that 2H 2016 revenue estimates should trend higher. I now expect Q3 and Q4 revenues at $11-12 million and $13-15 million respectively. If Alimera delivers in line with my expectations, it should be cash flow positive near the end of 2016.
And finally, Alimera's latest 8-K states that the company and Hercules have entered into various amendments to the previous loan agreement:
A waiver, executed by the two parties, cures the default of the liquidity threshold and modifies the liquidity covenant of at least $20 million in liquidity consisting of account receivables and cash in the United States. Of those $20 million, at least $12.5 million must be held in cash in bank accounts.
Up to $2 million in unrestricted cash held by Alimera outside of the U.S. and U.K. could be added to the $12.5 million requirement.
Alimera's cash and equivalents at the end of Q1 were at $23.9 million while account receivables (net) were around $9 million. My cash burn estimate for Q2 is $4-5 million and the burn in 2H 2016 should be up to $5 million. Assuming account receivables stay around $9-10 million and assuming the company burns around $10 million before getting to cash flow break-even, the combined cash and account receivables balance at year-end 2016 should be around $23-24 million. This means that Alimera will not need additional funding. However, the company has a $34 million ATM in place and I would not exclude a minor equity raise to keep the cash balance near or above $20 million.
Upside potential is significant even based on modest peak revenue expectations
In my last article on Alimera, I said that "considering Iluvien's growth potential and differentiation, I think that the company is worth at least $250 million or just 1x Iluvien's peak sales at 5% penetration in the U.S. and EU, which translates into a price target in the $4.50 to $5 range."
Since Iluvien has achieved an annual revenue run rate of close to $30 million in the United States after just two quarters with a permanent J-code, I think that peak sales in the $200 million to $400 million range within 5 years are realistic, and perhaps, even conservative. In the table below, you can see the three valuation scenarios. The model assumes that all warrants, preferred shares and stock options are exercised, which might not be the case. Alimera's weighted average share count at the end of Q1 was 45 million.
| | | | |
| --- | --- | --- | --- |
| | Low estimate | Mid range | High estimate |
| Iluvien peak sales | 200 | 300 | 400 |
| Net Income | 60 | 97.5 | 140 |
| Multiple | 15 | 15 | 15 |
| Future value | 900 | 1462.5 | 2100 |
| Shares outstanding | 77 | 77 | 77 |
| Future EPS | 0.78 | 1.27 | 1.82 |
| Discount factor | 0.497 | 0.497 | 0.497 |
| Present value | 447.46 | 727.12 | 1044.07 |
| Price target | 5.81 | 9.44 | 13.56 |
Source: author's estimates and calculations
As you can see, the upside potential is significant in all three cases. Analyst PTs are between $5 and $10 with an average of $7.50. I would be quite satisfied if Alimera reached my conservative PT of $5.80.
Conclusion
Alimera is up 60% since the company pre-announced Q2 revenues, but the stock is just slightly above the average price the Long-Term Growth Portfolio paid for its shares. I am reiterating my bullish view on Alimera. If the company executes in line with my 2H 2016 revenue projections, the stock will probably trade significantly higher over the next 6-12 months.
Disclosure: I am/we are long ALIM.
I wrote this article myself, and it expresses my own opinions. I am not receiving compensation for it (other than from Seeking Alpha). I have no business relationship with any company whose stock is mentioned in this article.
Additional disclosure: This article reflects the author's personal opinion and should not be regarded as a buy or sell recommendation or investment advice in any way.
Editor's Note: This article covers one or more stocks trading at less than $1 per share and/or with less than a $100 million market cap. Please be aware of the risks associated with these stocks.