Apple Inc. (NASDAQ:AAPL) shares appreciated by 6.5% to 102.92 in a single day on 7/27/2016 following Apple's release of its earnings for the quarter ending June 2016. Apple reported net earnings of $1.42/share, three cents ahead of consensus estimates of $1.39. In addition, Apple reported revenues of $42.36 billion vs. consensus estimates 0f $42.09 billion. However, when compared to the whispers earnings estimates of $1.43/share, Apple actually missed the whispers earnings estimate by 1 cent.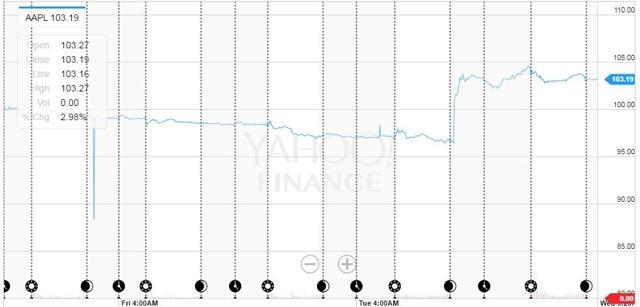 Apple stock 5-day chart - Source: Yahoo Finance
Typically, most technology companies are expected to beat the consensus number; logically, if a company sees that it is going to miss estimates, it provides warnings ahead of its expected earnings release date (although this is not always the case). For such reasons, very often, if a company beats consensus estimates but misses whispers estimates, its stock price drops. On that front, we certainly are not impressed by Apple's earnings number, and we do not believe its stock price gains are sustainable. As for revenues, Apple merely beat revenue estimates by 0.6%; given what it took to generate such beat, as discussed further below, we are also not impressed.
On 7/25/2016, ahead of Apple's earnings, we published the article "Apple shares set for a major move". In such article, we correctly anticipated that Apple shares would move by over 3.2% in the day following earnings release. We did recommend an option strategy of buying October 95 puts and October 100 calls, with a ratio of 2 puts for every call, given our bearish bias. As of the close of 7/27/2016, the calls have appreciated from 3.34 to 5.50, while the puts have depreciated from 2.88 to 1.36.
Despite our bearish bias, due to the magnitude of the move in Apple shares, total premium for the strategy would have resulted in a minimal loss so far as it went from 9.10 (3.34 + (2x2.88)) to 8.22 (5.50 + (2x1.36)). Meanwhile, due to the bearish bias, in case the call was sold at 6.45 earlier in the day when Apple shares were trading above 104, the strategy would be slightly ahead of breakeven by the close (9.17 = 6.45 + (2x1.36)). As we are maintaining our bearish bias, we would favor selling the calls at this stage and maintaining the puts.
1. Lackluster Earnings
We believe that Apple's latest earnings were lackluster. First, as we already stated, actual net earnings missed the whispers number by one cent. We do not believe this is good. As per our July 25 article, Apple shares typically fall when Apple beats earnings by less than 6 cents. During the past 6 years, there was only one instance where Apple shares appreciated on the day following earnings release, whereby they beat earnings by less than 6 cents. That was in July 2013, when they beat earnings estimates by 3 cents (reference the article's link for a detailed table of past earnings surprises).
At such time, the smartphone market was growing by over 39.2% for 2013 over 2012, having surpassed 1 billion units for the first time ever. Meanwhile, the smartphone market is expected to grow by 3.1% in 2016 vs. 2015, while iPhone's sales are expected to drop by 2% for a market share of 15.3% (226.8 million out of a total market of 1.4825 billion). Apple was also anticipating successful release in the upcoming September 2013 month of iPhone 5C and 5S as well iPad Air in November 2013. On the other hand, there is very little excitement about the upcoming iPhone 7, and some analysts believe that consumers may actually pass on the iPhone 7, as they are not enthusiastic about the next iPhone upgrade cycle.
While Apple stock enthusiasts seem to be excited about the Apple's headline beat of reduced earnings (and a miss of whisper estimates), many seem to forget that Apple's net earnings are substantially below (23.2%) last year's $1.85/share comparable quarter, while revenues are also substantially below (14.6%) last year's $49.61 billion comparable quarter.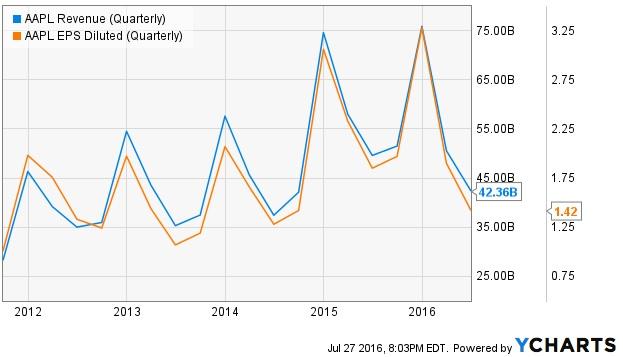 Apple 5-year quarterly EPS and Revenues - Source: Y-Charts
Furthermore, Apple sold 40.4 million iPhones last quarter, vs. 47.5 million in the same quarter last year, a drop of 15%. Meanwhile, Apple's iPhone average selling price has dropped to $595 from $662, while gross profit margins came in at about 38%. Although higher sales of Apple's cheaper iPhone SE ($399) were heralded as an important achievement, and a culprit for the lower average selling price (some analysts had expected average selling price to drop to $637 and believed the consensus was $660), we do not believe such development will bode well for Apple in the intermediate term, as such sales are likely to cannibalize upper-end models. On the other hand, had Apple revenues and net earnings beat estimates by a wider margin than reported due to higher iPhone SE sales, then we would have viewed such development as positive.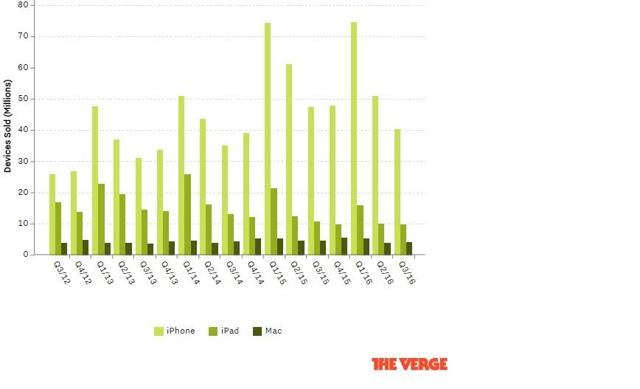 Apple unit sales - Source: The verge
2. Regional developments
Most worrying in Apple's latest earnings report were sales numbers for China. Sales in greater China are down 33% vs. same quarter last year to $8.8 billion. Many years ago, when we were bullish on Apple, we stressed the importance of China's market to Apple in our 2012 article: "Is there Apple without China?". As we concluded then, we believe that China is an important piece of the growth puzzle for Apple, and any missteps there will not bode well for Apple.
In addition to macro economic headwinds in China, it is very possible that lower-priced iPhone SE contributed to such decline. The Chinese market, with a society that is very status-aware, could easily see consumers opt for the cheaper model; those who are seeking status recognition by owning an Apple phone may feel that such status-driven aspiration is equally satisfied with the lower priced model (whereby had such lower priced model not existed, they would have bought the higher-end model). In late 2012, we illustrated such status aspirations in third-world countries in our article: "9 reasons Apple shares will make new highs, again", whereby as example, we provided a photo of desert donkey rider, with a "BMW" logo stuck on the forehead of his donkey...
It is interesting that Apple CEO Tim Cook has singled out Japan, Russia and Turkey for strong Apple sales going forward. Given the most recent turmoil in Turkey, with the failed coup of July 15, 2016, and the ensuing imposed state of emergency, we doubt that consumers are rushing to buy Apple iPhones for $700. Some may buy the lower-end model to have access to FaceTime (which may have been popularized by the fact that Erdogan resorted to his iPhone to get his message across for the masses to protest in the streets), but even such purchases are likely to be limited going forward; the consumer is likely to hunker-down for many quarters to come, if not years... Any success for iPhone sales for last quarter in Turkey is very unlikely to repeat in the quarters to come (with possible exception of a very short lived FaceTime related growth spurt).
Likewise, the Brexit vote took place on June 23, 2016, towards the end of the quarter, and Apple's recent earnings results would not have captured any resulting negative effects on U.K./European consumer consumption (or possibly very few days). In essence, we believe that for the next several months, most international markets are likely to present growth challenges to Apple and other international conglomerates, as a result of a stronger dollar, weak economies, and political turmoil. Such headwinds were also cited in our article of June 30, 2016, "Apple stock: still too risky".
3. Valuations - will services boost Apple?
The bright light of Apple's earnings results was the 19% growth rate in services over same quarter last year, for services such as iTunes, iCloud, App Store, Music and Apple Care. Services grew by $4 billion for the past 12 months year-over-year to $23.1 billion. Tim Cook went as far as predicting that services will likely be of the same scale as a Fortune 100 company sometimes in 2017.
Based on 2015 revenues, the 100th ranked company by revenues in the Fortune 100 was General Dynamic (NYSE:GD), with $30.9 billion in revenues. If Apple services are able to maintain current annual growth rate of 19% for the next 6 quarters, they will reach revenues of $30 billion by end of 2017, still shy of General Dynamic's 2015 revenues; meanwhile, General Dynamic's revenues are expected to hit $32.3 billion for 2017. Furthermore, we doubt Apple services will continue to grow at an average annualized rate of 19% during next 6 quarters. As a matter of a fact, FYQ3 2016 services revenues of $5.976 billion fell by 0.25% from FYQ2 2016 services revenues of $5.991, while FYQ3 2015 services revenues of $5.028 billion rose by 0.64% vs. FYQ2 2015 services of $4,996. Hence, it is possible that we may be at the start of some deceleration in such growth rate.
Undoubtedly, Apple services are a bright spot, but given that such sector is only 14.1% of Apple's revenues, it is unlikely to make up for weakness elsewhere. Meanwhile, Apple international sales make up almost 60% of Apple's revenues, and hence regional challenges and macro headwinds on such front will trump any services growth. Hence, although growth in services will help offset lack of growth elsewhere, it is not enough to boost Apple shares, given our outlook for international headwinds.
Most importantly, although services are a positive factor, we believe that Tim Cook has drawn an over-optimistic picture which may come back to haunt him, as services may not be able to carry Apple's growth if the iPhone growth continues to be on the defensive. Hence, once the hype fades, the 6.5% boost that Apple shares received following the latest earnings release (buoyed by Tim Cook's related comment on services) will likely surrender some ground.
Analysts are expecting Apple to generate $8.28 in net earnings for this year and $8.90 for next year. Such earnings would reflect forward P/E ratios of 12.43 and 11.56 respectively. Such ratios have expanded further from our last article where they stood at 12.0 and 11.1 respectively. Earnings expectations have not changed much and have actually dropped by 1 cent for next year during the past 7 days. They have also dropped by a total of 14 cents in the last 30 days, and a total of 23 cents in the last 60 days.
Meanwhile, Apple revenues are expected to drop by 7.6% for this year, and to grow by 3.5% next year. As we already felt in our last article that Apple valuations were high given current macro factors, we continue to believe so as the latest valuations have move further up, while earning expectations have dropped.
4. Apple Cash
In our article of June 30, 2016, "Apple stock: still too risky", we expressed concern about Apple cash, whereby we stated that the headline numbers are misleading (as they exclude debt), while shareholder equity has not grown much since 2013. In its latest earnings release, Apple's cash & investments stand at 231.5 billion, about $1.5 billion below last quarter's $233 billion.
Furthermore, debt has increased by about $5 billion from $80 billion to about $85 billion. Hence, when we include debt, Apple's adjusted cash position has dropped by $6.5 billion. Likewise, shareholder equity has dropped from $130.5 billion to $126.5 billion. Although Apple's adjusted cash position is still quite sizable, the current contractionary trend is not encouraging; if such trend continues, there will come a point where it would not be sustainable, unless Apple trims back its share buyback and/or dividend, or increases its debt further.
5. iPhone 7
Apple shares typically do well in anticipation of the release of a new iPhone. Although such rule has held mostly true in the past, we do not believe the same will hold true this year for two main reasons. First, as stated earlier in the article, some analysts do not believe the iPhone 7 will be hugely successful, due to limited innovation; customers are likely to await iPhone 8. Below is Know Your Mobile's perception of the differences between iPhone 6S and iPhone 7.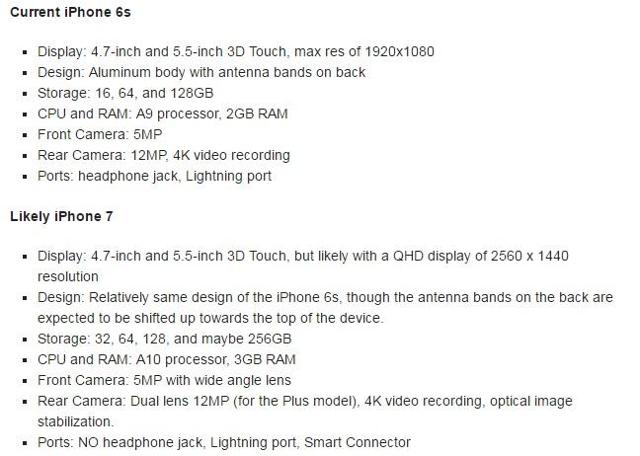 Expected difference between iPhone 6S and iPhone 7 - Source: Know Your Mobile
Second, we believe that many customers who have opted to buy iPhone SE are unlikely to trade up to the iPhone 7, while otherwise, some of iPhone SE's buyers would have bought iPhone 7 if the iPhone SE was not around; such as discussed earlier for "Apple status seekers".
Conclusion
There is a high risk that Apple has set itself up for a perfect storm which could cause shares to reverse back lower. Macro headwinds driven by political turmoil, strong dollar, possibility of higher U.S. interest rates and Brexit will persist for the next several months. Meanwhile, iPhone SE will likely cannibalize higher-end iPhones, at a time when iPhone 7 is likely to receive lackluster reception.
Meanwhile, services, which are likely to perform well, may have been over-hyped, and may not be able to carry the weight on their own; on the other hand, valuations have become more expensive while earnings having been revised lower during the past 60 days. As for the argument that Apple's P/E multiple should be expanding given that current interest rates are low, such interest rate environment is changing as the Fed is expected to continue to raise rates.
As a result, we continue to be bearish on Apple for the next several months, and as we stated at the start, with respect to the option strategy we favored in our last article, we would no longer favor maintaining the October 100 strike calls, but instead, favor selling such calls and maintaining the October 95 puts.
Disclosure: I am/we are short AAPL.
I wrote this article myself, and it expresses my own opinions. I am not receiving compensation for it (other than from Seeking Alpha). I have no business relationship with any company whose stock is mentioned in this article.