Technology is a high-stakes and rapidly shifting industry. Since the "dot-com" bust of the early 21st century investors and consumers alike have witnessed the fall of many once powerful tech companies. As the wheat was separated from the chaff over the years the stronger companies survived but never quite regained their previous luster. There are several companies who survived the melee and are now simmering on the back burner of the tech industry that deserve our consideration despite now being boring and anti-sexy companies.
Cisco
Cisco Systems (NASDAQ:CSCO) has been through a lot over it's relatively short history. The company was founded in 1984 with the intent of connecting computers over networks to share information instantly. During the tech bubble the company hit an all-time high of $82 (split adjusted) in 2000, just two years later shares hit $8.12 for an almost 70% drop. The company has obviously since rebounded and shares can be had for around $30 today.
Cisco sells a wide variety of products related to networking, cyber security, and cloud computing. The rise in data usage and storage has been kind to Cisco with revenue nearly doubling over the last ten years.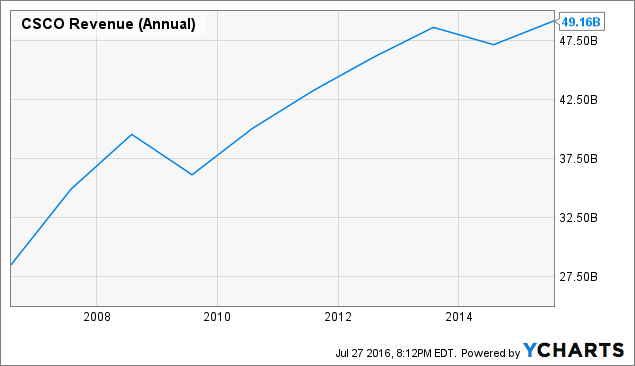 CSCO Revenue (Annual) data by YCharts
The company has been praised by investors for their strong balance sheet and outstanding free cash flow. The balance sheet held $63.5 billion in cash and equivalents and only $28.6 billion in total debt. From 2011 to 2015 the cash balance grew by 6% annualized. Over the same period total debt grew by 8% annualized but with interest rates at near zero and Cisco owning an AA- S&P credit rating that shouldn't be too surprising. Free cash flow has remained strong thanks to gross margins that hover around 60%.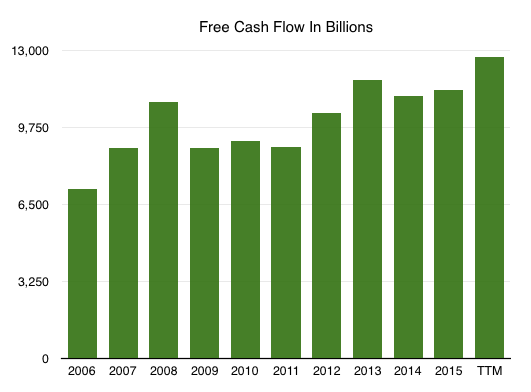 (Source: Author Generated Graphic)
Riding on the back of that free cash flow is a rapidly growing dividend. Since initiating a dividend in 2011 of $.12 the company has raised it to $1.04 and pays $.26 a quarter now. Raises have been delivered annually as well and the company currently yields a healthy 3.37%. The payout ratio against free cash flow is low at just 35% leaving plenty of room for growth.
The company has it's issues though. Insiders have been on an annual selling streak with 55/66 insider transactions in the last year being sales. Their share repurchase program also earns it some criticism but at an average repurchase price of $24.08 in the last quarter the purchases at least haven't been at inflated prices. When combined with insider selling it could appear that management is using share repurchases more to their own advantage than their shareholders.
The company is pretty attractively valued with a P/E of 15.3 and a forward P/E of 12.6. You're paying $12.60 for each dollar of future estimated earnings while the company holds $12.62 in cash per share on the books right now, not a bad deal. FAST Graphs shows the company right around it's ten year fair value but with steadily growing EPS a buy-to-hold strategy would serve investors well.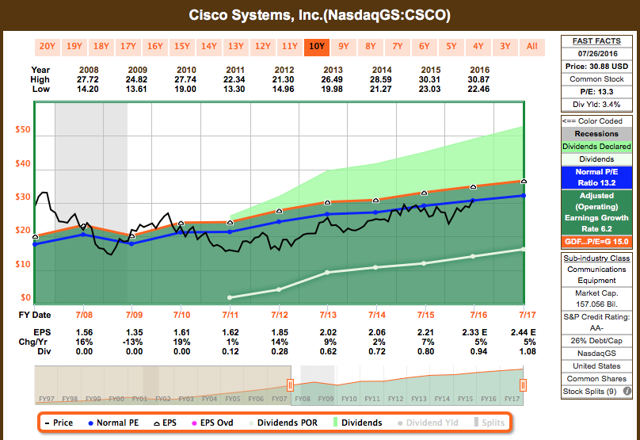 (Source: FAST Graphs)
The company doesn't report their full fiscal year and quarterly results until 17 August. If the company can impress the Street as much as they did in the last two quarters we could see additional gains in share price that hold strong. This of course isn't a guarantee but their recent past performance is encouraging.

(Source: Morningstar with author added text)
Conclusion
Cisco is not a company that grabs headlines like many other tech companies but it has established itself as a major contributor to the space. As data usage increases the products that Cisco provides will grow in popularity and the company should continue to perform well. The safe dividend, attractive valuation metrics and steady growth in recent years should earn Cisco a spot on your watch list even with the well-founded concerns investors have.
I hope you all got something out of this article. I do appreciate the time you took reading it. If you are one of those who follows me here, I appreciate it; if you'd like to include yourself amongst those individuals, please hit the "Follow" button next to my name as well as following other contributors whose work you enjoy. As always, please leave any feedback and questions you may have in the comments below. Best of luck to you all.
Disclosure: I am/we are long CSCO.
I wrote this article myself, and it expresses my own opinions. I am not receiving compensation for it (other than from Seeking Alpha). I have no business relationship with any company whose stock is mentioned in this article.