Oil (NYSEARCA:USO) is in an interesting spot right now. It's been reversing course the last few months and is now on its way to the $41.00 area, where its 200 dma is.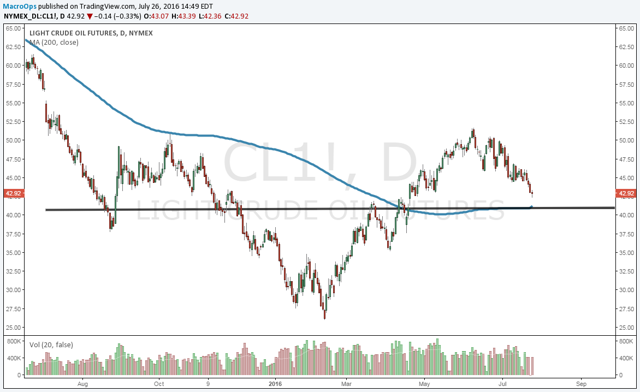 What's peculiar is the fact that even though oil looks like it may be turning around, junk bonds (NYSEARCA:JNK) and emerging markets (NYSEARCA:EEM) still look strong.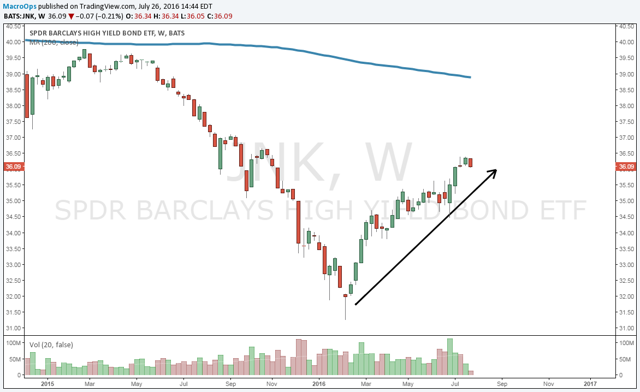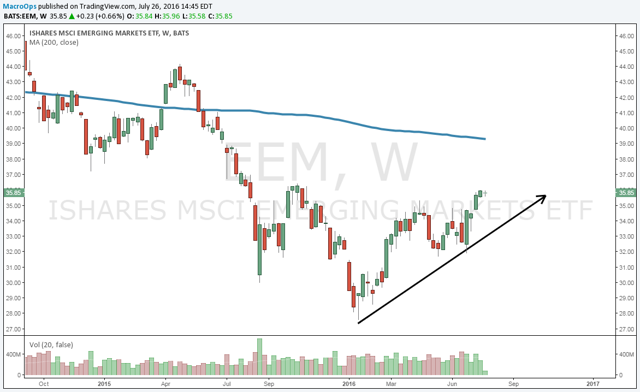 Normally these three tend to move together because of how closely they're related. So the question is, which one is right? Oil or junk bonds/emerging markets?
Price action is a blessing in dissonant situations like this one. If oil does break the $41.00 level, we'll likely go short, while also tightening our stops on all our long commodity plays.
A break of that level could be the leading signal of the end of the commodity rebound. JNK and EEM would likely follow suit soon after.
As we've explained before, this rally in commodities is mostly sentiment driven. The bearish fundamental picture regarding commodities never changed, just the sentiment. Oil breaking lower can easily change that sentiment as investors begin to focus on the bearish fundamentals once again.
And in oil's case, there's no shortage of bearish factors at play.
First off we have the strengthening dollar (NYSEARCA:UUP).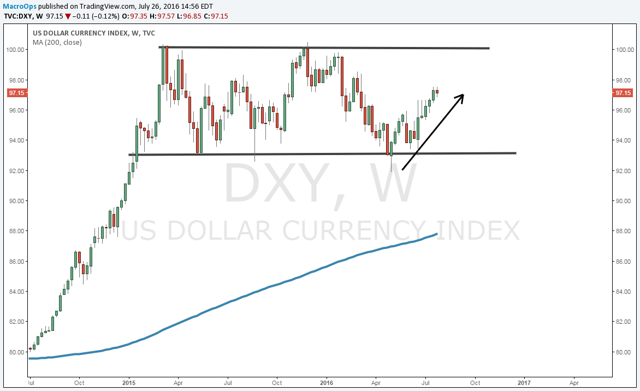 As explained in this week's brief, there's a good chance the BoJ does something crazy in their meeting this week. This could result in the collapse of the Shanghai Accords, the return of the Currency Wars, and a resumption of the dollar's rampage. But even if nothing major happens in this week's meeting, other currencies like the yuan are still weakening, and the dollar is already strengthening.
As we know, a major part of the price movement in commodities (especially oil) comes straight from the dollar. The stronger the dollar, the lower the price of commodities. This makes the dollar trend higher a good candidate to cause the second trip lower in commodities.
Concerns about a glut in the global oil supply is also doing a number on prices. Gasoline stocks continue to grow and are much higher than they normally should be during the summer driving season. This is pressing gasoline prices lower and increasing the probability that refineries will reduce their oil consumption in response.
Many of the supply outages that helped the recent oil rally are also coming back online, such as Canadian production that was shut due to wildfires. Rig counts also continue to rise at the same time as oil demand is falling. Barclay's recent report showed oil demand in Q3 expanding at a rate less than ⅓ of last year's rate. And it's all due to slowing global growth.
As we said, the fundamental picture behind oil didn't change too much. But sentiment did. Price affects sentiment and sentiment affects price. It's a reflexive process. A break of the $41.00 level may turn flip sentiment once again and make oil a good short.
Disclosure: I/we have no positions in any stocks mentioned, and no plans to initiate any positions within the next 72 hours.
I wrote this article myself, and it expresses my own opinions. I am not receiving compensation for it (other than from Seeking Alpha). I have no business relationship with any company whose stock is mentioned in this article.