Cliffs Natural Resources (NYSE: CLF) has just reported its second-quarter results. Without further ado, let's look at the report.
In my earnings preview, I highlighted the fact that most people were looking at spot prices while guesstimating the numbers for Cliffs' U.S. segment.
Cliffs' prices are based on clients' realizations as well as iron ore prices and came in lower than optimistic investors expected. The U.S. segment sold its production for $77.81 per ton, down from $83.87 per ton in the first quarter.
The decrease in realized prices was offset by improvements in the company's cash cost, which declined from $62.88 per ton in the first quarter to $56.25 per ton in the second quarter.
The non-production component of cash cost is volatile between quarters, but I'd like to highlight that production cash cost decreased from $47.88 per ton to $46.32 per ton. Thus, Cliffs continues to improve on the cost side.
Costs in the company's Australian segment were mostly flat compared to the first quarter. The company achieved costs of $33.06 per ton, up a few cents from $32.42 per ton in the first quarter. This is a good result given the volatility of the Australian dollar.
Cliffs also published its new pricing guidance, as well as sales and volumes guidance for full year 2016: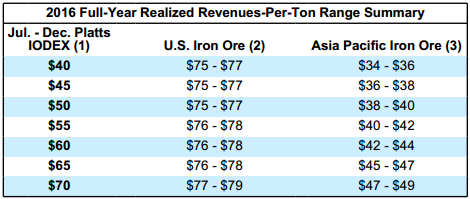 The 2016 Outlook Summary table contains no new information, as Cliffs' has previously announced the increase in sales and production volume.
The expected DD&A in the Australian segment increased from $2 per ton to $3 per ton in the new version of outlook, but this development does not impact the outlook for the company in any way.
The table which contains projections for realized revenues per ton is more interesting.
Cliffs decided to base its projections on steel price of $480 per ton, which is significantly below spot prices. Once again, it looks like the transition of spot prices into actual prices obtained by Cliffs' customers will take some time.
Nevertheless, the situation has a bit improved for the company's U.S. segment, which is now almost independent of iron ore pricing.
The same can't be said about the Australian segment, which suffered a reduction in the outlook. For example, an iron ore price of $55 per ton yielded $43 - $45 per ton in the previous version of the table. Now, a $55 price gives Cliffs only $40 - $42 per ton.
Despite Cliffs' ultimate focus on the domestic market, the Australian segment is still an important part of the company. The current outlook highlights the challenges of exporting ore from Australia as major competition for seaborne ore persists.
All in all, this was a solid report but I can't say that Cliffs crushed expectations. The stock is in a major uptrend now, and multiple players who bet on the failure of the company are caught at the wrong side of the trade.
Recent price action in steel names like AK Steel (NYSE: AKS) and U.S. Steel (NYSE: X) suggests that there is a big interest in betting on the recovery of the U.S. steel industry. Cliffs Natural Resources is a part of this trade, and its upside is exacerbated by the significant short float.
However, let's not forget that Cliffs' shares sold for just $3 just two months ago. The move is remarkable, but Cliffs' shares are now too pricey for new purchases. What's more, profit-taking might occur after the short-covering frenzy ends.
Those willing to take some money off the table should be watching the price action in Cliffs shares on an hourly basis, as coming trading days will surely be volatile.
Disclosure: I am/we are long CLF.
I wrote this article myself, and it expresses my own opinions. I am not receiving compensation for it (other than from Seeking Alpha). I have no business relationship with any company whose stock is mentioned in this article.