Because Fed Chair Yellen doesn't say much between meetings we are forced to think that the "mouthpiece of the Fed" the Wall Street Journal ("WSJ") is speaking for the Fed. We're forced to watch every nuance not only of Fed statements but also the WSJ reports and reactions to try to glean something (something at all). But our bottom-line is not much has changed. We are siding with the camp that says there will be no rate hikes ever until inflation spikes (which we expect.)
First the Answer To Our Title (We'll save the suspense.)
We'll give you the title answer up front so you can decide if you need the analysis. What do Michael Jackson, The WSJ, and The Fed all have in common?
They're all singing, "I always feel like somebody's watching me."
Just like the Fed we feel it is critically important to track the WSJ for hints on Fed leaks.
At the end of our report, as an added bonus we're going to go deeper into Michael Jackson's lyrics to see if we can discover any prophetic meaning for markets (NYSEARCA:SPY). Just like we really are watching the Fed and the WSJ, we don't want Mr. Jackson to remain "paranoid." Therefore we really want to do the same time of deep analysis that we offer for the Fed and the WSJ.
Let's take care of some business first.
Yesterday we dissected the Fed's statement. Today we shift our focus to the WSJ.
Let's go step by step through the WSJ article July 28th at 1:39 AM (We don't think they peeked at or cared about our post-Fed call on July 27th at 7:40 PM.)
"Possible Not Certain"
The WSJ wrote early this morning, "By saying risks have diminished, it appeared to be indicating a rate increase is possible, though not certain, in the months ahead."
Hmm, "possible, though not certain."
What did the WSJ write earlier in the month?
Jun 19th the WSJ said, "Fed Officials Gain Confidence They Can Raise rates...as early as September."
Which is stronger? Possible not certain -or- Gains confidence as early as September?
The words in today's WSJ article imply a much slower outlook than the July 19th article. Yet in that same time we only saw strong jobless claims numbers. What changed? Our only guess is the upcoming Friday GDP number as we wrote last night.
Next, "Modestly growing confidence"
Let's compare something else.
The WSJ said early this morning, "In another sign of its modestly growing confidence..."
Last time they said, "Fed Officials Gain Confidence They Can Raise rates...as early as September."
Which is stronger? Modestly growing confidence -or- Gain[ed] confidence?
We think having "gain"ed confidence is stronger than modestly growing confidence. You may agree or disagree.
And now the granddaddy of them all...
"Ms. Yellen has repeatedly cited uncertainty-over inflation, growth, the global economy and the future path of rates-for keeping the Fed on hold."
We tipped our hats to those who said no rate hikes ever. Here you go. We see no change in rates. Fed Chair Yellen appears to "repeatedly" be "uncertain."
The Official Granddaddy of them all rating: "FED ON HOLD"
Read 'em and weep.
The WSJ seemed to clearly say "Fed on hold."
Our Friday GDP Theory?
We said in yesterday's "Shot (Not) Heard" that we think the change had to have been GDP this coming Friday. We are guessing they may have had it in hand.
Before that and since the July 19th meeting all we had was strong jobless claims. Based on reported numbers, there should have been no reason why the Fed or WSJ had slower commentary.
Let's look at the jobless claims chart. They are near all time (all time no exaggeration) records. It was pretty much the only major report since the last WSJ-Fed articles and today's WSJ-Fed article.
The less people without a job (jobLESS) the stronger the job market is. JobLESS claims are way down and the two weeks ahead of the FOMC meeting were very very strong.
We say two verys because since the hawkish WSJ article July 8th there were two strong jobless claims reports ahead of the FOMC.
Here's the jobless claims chart. It is in strong, record territory.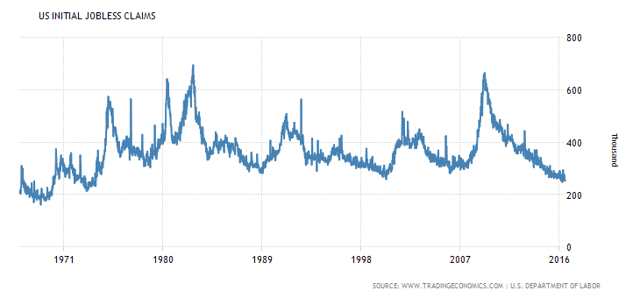 Above you see ice-age type lows for jobless claims.
Let's zoom in on those very very strong jobless claim numbers since the strong WSJ July 8th article leading up to the FOMC meeting Wednesday.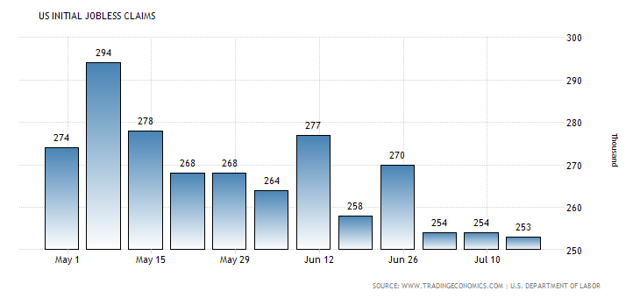 This is very very very strong (3 verys for 3 weeks of very strong).
The jobless numbers were on fire! (No wonder Elazar isn't writing the Fed messaging, right? Phew for the world.) Any lower and we are nearing pre-historic never-ever land for jobless claims.
Less jobless claims means more jobs. But, to be fair, it's a backwards number (Elazar term).
The problem with that number is it can mean one of two things.
1) More people working
But, it can also mean
2) More people are dropping out of the working pool
So while it's a strong number it's not clear of late because the pool of workers is declining.
Here's the pool of workers declining.

A lot of workers dropped out of the working pool (chart above) and...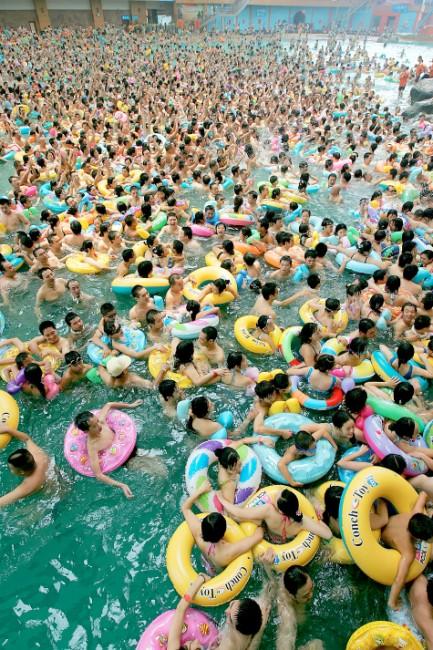 ...jumped into the swimming pool.
(Picture: We can blame Action Park for the jobs slowdown.)
This means that although the jobless claims are lower it could be because there are LESS workers at all, which isn't so bullish.
Jobless claims today, after the Fed meeting yesterday slowed a touch to 266,000. That means the economy slowed a little bit from the previous three weeks' 250s trend. That may have also factored into their weaker language.
That said, The Fed needs to wait for non-farm payrolls and PCE as their more important indicators.
Wait until August 26th.
Since Fed Chair Yellen doesn't speak publicly as much as past Fed Chair's we have to wait. The WSJ pointed that out. "Wednesday's statement turns the focus toward Ms. Yellen's Aug. 26 speech in Jackson Hole, Wyo., when she could signal whether a September rate increase looks likely."
Oh my. I'm no mathematician but that is about one entire month away. That is a century for traders.
Conclusion And Then The Song As Promised
If the step up in jobs July 8th spiked markets we think a slowdown as possibly hinted by the Fed and WSJ could hit markets. GDP comes on Friday and we will see if that biased the Fed speak.
The Fed appears more dovish to us than any time in July. That, we think is based on US economic numbers to come. We'll watch together.
Michael Jackson's "Somebody's Watching Me"
I'm just an average man [Fed Chair]
With an average life [top notch security]
I work from nine to five [except in the summers because of all the Hamptons parties]
Hey, hey, I'll pay the price [Big book deals as soon as I retire.]
All I want is to be left alone [with all my security around me]
In my average home [low rates keeps them going up though]
But why do I always feel like
I'm in the twilight zone [negative rates]
And
I always feel like
Somebody's watching me [Elazar, ooh, ooh]
And I have no privacy
I always feel like
Somebody's watching me [Elazar, yeah, yeah]
Tell me is it just a dream [negative rates]
When I come home at night
I bolt the door real tight [we still have some gold in case this all goes badly]
People call me on the phone [Facebook chat]
I'm trying to avoid
But can people on TV see me [Seekingalpha.com]
Or am I just paranoid [nope not paranoid, we're watching]
When I'm in the shower
I'm afraid to wash my hair [oh that's why]
'Cause I might open my eyes
And find someone standing there [WSJ's reporters]
People say I'm crazy [let's say misunderstood]
Just a little touched
But maybe showers remind me
Of Psycho too much [Fed Funds Futures Traders]
That's why
I always feel like
Somebody's watching me [Elazar, ooh, ooh]
And I have no privacy
I always feel like
Somebody's watching me [Elazar, yeah, yeah]
Who's playing tricks on me [no tricks, taking your words and assuming they have meaning]
(Who's watching me)
I don't know anymore [I'll leave rates on-hold]
Are the neighbors watching me [yes they don't like the security measures]
Well, is the mail man watching me [Russia, email, yes.]
(Tell me who's watching)
And I don't feel safe anymore
Oh, what a mess [We'll see, new administration coming]
I wonder who's watching me now
(Who)
The IRS [We think that's the head of the ECB's son who trades interest rate futures, not Ms. Yellen.]
I always feel like
Somebody's watching me [Elazar, yeah, yeah]
And I have no privacy
I always feel like
Somebody's watching me [Elazar, ooh, ooh]
Tell me is it just a dream
Please stay safe. We're bearish
If you want Elazar's analysis on Seeking Alpha, scroll to the top of the article and hit "Follow." Elazar also writes real-time pieces as news is reported. If you want to be among the first updated check the box for "Real-time alerts on this author" under "Follow."
Disclaimer: All investments have many risks and can lose principal in the short and long term. This article is for information purposes only. By reading this you agree, understand and accept that you take upon yourself all responsibility for all of your investment decisions and to do your own work and hold Chaim Siegel, Elazar Advisors, LLC, bestideas, their related parties, and its authors harmless.
Disclosure: I am/we are short SPY.
I wrote this article myself, and it expresses my own opinions. I am not receiving compensation for it (other than from Seeking Alpha). I have no business relationship with any company whose stock is mentioned in this article.