"Fitbit (FIT)" is a producer of fitness and health-tracking wearable devices, with a global market share in excess of 20%. The company's revenue comes from selling devices, charging for subscription to premium contents (stats and personal training) and to corporate wellness programs (less than 1% of sales).
Since there are multiple articles on Seeking Alpha covering the basics of Fitbit's business model, the focus of this article will be on showing why the stock looks like a great bargain, has a defensible business model and presents limited downside.
Given the very low valuations, the market clearly discounts a very high likelihood of Fitbit losing its market dominance, with straightforward implications on its growth and profitability trajectory. We think the consensus might be wrong and the stock could significantly rerate.
A) Breadth of the product offering:
In the past 4.5 years Fitbit has launched 11 different products, encompassing all range of prices ($59 to $259) and features (pedometer, altimeter, GPS, sleep tracker, smartphone notifications, ...). The product portfolio has the highest breadth amongst competitors and gives them the possibility to attract the broadest range of potential customers:
To give an example, Xiomi offers just one device (Mi Band) and competes to the very low end, while Apple (NASDAQ:AAPL) is selling only expensive connected smartwatches, which need an iPhone to work properly. Jawbone is probably the greatest threat (together with new entrants and new form/factors) having a wide spectrum of products, but still the high-end does not have the same wealth of feature of Fitbit's devices (GPS, altimeter).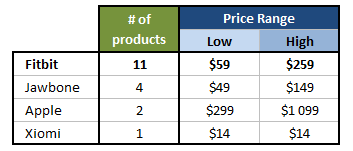 Moreover, the company is investing heavily in marketing and R&D to keep the current lead. R&D expenses in Q1/16 totaled $72M, almost 50% of what they spent in the whole of 2015. The sales and marketing budget is projected to grow 25% this year.
B) Proven business model and supportive environment:
Fitbit proved in the past five years not only to be able to grow sales, but also to be capable to contribute to the definition and creation of a new market. Fitbit sold 5x more devices in 2015 than in 2013 and was able to increase the average selling price (ASP) by 42% in the meantime. And the trend was confirmed in Q1/16, with an increase in shipment and the ASP reaching $104, well above the record level of $87 registered in 2015. This was driven by a steady addition of new features and (probably, since the company does not disclose the details) the contribution from services and accessories.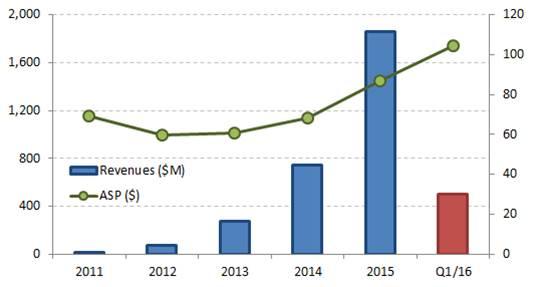 Clearly, past performance does not guarantee future success, but Fitbit consistently grabbed market share and was successful in keeping the strong sales momentum - something that not even the mighty Apple could do with its Apple Watch (IDC expects sales of the device to be around 3.1M in H1/16, compared to around 12M in 2015).
Fitbit can enjoy the benefits of operating in an expanding market: wristband sales are expected to grow by 46% in the next 2 years (from 30M devices in 2015 to 44M in 2017, according to Gartner), while the broader fitness wearable market is expected to grow by 28% in the same period, reaching a total of 109M devices.
This means that even if competition was able to erode Fitbit market share by 50%, revenue would not contract for at least the next couple of years.
Moreover, thanks to its first-mover advantage and scale, Fitbit owns the largest active user base, has created an ecosystem (compatible with several third-party applications) and can access a large data set of collective statistics from several enterprises. Fitbit can thus better tailor its offers to end users and build a case study for corporates who want to adopt its wellness programs (more below). These elements and the fact that the company already has a foot in the door of many large corporations, add to the defensibility of its leadership status.
C) Additional growth opportunities:
The North American market is fairly penetrated, being the most advanced in terms of wearables adoption and represents 74% of the company sales. However, there is ample evidence that other geographies tend to adopt new technologies with a lag to the USA and this might drive an acceleration in international sales and consequently drive Fitbit's revenue growth.
Moreover, there is ample potential to grow in the enterprise segment: Fitbit was able to strike multiple deals with Fortune100 companies (BP, for 23k employees; Bank of America (NYSE:BAC); IBM (NYSE:IBM), 40k, Target (NYSE:TGT), 355k; Barclays (NYSE:BCS) 75k, ...), as well as smaller enterprises. Companies pay a set-up fee between $10k and $100k to participate in the program and have access to dashboards, seminars and service support. This subscription directly affects earnings in a minimal way but employees benefit from a reduction in device purchase price and rewards from their employers, which drives sales in the hardware division.
The rationale behind the corporate wellness programs is the increase in staff morale, lower health insurance costs (Appirio business case, with a 6% discount) and increased performance (reduce absenteeism and improve sleep and health).
Fitbit is clearly targeting this end-market as highlighted by the numerous collaborations with hospitals and universities to fund studies showing that wearables can help in improving general health, performance and even medical conditions. The advantages for Fitbit are quite evident: increase in TAM (total addressable market), lower churn since employers help in taking care of their employees' engagement, and evolution from a hardware producer to a software and service company, with a recurring-revenue type of business model.
Currently the enterprise segment generates negligible revenues: service fees account for less than 1% of sales for the past 3 years and less than 10% of hardware revenues are linked to an enterprise program.
The recent acquisition of Fitstar and the Premium Subscription are high-margin services that need development but that promise higher margins and consumer engagement.
D) Customer experience:
Fitbit is a recognized and trusted brand. While it's difficult to rank fitness tracking devices by their intrinsic qualities, we can use Amazon (NASDAQ:AMZN) customer ratings as a proxy. Fitbit users show a great affection for their product and the Amazon star rating is consistently superior to those of its competitors: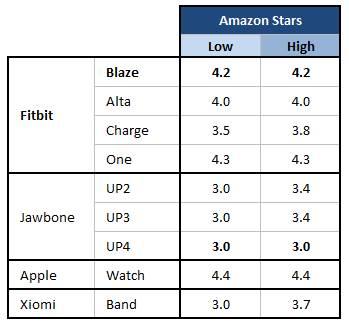 Moreover, compared to companies that sell just online, Fitbit sells also through physical distributors. Margins are certainly more compressed, but this channel can attract impulse-buyers and people who are not accustomed to a wristband device and need to try it before purchasing.
Fitbit sells mainly through distributors with the top five accounting for 55% of sales (Amazon, Best Buy (NYSE:BBY) and Wynit at around 15%) and its sales are extremely seasonal with around 40-50% coming in the fourth quarter.
E) Valuations:
Being a consumer-oriented business with relatively low barriers to entry (several competitors financed on Kickstarter, competition from the big consumer and lifestyle companies, …) and quick technological innovation, the valuation probably deserves a discount to the global IT sector, but the stock is incredibly cheap on most metrics, both in absolute and relative terms.
Fitbit had a dismal performance since the IPO, priced at $29. After reaching a top above $47, the stock is now trading around $13, being at $29 at the beginning of the year. Fitbit trades at a steep discount on P/E (10.6x on 2016 GAAP Earnings) and EV/EBIT (5.5x on 2016 earnings), which is especially striking when considering the forecasted EPS growth of 26% for the next year. The free cash flow yield stands at 6.3% for the past 12 months and the company enjoys a net cash position roughly equal to 29% of the current market cap ($2.7B).

Selected Financials: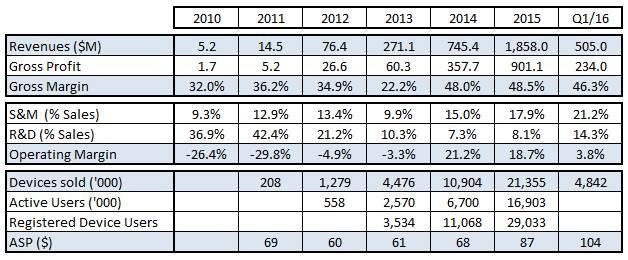 Fitbit will report its quarterly results on August 2nd after the close.
Valuation Model:
Even with very conservative assumptions, we estimate a $19 fair value for Fitbit shares, a 44% potential upside. A sensitivity table is provided below, showing that under several scenarios, the stock can effectively double in value.
We use a DCF model derived from the work of Damodaran on valuations. The main inputs to the model are (1) a revenue growth rate, (2) an estimate of the operating margin, (3) the sale-to-capital ratio, a measure of how much new working capital, fixed assets and R&D are needed to generate incremental revenues, and (4) a discount rate. In the following section, we'll show how we derive our assumptions for those 4 variables, before showing the valuation model and a base-case target price.
1) Revenue growth: Fitbit will be able to grow revenues by 25% next year, converging to a long-term growth rate of 2% in the following five years. We account for the obsolescence of the products, the saturation of the market and the possibility of a technological shift towards different designs/devices. Those negative trends are partially offset by an increase in service revenues, the international expansion and the corporate wellness program. Current consensus implies higher growth rates than that.
2) Operating margin: stable at 20%, similar to the one reached in 2015 and to the industry average of 19% (all the industry measures are derived by the database on Damodaran website). We do not assume any ASP increase, despite the recent hikes and actually we forecast a more intense competition and the emergence of new (cheaper) sensors and shapes that will erode the pricing. However, the revenue growth and the stabilization of R&D and advertising costs will help stabilize margins, as well as the increase in service revenues, with gross margins that can expect to be above 70-80%.
3) The sales-to-capital ratio has been stable at 2.2x for the past two years and the industry average stands at 1.6x. We model exactly these numbers, with Fitbit converging to the industry average in five years.
4) The discount rate is rather straightforward since Fitbit does not owe any debt. The cost of capital is thus equal to the cost of equity, which is estimated at 15.4%, converging to the industry average of 10% in 5 years. The cost of equity is calculated as 1.5% risk-free rate + 2.3 Beta * 6% risk premium. The Beta comes from a regression of the 2-year weekly returns of the stock against the S&P 500.
- Other variables: tax rate of 30% (US rate) falling to 25% due to the higher weight of foreign sales. We assign a 20% probability of failure and we do not counterbalance for any "takeover premium." Indeed Fitbit might be a natural target for some bigger Tech or PharmaTech companies eager to complement their product portfolio and/or exploit the wealth of health-related data that the company has accumulated.
The value of operating assets is reduced by the accounting value of the stock options and stock compensation, which equals $1.15B as of the latest annual report. The average stock-option strike is around $3 and the price used for the valuation is $29. If we had used the current price, the value of those stock options would have dropped to $450M, increasing the stock value by $700M (about $3/share).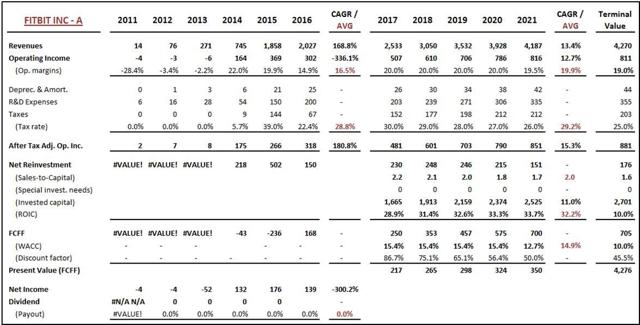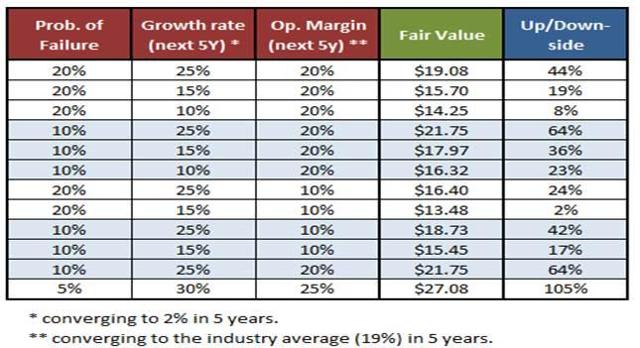 Risks:
- Competition both from below (it's relatively easy to launch a start-up in this area, given the ease to outsource the production and access equity financing) and adjacent products (iWatch, Garmin, …);
- Obsolescence of the design, typical in the consumer technology industry; Price pressure, especially for more basic devices.
- High churn rate and customer disaffection. Engagement is the main issue, since people tend to lose interest after six months. The key is probably to create a device which is less intrusive and goes unnoticed (small ring, pin, …) with daily/weekly reports by app or email.
Overall we feel that the downside risk is fairly limited. One-product, consumer-oriented companies like GoPro (NASDAQ:GPRO), Zynga (NASDAQ:ZNGA), Groupon (NASDAQ:GRPN) have negative EBIT and higher market cap than Fitbit. Many companies in high growth / high competition industries, have negative EBIT (Pandora) or high EV/EBIT ratio (Netflix) and even once-dominant, now-irrelevant companies like BlackBerry (BBRY), AOL (NYSE:AOL) or Yahoo (YHOO) are still commanding a decent market cap, despite the drop in operating profits. Should Fitbit follow the same path, we are sure that there would be an impact on its operating income, but we think the market already discounts that, especially after the end of the irrational exuberance that led the stock towards the $50s.
Conclusion:
The stock looks massively undervalued, both in absolute and relative terms. Conservative growth and margin assumptions point to a 40%+ upside, with limited downside, given the franchise value, the lead in corporate wellness programs and the possibility of being acquired.
Fitbit remains a volatile investment but we take comfort from the proven ability to grow its revenue and cash-flows to become the market leader in the wearable space. Despite the recent success, we reckon that competition can be very though, with Apple being probably the main threat. We think that the switch to a more service-oriented model is key to preserve and grow the company value.
To sum up, the Fitbit investment case relies on:
- Product breadth;
- A proven business model in an expanding market;
- New growth initiatives (international, subscriptions, corporate programs)
- Device quality and customer satisfaction;
- Bargain valuations.
Disclosure: I/we have no positions in any stocks mentioned, and no plans to initiate any positions within the next 72 hours.
I wrote this article myself, and it expresses my own opinions. I am not receiving compensation for it (other than from Seeking Alpha). I have no business relationship with any company whose stock is mentioned in this article.