Husky Energy (OTCPK:HUSKF), a major Canadian integrated oil and gas firm, report a slight loss in its earnings report on Friday. With its headquarters in Calgary, Canada, HSE's asset base resides nearby along the coasts of Eastern Canada and in the tar sands of the West. Its upstream operations include shale projects, conventional wells, and offshore rigs all of them struggling during the extended period of low oil prices that began in 2014. Despite the net profit loss, Husky Energy saw a 3.05 percent addition onto its stock price on Friday, pushing its shares above its fifty-day moving average. But, is the stock really worth it fundamentally?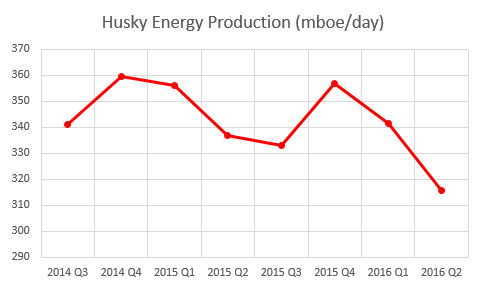 As a member of the enthusiastic shale revolution, Husky sought to expand their operations in the Canadian tar sands in the last quarter of 2014 and the first quarter of 2015. At the turn of the year, production peaked at 359.6 mboe/d a 5.4 percent increase in that quarter. Since then, output has remained relatively flat and even dropped some as low oil prices forced a less aggressive strategy. Production was reported at 315.8 mboe/d in the second quarter of 2016 a drop of 6.3 percent year-over-year. The wildfires in Western Canada caused a slight setback in Husky's Sunrise Energy Project in the second quarter with its output just recently restored to 15,000 bbls/day for the third quarter. Management estimates Sunrise production to increase to 30,000 bbls/day by early 2017.
In the end, this project, one of Husky's largest, shows only a modest potential for expansion and may weigh on the bottom line if any more obstacles hinder operation. Based on a modest 5 percent increase in production and a resumption of Sunrise performance, early 2017 output numbers should come in at 346.6 mboe/d. Although, insignificant expansion wouldn't be a huge let down if oil prices stay low and the balance sheet fortified.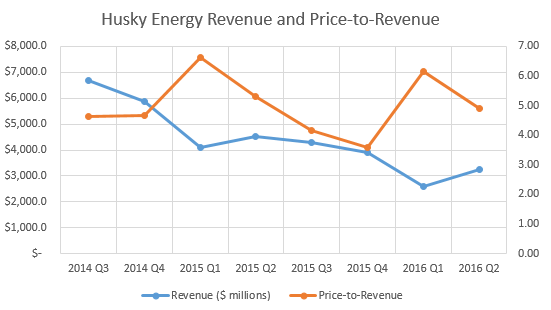 Husky's revenue stream has slowly been decreasing since the third quarter of 2014. With oil prices at their highest then, it reported about $6.7 billion in sales and a net earnings of about $571 million. Two years later, sales has fallen by about 51 percent in those two years, consistent with the drop in crude oil futures. In the most recent quarter, Husky revenue jumped, as did crude oil prices, despite lagging production. However, the Canadian oil and gas firm still managed to report a net loss. Lower realized oil and gas prices can be blamed first, but a slowdown in HSE's downstream operations in Lima and Toledo refineries might have also had a significant impact on the bottom line.
According to the price-to-revenue metric, sales dollars were just about as expensive as they were a year ago in the thick of the oil glut. With a slight increase in realization prices, traders should be spending less and less for revenue dollars but that hasn't been the case. Instead, Husky reports that natural reservoirs on mature properties in Western Canada and the Atlantic regions have declined with turnover also falling because of limited capital investment. Combined with divestitures worth about $2.95 billion and 25,700 mboe/day, the shrinking reservoirs have offset the expansion of key Husky projects.
New upstream operations should add only 10,000 mboe/day in the next quarter with a potential for an addition of 25,000 mboe/day through the end of the year. With relatively small output expansion plans, HSE will be focused on cutting costs in the tar sands regions and bolstering their upstream operations with advances in that segment. In the end, though, investors shouldn't expect any major sales growth if oil and gas realizations remain low.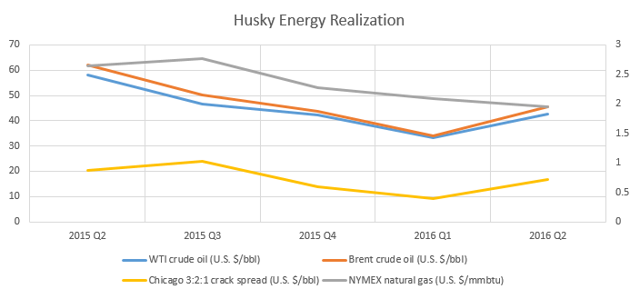 Realization prices for crude oil and its products have improved to levels last seen in the third quarter of 2015 when crude oil rebounded temporarily. From last quarter, WTI realization improved about 36.3 percent which contributed to revenue growth that was about the same. Brent realization was about $4.00 lower than three quarters go as the spread between the major crude prices shrunk in the first half of 2016. As a result, Husky's international ventures lagged in their contributions to the bottom line. Refinery output realization prices, as represented by the Chicago 3:2:1 crack spread, have shown a strong recovery from last quarter increasing over 80 percent.
Husky will look to bolster their upstream bottom line with expansions in the Lima and Toledo refineries that are set to be completed later this year. The Toledo refinery will help turnover profits from the production of the Sunrise Energy Project and will form an upstream/downstream combination that could become HSE's most promising project. NYMEX natural gas prices continued to fall into the second quarter of 2016 and have been the weak spot for HSE.
Overall, exchange rate fluctuations favored the Canadian-based company which enjoyed a jump in Canadian dollar denominated realization prices. The USD/CAD exchange rate fell about 7.2 percent year-over-year. A stronger dollar will continue to bolster their crude oil and natural gas sales that occur on the U.S. futures exchanges.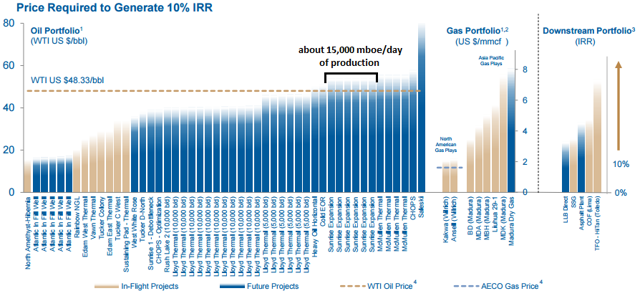 In its July 2016 corporate presentation, HSE management cited an earnings break-even point at a WTI price of about $40/bbl even though it has reported losses in the last four quarters with an average of WTI realization price of $41.91/bbl. To reach management's ideal break-even point, HSE will have to work on decreasing costs and developing its most efficient assets during a low commodity price period.
Currently, crude is trading around $43/bbl, and if these prices remain, HSE's largest expansions in the Sunrise Energy Project will disappoint. Its weak natural gas portfolio is expected to post even worse results with only two projects expected to return 10 to 15 percent. So far, HSE's downstream portfolio has been the strongest segment of the business posting returns well above 10 percent after spot prices jumped in 2016, but processed products are looking bearish again.

Weaker performance translates to less free cash flow and less capita available to pay down debt, but HSE management highlighted its hope to strengthen the balance sheet by decreasing the net-debt-to-cash-flow-from-operations ratio. HSE's credit rating amongst its competitors is relatively strong and improving with a net debt target to reduce 2015 levels by about 40 percent. Plans of "no new net debt in the near term" and maturity extension for HSE's credit facility and long-term bonds will help management achieve its net debt objective.
But, the approach seems timid especially considering the low break-even prices that Husky is reporting. HSE new drilling was really low this quarter, 77 percent lower than the second quarter of 2015. Potential for new projects within the next year could be affected by that, unless Husky deviates from its safe strategy.
HSE's fundamentals appear to be suffering from depreciations due to maturation in the Western Canada assets and a conservative strategy looking to react to lower oil prices. Spot prices are beginning to trend lower, so the company may be justified in its approach, but expansion beyond its production ceiling should not be expected. For that reason, HSE should underperform its peers going forward into 2017. On the other hand, if energy prices continue to fall, Husky Energy will be shielded enough to resist any major price crashes.
Disclosure: I/we have no positions in any stocks mentioned, and no plans to initiate any positions within the next 72 hours.
I wrote this article myself, and it expresses my own opinions. I am not receiving compensation for it (other than from Seeking Alpha). I have no business relationship with any company whose stock is mentioned in this article.
Editor's Note: This article discusses one or more securities that do not trade on a major U.S. exchange. Please be aware of the risks associated with these stocks.