Agnico Eagle Mines (NYSE:AEM) Q2 Earnings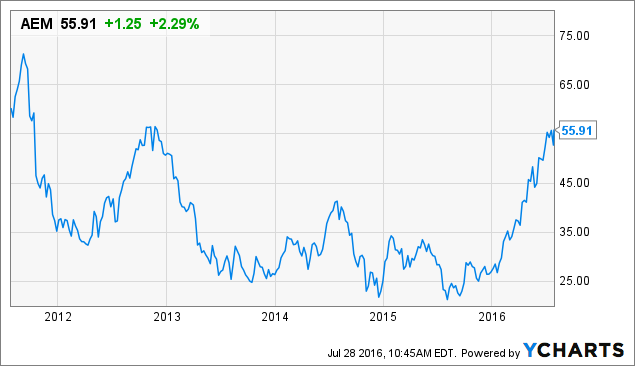 AEM data by YCharts
Recent Stock Price: $56.07
Shares Outstanding: 220.48 million
Market Cap: $12.31 billion
52-Week Range: $21 - $57.14
Agnico Eagle Mines has reported its second-quarter 2016 financial results, and it was certainly a good quarter. The last time I covered the stock in November of 2015, I said it was a top gold stock to own following strong Q3 2015 financial results.
For those unfamiliar with Agnico, this is a low-cost gold producer that operates mostly in Canada and Mexico, which are top-tier mining jurisdictions. The company also has a real strong balance sheet and pays a dividend, which can't be said about many other gold miners. Since that article was published, shares have more than doubled.
Agnico just killed it this past quarter. The company says its produced 408,932 ounces of gold at $848 all-in sustaining costs. The company also clearly benefited from higher realized gold prices of $1,268 per ounce, up from $1,196 in last year's quarter. This led to strong operating cash flow of $229.5 million (up from $188.3 million last year), and net income of $18.99 million ($.09 per basic share), up from $10 million ($.05 per share) from last year.

(Credit: Agnico Earnings Call Slides)
Top performing mines this past quarter include the 100% owned LaRonde mine in Quebec, which produced 75,159 ounces of gold at $543 cash costs (by-product basis), the 50% owned Canadian Malartic mine, which contributed 72,502 ounces of gold at $621 total cash costs, the Goldex mine, which added 31,452 ounces of gold at $513 total cash costs, and the Pinos Altos mine, which produced 49,458 ounces of gold at $348 total cash costs.
As a result of the strong production, the company has increased its 2016 guidance, up from 1.565 million ounces to 1.58-1.6 million ounces, and lowered its AISC range from $850-$890 per ounce to $840-$880 per ounce.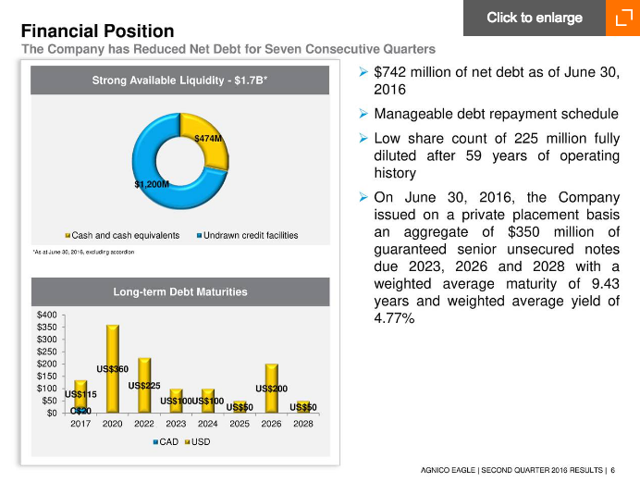 (Credit: Agnico Earnings Call Slides)
As for the balance sheet, Agnico repaid the outstanding balance of $210 million under its credit facility and repaid $20 million under its secured loan facility.
Its net debt was reduced $181 million in the quarter, to $742 million ($467.9 million in cash and equivalents and $1.07 billion in debt), as of June 30, 2016. This is one of the lowest net debt balances in the industry. Most of its debt ($360 million) doesn't mature until 2020, so Agnico has a lot of financial flexibility here.
The company has also made significant progress at its Meliadine gold project, as approximately 1,098 meters of underground development was completed in Q2; the company also received its water license for the project, which is the final permit it needed to start construction activities. Meliadine is Agnico's largest development project as it contains over 3 million ounces of high-grade gold, and should produce 350,000 ounces of gold annually at a life-of-mine total cash costs per ounce of approximately $531 (by-product basis) over an initial 9-year mine life. Production is aimed for 2020.
Finally, the company announced a 25% increase in its quarterly dividend to $.10 per share. The stock now yields .71%, which is low, but Agnico is one of the few gold miners to actually pay a dividend.
Sure, this was a solid quarter by Agnico for all of the reasons mentioned above. It remains one of the best gold miners in the industry when it comes to production growth and cost reductions. However, that doesn't necessarily mean the stock is a buy here. Shares are now trading near 2012's high of $55, although the price of gold was much higher back then (over $1,700 per ounce at one point).
The stock certainly isn't cheap here - shares now trade at an EV/EBITDA of 16.7 and a forward P/E of 45.8, according to Yahoo Finance. While I still think the stock deserves a higher valuation to its peers, I think shares have gotten a little too hot and I'd recommend waiting for a pullback before buying. I view any price under $48 as an attractive entry point.
Disclosure: I/we have no positions in any stocks mentioned, and no plans to initiate any positions within the next 72 hours.
I wrote this article myself, and it expresses my own opinions. I am not receiving compensation for it (other than from Seeking Alpha). I have no business relationship with any company whose stock is mentioned in this article.