One of the best ways that both industry executives and investors can measure the overall strength of the offshore drilling market is known as the IHS Petrodata Offshore Rig Day Rate Trends report. This report, published monthly by industry analytics and consultancy firm IHS Petrodata, provides the leading market dayrate and utilization rate trends for four classifications of rig that IHS Petrodata believes are representative of the industry as a whole. Overall, their proxies are reasonably representative of the broader industry, as will be discussed below.
The first type of rig whose dayrate and utilization trends are discussed in the IHS Petrodata report are ultra-deepwater drillships. These are classified as independently mobile drilling units capable of operating in at least 7,500 ft. of water. These are thus among the most modern and sophisticated units in use today, particularly when we consider that the vast majority of new ultra-deepwater rigs constructed over the past several years have been drillships. In addition, this report provides the trends for all ultra-deepwater drillships operating worldwide, therefore this is the most complete data regarding the status of these rigs that is possible to obtain. Here are the utilization and dayrate trends for these rigs: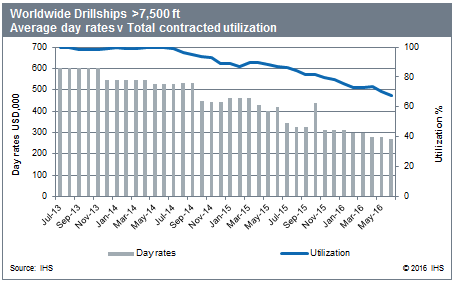 Source: IHS Petrodata
As this chart shows, the leading new contract dayrate has steadily declined since the beginning of the year, although it has remained flat month-over-month. This is decidedly negative news for those companies that have either idle rigs or rigs coming off contract this year that need to acquire a new one as new contract dayrates and thus earnings prospects are at the lowest levels that they have been in several years. One company that will be acutely impacted by this is Pacific Drilling (NYSE:PACD), although some other companies such as Ocean Rig (NASDAQ:ORIG) will also be impacted. The reason for these declining dayrates is also quite clearly shown in the chart above. That reason is that the supply of available rigs quite clearly exceeds the demand for them, as evidenced by a steadily declining utilization rate. The utilization rate is, quite simply, the ratio of rigs currently in operation to the total number of rigs in existence, expressed as a percentage. Therefore, a declining utilization rate indicates that the number of rigs available is increasing relative to the demand for such rigs and therefore the law of supply and demand tells us that the market price for these rigs should decline as rig managers compete against one another to secure those few contracts available. That is indeed what we see happening.
The second type of rig whose dayrate and utilization trends are tracked by the IHS Petrodata report are ultra-deepwater semisubmersible units. As in the case of ultra-deepwater drillships, these are defined as rigs that are capable of operating in at least 7,500 ft. of water. However, unlike drillships, semisubmersible rigs are not capable of independent movement and therefore must be towed to their operating location by a support ship. As with the drillships, ultra-deepwater semisubmersibles are the most modern and technically sophisticated units available, although most ultra-deepwater rigs constructed in recent years have been drillships. In addition, the IHS Petrodata report considers the day rate and utilization trends for all ultra-deepwater semisubmersible units worldwide, so it does provide the broadest possible measure of these trends. Therefore, here is the IHS Petrodata data for ultra-deepwater semisubmersible rigs: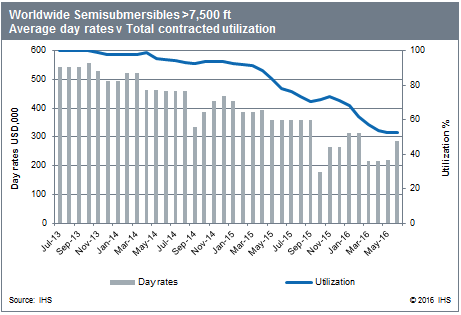 Source: IHS Petrodata
As this chart shows, the ultra-deepwater semisubmersible market has suffered from the same general trends as the ultra-deepwater drillship market. In this case however, the weakness started much earlier. As the previous chart shows, the utilization rate for ultra-deepwater drillships first began to decline in the middle of 2014. However, ultra-deepwater semisubmersible utilization rates began to decline several months earlier, around the beginning of 2014. In addition, the decline in utilization has also been much steeper for semisubmersibles than for drillships. This is in spite of the fact that ultra-deepwater drillships have historically commanded higher dayrates than their semisubmersible cousins. This may be at least partly due to ultra-deepwater drillships being newer units, on average, and the fact that a drillship can transit under its own power. This dayrate difference remains to this day, although it is perhaps less pronounced than it once was. It is interesting to note however that the leading market new contract day rates for these ultra-deepwater capable rigs had a much different pattern than their cousins'. While day rates for ultra-deepwater drillships essentially steadily declined along with utilization rates, as I have pointed out before, the leading new contract day rate for ultra-deepwater semisubmersibles actually increased over the latter stages of last year and early stages of this one before once again declining in March to where it remains today. The explanation for this is the same as for the ultra-deepwater drillships - a surplus of supply compared to demand. The primary reason for this weak demand is unlikely to surprise anybody reading this column. As oil prices fell from their mid-2014 high of $112 per barrel to today's levels of under $50 per barrel, oil and gas companies reduced their exploration (especially offshore exploration) budgets in an attempt to protect their increasingly constrained cash flows. This reduced the demand for offshore drilling rigs at a time when the industry was seeing an influx of new rigs that were ordered during the previous historic boom.
The third type of rig whose dayrate and utilization trends are tracked by the IHS Petrodata report are harsh-environment standard jack-up rigs. These are, as the name implies, shallow-water offshore drilling rigs that are capable of operating in some of the harshest environments in the world such as the Norwegian Continental Shelf and the Arctic. It is worth noting too that this chart specifically only tracks standard harsh-environment rigs and not the high-specification units operated by North Atlantic Drilling (NYSE:NADL). Those units are much more capable but their numbers are few relative to the overall harsh-environment fleet so it makes little sense to examine their trends in isolation. As standard units are by far the most common type of harsh-environment jack-up rig, their trends indeed make the most effective proxy for this subsegment of the industry. It is worth noting that unlike with the ultra-deepwater analyses, this one only considers those rigs and new contracts in Northwest Europe and specifically excludes those located in other regions of the world. This is not necessarily a problem however, as Northwest Europe is by far the most common location for this type of rig to operate in. Therefore, IHS Petrodata has chosen an effective proxy. Here are the leading new contract day rate and utilization trends for this type of rig: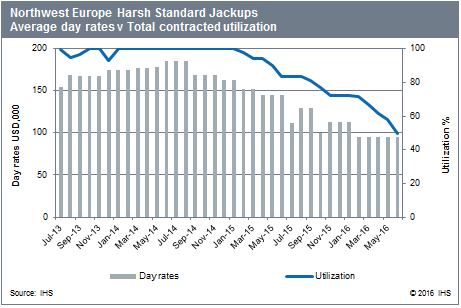 Source: IHS Petrodata
It is commonly believed and espoused by the media and by industry analysts that the downturn in the offshore drilling industry began in late 2013 and was then exacerbated in mid 2014 when oil prices began to decline. While that is broadly true, it was certainly not the case for harsh-environment jack-up rigs. As the chart shows, these rigs enjoyed full utilization until the early part of last year, at which point utilization began to decline. The reason for this is the same reason that Seadrill Partners (NYSE:SDLP) has weathered the downturn more easily than many of its peer companies. As a general rule, harsh-environment rigs are employed under long-term contracts, typically lasting more than three years, and due to the expenses involved in cancelling these contracts exploration and production companies are loathe to cancel them. Thus, the entire harsh-environment drilling fleet was employed until early 2015 due to long-term contracts that were entered into when the industry was much stronger and oil prices were much higher. However, interestingly enough, dayrates began to decline before utilization did. This may be because offshore drilling contractors realized that they would be having difficulty securing new contracts once the old ones expired due to the decline in oil prices. Harsh-environment (and particularly Arctic) regions are among the most expensive to operate in and thus would be the first to get impacted by low oil prices and so therefore offshore drilling contractors likely decreased their dayrates in advance of an actual utilization rate decline so as to continue to secure contracts for the small number of rigs that were coming off contract. Unfortunately, in early 2015, harsh-environment drilling rigs began to come off of their previous contracts en masse and this began to drive down the utilization rate precipitously along with the leading market dayrate since offshore drilling contractors became much more aggressive about competing for those few contracts that were available. As the chart shows though, the leading new contract dayrate has now stabilized, but it is at a level below cash flow breakeven so it is very difficult for offshore drilling contractors to make a profit on new contracts for this type of rig.
The final type of rig whose day rate and utilization trends are tracked by the IHS Petrodata report are high-specification jack-up rigs operating in Southeast Asia. In this case, a high-specification jack-up is defined as an independent leg cantilever drilling rig that is capable of operating in at least 350 ft. Of water. These are therefore the most modern and technically capable shallow-water drilling units in operation today. Please note that as with the case of harsh-environment drilling units, the IHS Petrodata report only considers those units operating in Southeast Asia. While this is historically the most common area of the world for a jack-up rig to operate in, these rigs have become increasingly visible in areas such as the Gulf of Mexico and the Persian Gulf. However, as Southeast Asia is still the primary region in which shallow-water rigs are used, this serves as an adequate proxy. Therefore, here is the dayrate and utilization rate chart for this type of rig: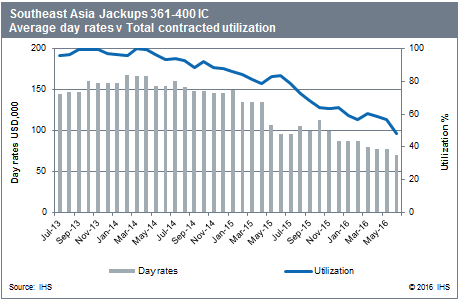 Source: IHS Petrodata
As with the other types of rigs, demand for jack-up rigs has fallen sharply over the past two years. Unfortunately, jack-up rig contracts are typically short in term, so the utilization rate began to fall shortly after the industry slowdown began as rigs very quickly began to come off contract and were unable to obtain new contracts. With that said however, it was not a constant decline and there were certainly some months in which the utilization rate actually increased. However, the overall trend has been decidedly negative and there is currently a greater oversupply of rigs than at any time over the past few years. As might be expected, this oversupply of rigs has also driven down the new contract dayrates that are being awarded on new contracts since rig owners have become more aggressive in trying to win those few contracts that are available. However, this decline in dayrates was certainly not consistent and, in fact, there were several months which saw day rates actually increase. However, with that said, the leading new contract dayrate has now fallen to levels significantly below was owners actually need to break even on a cash flow basis.
Unfortunately, it certainly appears as though conditions continue to worsen for the offshore drilling industry. It is also unlikely that conditions will improve in the short- to medium-term as any sustained recovery would require much higher oil prices and this does not appear likely to occur.
Disclosure: I am/we are long NADL, PACD.
I wrote this article myself, and it expresses my own opinions. I am not receiving compensation for it (other than from Seeking Alpha). I have no business relationship with any company whose stock is mentioned in this article.