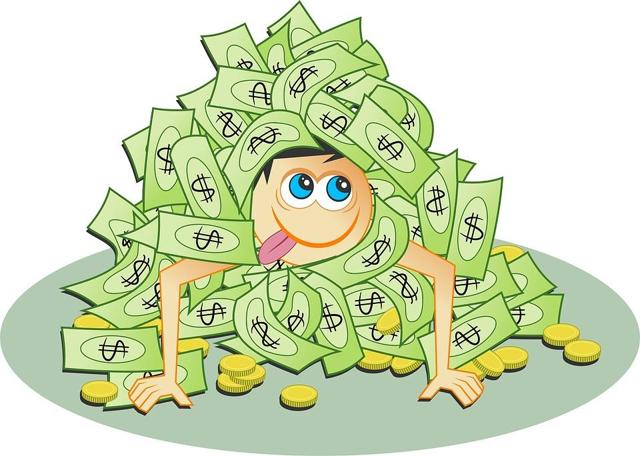 Last July I presented a dividend growth portfolio showing where I would invest my cash should I suddenly come into a large sum of money. I selected 40 companies across 10 sectors that I felt were trading near fair value and offered attractive income and growth prospects.
Today marks the one-year anniversary of that portfolio, and I thought it would be worth taking a look back at that portfolio to see how it performed, and what lessons could be learned from it.
Here is the performance of the portfolio at the one year mark: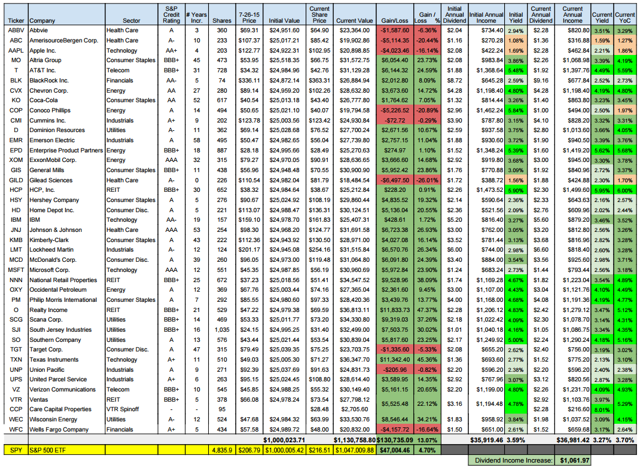 The biggest gains in the portfolio were seen by National Retail Properties (NYSE:NNN), Realty Income (NYSE:O), and Texas Instruments (NYSE:TXN), which all gained more than 38% over the last year. Meanwhile, the three worst performers were AmerisourceBergen (NYSE:ABC), Conoco Phillips (NYSE:COP), and Gilead Sciences (NASDAQ:GILD), which all saw declines of 20% or more during the period.
Both the gainers and losers are a bit of a surprise in hindsight, as looking back at the article, AmerisourceBergen and Gilead were projected to have some of the best forward returns, while National Retail Properties, Realty Income, and Texas Instruments were in the lower to middle of the pack with projections. This is another prime example that valuing companies is a difficult task, and tends to agree with Mike Nadel's recent article that says buying strength can be a lucrative endeavor.
Looking at the income side, in addition to being one of the worst price performers, Conoco Phillips was also the lone company to cut its dividend in the past year, as it slashed the annual payout from $2.96 to $1.00 per share, a cut of nearly 66%. Other energy and industrial companies including Chevron Corp. (NYSE:CVX), Occidental Petroleum (NYSE:OXY), Emerson Electric (NYSE:EMR), and Union Pacific (NYSE:UNP) also saw flat or very small increases to the dividend.
On the other hand, large dividend increases were provided by Microsoft (NASDAQ:MSFT), AmerisourceBergen, and Home Depot (NYSE:HD), which all increased payouts by greater than 15%.
As a whole, the portfolio provided capital gains of 13.07% and an income increase of 2.96% on top of the 3.6% yield provided at purchase. This compares quite well against the S&P 500 (NYSEARCA:SPY), which was up 4.7% and offered a much lower initial yield.
Observations
Projecting dividend income is much easier than projecting total returns. I was fairly close at predicting dividend growth for many companies, but was hit and miss when it came to projecting capital gains.
A low valuation, especially for a company in a cyclical sector, doesn't necessarily produce positive returns on an investment. Many of the companies that appeared undervalued produced negative returns while some that appeared overvalued produced 20%+ returns.
Diversification in a portfolio is extremely important, as you generally don't know from year to year which sector is going to outperform. Industrial, health care, and energy stocks generally lagged while consumer staples, utilities, REITs, and tech stocks generally outperformed. Having a bit of each in your portfolio provides protection should any one suffer.
Conclusion
While it is fun to look back at my selections, especially when they have outperformed, one year worth of results don't necessarily mean much. This portfolio benefited from market conditions that saw declining interest rates and a "flight to safety" that drove income stocks higher. Should market conditions change and "risk on" become the trade, it could just as easily underperform going forward.
However, this portfolio was assembled not for the capital gains it could create, but rather for the income it produces. There was a significant dividend cut from Conoco Phillips, but due to the diversification of the portfolio, it was still able to grow income at a nearly 3% rate. There remains uncertainty from HCP and some of the energy companies, but I am still pretty confident that income will continue to grow in this portfolio going forward.
The important lesson for me is that I may be putting too much of an emphasis on valuation rather than performance, and may be missing out on opportunities because of it. I've been emphasizing health care and oil & gas stocks in my personal portfolio due to their perceived bargain prices, while I've avoided other potential investments that have been growing earnings but are trading at a premium.
This is something I will try to be mindful of going forward, and may look at potential investments in a different light when my next deposit of funds becomes available for a new purchase.
Disclosure: I am/we are long ABBV, ABC, AAPL, MO, T, CVX, KO, COP, CMI, D, XOM, GIS, GILD, IBM, LMT, MCD, MSFT, OXY, PM, O, TGT, UNP, UPS, WEC, WFC.
I wrote this article myself, and it expresses my own opinions. I am not receiving compensation for it (other than from Seeking Alpha). I have no business relationship with any company whose stock is mentioned in this article.
Additional disclosure: I am a Civil Engineer by trade and am not a professional investment adviser or financial analyst. This article is not an endorsement for the stocks mentioned. Please perform your own due diligence before you decide to trade any securities or other products.