Today, I present the last major regional PMI survey before the official ISM release.
Every month, I review all important regional surveys to get a better understanding of the economy. Regional surveys are published a few days/weeks before the official ISM. Therefore, I use them to predict the direction of the ISM. I do not try to predict the exact ISM value because regional surveys are too volatile and only useful to predict directions and momentum.
This article is about the Kansas City Fed survey which is the 10th Fed district.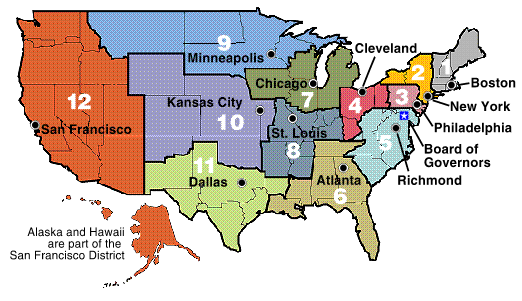 Source: Federal Reserve
As usual, I start with the most important graph. First of all, take a look at the correlation between both indicators. The ISM index does not have a period of strong growth without the participation of the Kansas district. The bad news is that July has been a very bad month for the 10th district. Contraction is back at February levels after just one month of growth this year. This puts a tremendous pressure on the ISM rally.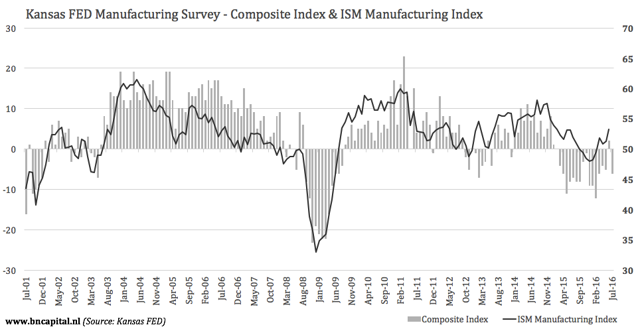 Production is just one point away from the worst print since the credit crisis. Last month's production 'explosion' has been fully erased. This looks like a serious economic downturn at the moment.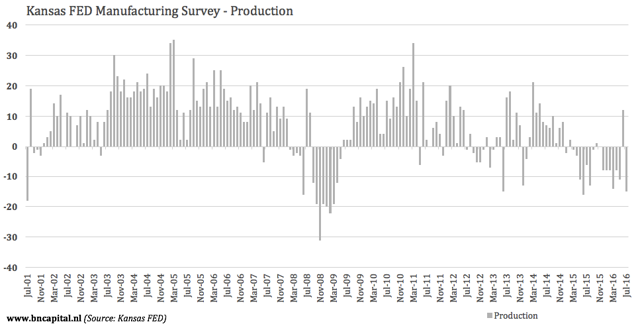 new orders have show the same pattern as new orders. Growth slowing started the third quarter of 2014 followed by a period of contraction. New orders were not able to stay in the growth zone and fell back to a six months low.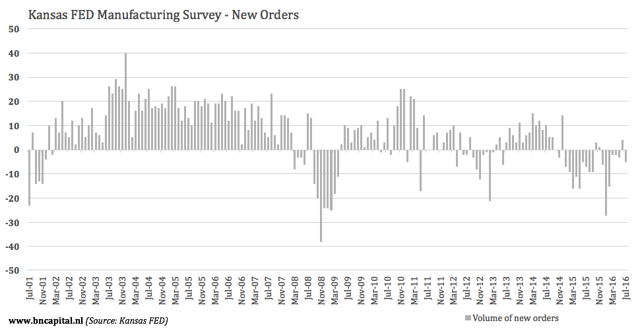 The next graph is probably the worst graph of the entire report. Shipments have hit recession levels. Levels like these have been seen during the 2008/2009 bottom.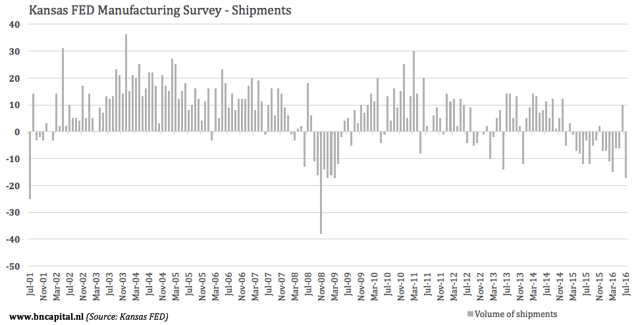 December of 2014 has been the last month with employment growth. Since then, the Kansas district has lost jobs without one single month with job gains. The 'good' news is that the month of July has the slowest contraction since January of 2015.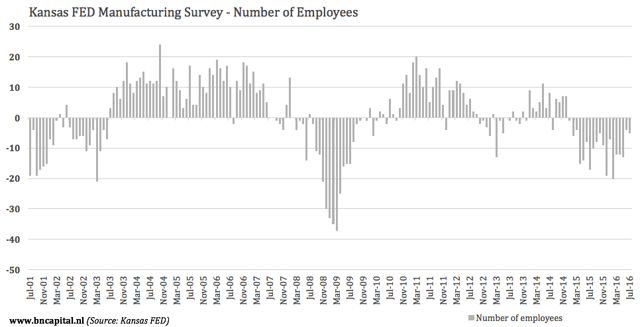 Prices for finished products had one month of growth since 2014. Prices have fallen less since the start of this year but remain in a strong period of contraction.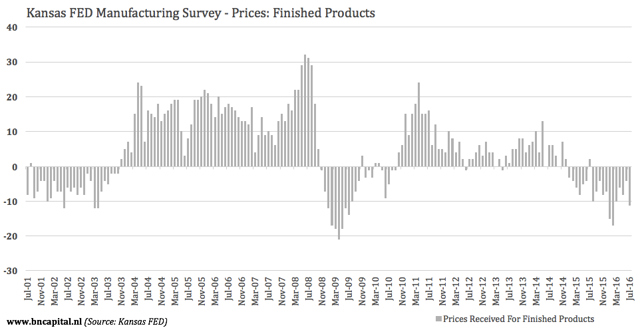 This is by far the worst regional report I've analyzed this month. The Kansas district makes it very unlikely that the ISM rally is sustainable. Tomorrow, I'll write an article where I present a all important regional PMIs to get a better understanding of the ISM release.
I want to thank everyone for reading my articles. Feel free to leave a comment if you have a question or remarks. In addition to this, I want to share my indicator overview with you. If you click on the link you'll be able to access my overview of leading, coincidence and lagging indicators. You can send me an email with remarks or questions if you like. I want to keep sharing these overviews and add a few in the future.
Disclosure: I/we have no positions in any stocks mentioned, and no plans to initiate any positions within the next 72 hours.
I wrote this article myself, and it expresses my own opinions. I am not receiving compensation for it (other than from Seeking Alpha). I have no business relationship with any company whose stock is mentioned in this article.