Intro: Why should we be interested?
Taro Pharmaceutical Industries Ltd (NYSE:TARO) is a stock that'll show up on value screens due to a) its stellar operating performance over the past several years, and b) its cheap price (~ 11x PE) in a pharma industry filled with high valuation multiples, which explains why fellow value investors have been following the stock on this site for quite a while.
A brief primer on Taro, explored in greater depth in this earlier article:
Geography: Taro operates in Israel, US and Canada. Most of Taro's sales (~90% in 2016) are generated in the US market, while it conducts its R&D and manufacturing in Israel and Canada.
Ownership: Majority owned by Indian giant Sun Pharmaceuticals Industries Ltd (XNSE:SUNPHARMA), who acquired the company in 2010 in the midst of a long legal battle with the old owners, and have tried to acquire the remaining minority interest.
At a glance, Taro also fits Peter Lynch's idea of a "perfect company": Taro is a fairly boring generic firm that operates in a pharma industry recently wracked with scandals; strong and growing margins hint at an economic moat; significant share repurchases imply insider buy in.
However, is it truly a bargain or is its cheapness warranted - is it a value trap?? A simple valuation and a closer analysis of the company's 1) moat, 2) financials and 3) management shows that while the company's fundamentals are indeed probably strong, there is good reason why the stock is cheap, and a catalyst / correction remains uncertain at this point.
Analysis of Taro's 1) economic moat, 2) financial performance, 3) management quality
1) Economic moat: Somewhat - possible cost advantage. As good as it gets for a generic?
Inherently weak moats in generics: The generic drug industry is by nature competitive, owing its very existence to the lapsing of branded patent drugs. It involves a race to be the first-to-market for a given generic drug, which gives the firm 180-day exclusivity in the US market under the Hatch-Waxman Act, after which competition devolves into a low-cost game.
Improving margins show some evidence of a low-cost moat: On the other hand, Taro is able to keep their costs down while benefiting from industry-wide generic price increases, as explained in the operating results discussion of their annual reports over the past few years. Gross margin has risen from the 55% - 60% range over the 2007-2010 period to 81.9% in FY2016. As this SA article points out, this is likely due to a mix of production off-shoring (R&D and manufacture in Israel / Canada, sell in US) and vertical integration (making their own API).
2) Financial performance: Solid on most fronts - strong growth, margins, FCF, BS health
Topline growth bolstered by rising drug prices: 10-year average topline growth of ~12%, driven by drug price hikes, as the MD&A sections of the firms' annual reports attest. Taro has however been fairly evasive about talking about how much volume vs. price influences topline in their most recent earnings call (notice how the analysts harp on this to no avail).
Margins and ROE/ROA high and rising: Gross margin improvements (higher sales, same COGS) have pushed Taro's EBIT margin from 18.5% in 2007 to an otherworldly 64.6% in 2016. By comparison, TEVA, MYL and PRGO are all in the 15% - 20% range. Consequently, Taro's ROE has exceeded 30% since 2011, with their ROA nearly identical since the company is debt-free.
FCF generation impresses too: Taro has been FCF positive since 2008, with an FCF as a % of sales of 35% - 40% over 2011-2016. TEVA, MYL and PRGO are inferior in this regard, generally languishing in the 10% - 20% range over the same period.
Balance sheet looks healthy, with lots of cash and few intangibles: Taro has no bank borrowings and a large amount of cash - as of FYE 2016 is has 577m of cash, 648m of current bank deposits and another 3.5m of marketable securities, versus 2.2b total assets. Current ratios, quick ratios, leverage and coverage ratios are all healthy as a result. Taro has also cleverly not blown this cash on bad acquisitions, and goodwill / intangible assets are nearly nonexistent.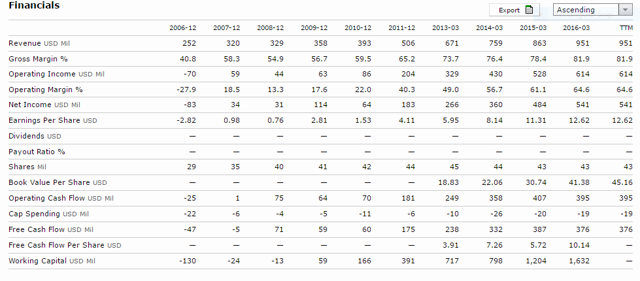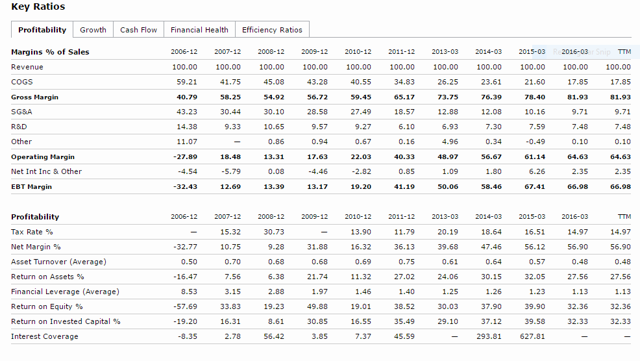 Source: Morningstar.com
3) Management quality: Major question mark - while prudent, there's a clear clash of interest with minority shareholders
Prudent use of cash - no dumb M&As, 2 large share buybacks: Taro has not fallen into the "empire building" acquisitive trap, making zero poor acquisitions despite their abundance of cash (practically no goodwill / intangible assets). One exception - Taro did toy with the idea of investing 250m in wind power to reduce its taxes in late 2015, but ultimately dropped it. Instead, they've simply put the cash into short-term securities, and when completely out of ideas have bought back shares (~200m in 2013, 250m in 2016.
Sun Pharma's minority shareholder problem - a clash of interests: In a typical situation, stock repurchases signal insider buy-in and belief of the stock's upside, but in Taro's case there might be another factor at play here: there's reason to believe that Sun Pharma wants nothing more than to take over Taro in its entirety for as cheap as possible. To give some historical context, Sun Pharma initially scooped up shares of the troubled Taro for cheap in 2007, gained control in 2010 after a prolonged bitter litigation battle, and then tried but failed to buy up the minority shares in for cheap in 2013 because the minority shareholder hedge funds balked at the lowball offer price. While we understand that Sun Pharma has at least openly stopped trying to acquire the remaining minority stake, it remains that a) Sun Pharma's interests are not aligned with the minority shareholders', b) all that bad blood doesn't go away so easily, c) if Sun Pharma indeed wants to buy out the remaining stake at some point it is in their best interests to have Taro's share price remain as low as possible.
A few potential red flags exist as well: Firstly, and most obviously, the CFO Michael Kalb just resigned, though the firm was explicit in pointing out that no suspicious reasons are involved. Secondly, I spotted some trends in 2015 and 2016's annual reports that may hint at cash-vs-accruals earnings management, or at least worsening earnings quality. FCF as a % of NI fell drastically in 2015-2016; it averaged 93% over 2010-2014, but fell to only 80% in 2015 and 70% in 2016. Days Sales Outstanding (DSO) rose as well over the same period; DSO was in the 60-70 range over 2010-2014, but rose to 76 in 2015 and 88 in 2016 (on a related note, looking even deeper down this rabbit hole into 2016's 20-F will show that customer "chargeback reserves" doubled in 2016, and had this not happened the AR balance would be even higher). A full-scale due diligence exercise may reveal more, but from what I can see so far there's been a definite decoupling between the cash and accrual story over the past 2 years.
Valuation: Cheap by most measures
I won't go into too much depth here - Taro is cheap, and these two articles have done recent and sensible valuations of the stock's fair value.
I do have only a few things to add to corroborate the earlier valuations; I won't share my own DCF model here but you can easily run something similar on Taro's Gurufocus DCF calculator.
Reverse DCF's 3% - 5% implied growth rate suggests undervaluation: A simple reverse-DCF of the market price, assuming a discount rate of 10% - 12% and an estimate of sustainable FCF (I used Morningstar's last 3 year's average) gives a 3% - 5% implied growth rate. This is much lower than the double digit growth that Taro and some of its competitors have enjoyed over the past several years, suggesting undervaluation.
A 2-stage DCF resulted in a fair value of $150-$190: I ran a 2-stage DCF, with normalized margins (historical averages) and growth tapering down from 10% to 5% over a 5-year discrete period, and then a terminal year growth rate of 3%. Applying a 10% - 12% discount rate got me a $150 - $190 range.
P/E of 11x is much lower than its peers: Taro's current PE of 11x is significantly lower than other bigger generics - TEVA has traded at 22x, MYL at 25x and PRG at 56x over the past 5 years.
Conclusion: Value trap?
Taro's upside is fairly straightforward: it is cheaply valued, has somewhat of an economic moat and a strong history of financial performance.
Taro's downside, however, isn't so simple and it boils down to management - specifically, Sun Pharma's. While Sun Pharma has likely been prudent in running its Taro subsidiary, Sun's own intent to fully acquire Taro - as cheaply as possible - simply puts it at odds with minority shareholders who want to see capital gains.
Sun Pharma boss, majority owner and India's richest man Mr. Dilip Shangvi has a respected reputation for buying distressed companies as cheaply as possible and turning them around, as he did with Taro and more recently with the distressed Ranbaxy Pharmaceuticals.
To be fair, from a Sun Pharma shareholder perspective (with Mr. Shangvi being its biggest), it makes no sense to overpay for the remaining minority shares of Taro. Even when it isn't value-destroying, M&A is a zero sum game of wealth transfer at best. Given Mr. Shangvi's reputation for driving hard bargains and Sun Pharma's open intent to fully consolidate Taro, it's clear that it is in Sun Pharma's best interests that Taro's share price remain as low as possible - and this is before considering any lingering bad blood after Sun Pharma's previous lowball offer and/or the earlier litigation.
With Sun Pharma holding onto the majority of the shares, and minority shareholders very cognizant of the company's undervaluation (and thus unlikely to sell), we seem to be at a stalemate resulting in Taro's PE being depressed in the 10x-12x range for several years now, despite its strong operational performance.
Unless a catalyst comes into the picture, and I do not know of one, this undervaluation is likely to continue. What do you guys think?
Disclosure: I/we have no positions in any stocks mentioned, and no plans to initiate any positions within the next 72 hours.
I wrote this article myself, and it expresses my own opinions. I am not receiving compensation for it (other than from Seeking Alpha). I have no business relationship with any company whose stock is mentioned in this article.