Introduction
This article is my 25th installment in a segment called "Buy on the Drop?" where I choose a stock that recently experienced a large decrease in price and give a recommendation on whether investors should "Buy on the Drop" or not. This is a recurring segment, so if you enjoy the article, "Follow" me to see more. You can read about my previous installment discussing Skechers USA (NYSE:SKX) here.
Ford Runs Out of Gas
Ford Motor Company (NYSE:F) investors are likely pretty unhappy Thursday as the stock is currently down about 10% after second quarter earnings that left much to be desired. Most of you reading this likely know the numbers so I'll just quickly sum up the report in the next couple paragraphs. If you know why Ford is down today and don't want a re-hash of the details, skip to the next section.
Let's start with the bad news. Despite beating consensus revenue estimates by $3.18 billion (almost 9%), Ford's EPS was just $0.52, 13% below estimates and 13% lower than Q2 2015 EPS. The revenue beat and EPS miss would naturally point to a margin issue, and sure enough operating margins declined across all regions except for Europe. But considering that $23.8 billion in revenue comes from North America (about 60% of the total), the decline in operating margin there by 90 bps to 11.3% was the main pain point for EPS.
Even more worrying was perhaps that Ford also warned that demand is expected to be lower than last year in the second half of 2016, and that full-year guidance is at risk. Short-term performance looks to be trending down for Ford and investors are paying the price. Yet I have another question, mostly directed at long-term investors: who cares?
The Bull Case and Why Ford Will Bounce Back
Ford is one of those stocks that's a pure dividend play and nothing else. Share price growth has been virtually nonexistent, which is fine because that's not what investors are looking for in the stock. Yet it can still get pretty volatile sometimes as Thursday's trading session again proved: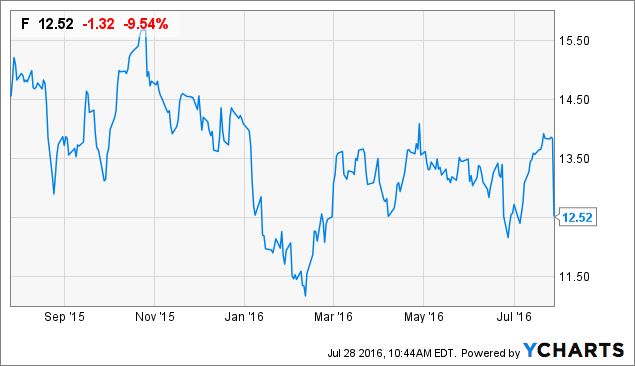 F data by YCharts
For a company that is so financially stable, there are an awful lot of sharp movements along this price chart. Yet there is a recurring theme, which is that after those short-term price movements, F always bounces back up. It's almost as if the catalyst for the stock movements is traders and not investors. Weird, right? Traders play around with shares making them go up, down, and sideways in the short-term and then long-term investors pick up shares on the cheap. A predictable cycle. Here's my complex step-by-step instructions to explain how this cycle can benefit you.
1) Stock sells off due to non-fundamental, short-term issue
2) Buy shares in Ford on the cheap
3) ???
4) Profit
5) See Step 1
Easy, right? Okay, I'm being a bit sarcastic, but how could I not be? I mean look at the results! Ford reported $4.4 billion in net income for the first half of 2016, up 33% year-over-year, generated a record $4.2 billion in operating cash flow in Q2, and distributed $600 million in dividends for the quarter. With the $0.60 annual dividend, the yield on F shares is just about 5%.
Ford is the very definition of a cash cow. The company solely exists now to return value to shareholders. There is no aggressive spending to foster growth and market share gains, and that's the way it should be. Ford isn't going anywhere and this share price decline is screaming "buy me!"
We are now at step 1 of the cycle. Ford has sold off. Step 2 is now in play: Buy F at a 10% discount when it will just bounce back up again. Step 3 will then take hold and unpredictable price movements will happen in the short-term. But then the market will realize the sell-off made no sense, Ford is still just as valuable as it was before, which leads to the profits reaped in step 4. You get some share price gains in addition to that 5% dividend. All is right with the world. Until another something comes along to inquire of the edifice which is Ford Motor Company. Some will go running for the exits and the smart ones will go straight to step 2.
I shouldn't even need to emphasize the fundamentals here. Ford is not worth a few billion less dollars because of poor second quarter results and cautious guidance. Fluctuations and anomalies happen.
The long-term prospects of Ford were not negatively affected whatsoever by anything in second quarter results. If anything, I think they were actually brightened by it. North American sales are expected to be weak in the coming quarters, but Europe is showing promising growth with operating margin for the region up 350 bps to 5.8% and pre-tax net income nearly tripling year-over-year. Ford's U.S. prospects will inevitably bounce back, and when they do they will have improving European results to bolster profits and maybe display some significant overall top line growth as well.
Use the current decline as a buying opportunity and game the cycle of irrationality. I rate Ford Motor Company a Strong Buy on the drop.
If you want to stay up-to-date on my articles, you can Follow me by going to my author page or by clicking "Follow" at the top of this page.
Thanks for reading!
Disclosure: I/we have no positions in any stocks mentioned, and no plans to initiate any positions within the next 72 hours.
I wrote this article myself, and it expresses my own opinions. I am not receiving compensation for it (other than from Seeking Alpha). I have no business relationship with any company whose stock is mentioned in this article.