Today, MicroStrategy (NASDAQ:MSTR) announces its post-quarterly earnings. I could have just waited till the earnings results are out to then write on Seeking Alpha that the stock is a buy, given the new numbers. Instead, MicroStrategy looks like a good investment already, as I will argue below. I expect the earnings to be good news for investors. The stock price will probably surge following the earnings call. What better time is there to buy than now?
MicroStrategy is a global provider of enterprise software, founded in 1989. In its 27-year old history it has specialized on business intelligence, mobile software and cloud-based services. More recently, it has entered the security sector with its security solution Usher. The company's main product, MicroStrategy 10, consolidates analytics, mobility and security in a single integrated platform. It mainly competes with products by SAP Business Objects, IBM Cognos, Tableau and Oracle's Platform. It is now also increasingly in competition with newly emerging tech start-ups. A few years ago, this could have been dangerous for MicroStrategy, when the company had faced a low-growth period.
Now things look differently. In Q4 2015 MicroStrategy's results have been positive and it was able to show good indicators of the company's performance, confirming that the company's has done it right. In the following I will show that the stock's surge since the beginning of the year will not end there. With its 3 main products, MicroStrategy is ideally set to benefit from market developments in the coming months and even years. I want to make several points to illustrate this.
It is worth looking at developments in the market in which MicroStrategy operates. Gartner Inc. predicts that revenue in the BI and analytics market will grow to $16.9bn in 2016, which represents a growth of 5.2% from 2015. It shows the growing importance of analytics for a wider set of firms and their respective strategy. Business intelligence will hence become increasingly important for smaller business and other institutions. Even institutions like hospitals are now aware of the benefits BI has to offer for their day-to-day business. This development will be the last shift from an IT-led reporting to businesses' self-service analytics. While the general market developments in BI are probably benefiting most companies in this field. I would claim that MicroStrategy's BI software is more appealing to SMEs which will struggle with IBM's, SAP's and Oracle's more complex products. This is especially so, as cloud business intelligence seems to be a great success with smaller companies as part of their business intelligence strategy. MicroStrategy's product, integrating BI and cloud-based services, is a very good fit for these growing demands.
A second market trend MicroStrategy will benefit from is cybersecurity. One just has to follow the news to realize the increasing threat, but also the increasing demand for cybersecurity solutions. Cyber threats, lack of focus in security systems and the dependency on information technology are the main drivers of this trend. According to Whatech cyber security is expected to grow at a CAGR of 8-11%, with a market value crossing $150bn by 2021. Some even think these numbers are not enough to represent the current spending and growth. MicroStrategy's Usher has accordingly brought enterprise-grade cybersecurity to its analytics platform last year. I'm positive that it will boost sales of its licenses and BI platforms in the next few months and years as cybersecurity issues become more important.
The general market sentiment seems to agree on this. Of the analysts covering MSTR, 6 out of 8 people rate the stock a buy at the moment. The fundamental analysis by Finbox.io suggests a current fair value of $216 for the stock. A look at the data does confirm this. Analysts taken into account by Thomson Reuters have estimated a similar value, around $216.
As I have mentioned before, MicroStrategy seems to be on the winning side of the BI game. If we look at the current price and both its earnings per share as well its forward earnings one can see that there is a lot of upside for MicroStrategy's share price, trading well below prices of its competitors like Tableau and Check Point Software Technology etc. The low P/E ratio of 21.2 emphasizes this. Given the market growth in the BI and cybersecurity market I expect MicroStrategy to be among the winners of these trends.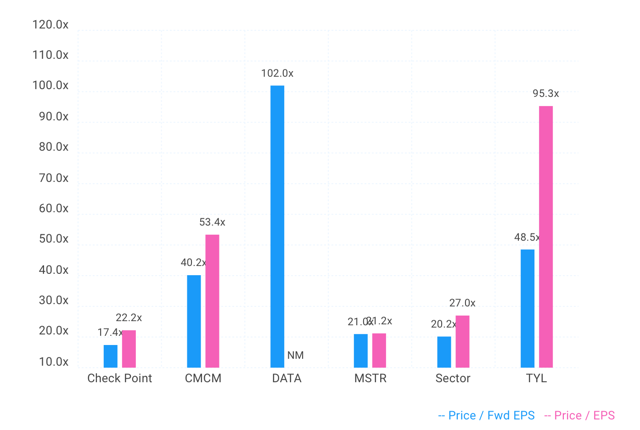 With respect to earnings I think we can expect a very positive trend in the future. Dividing projected Net Income by the shares outstanding gives a good idea of future earnings. The latest poll indicates a new record earnings number of $2.290 per share for the last quarter. According to my projection, future earnings will still be higher than that. This is also the case, because MicroStrategy's current capital expenditures are trending lower once again, which improves the overall earnings position. At an estimated upside of 17% (see Finbox.io) MicroStrategy belongs to the safer stock bets.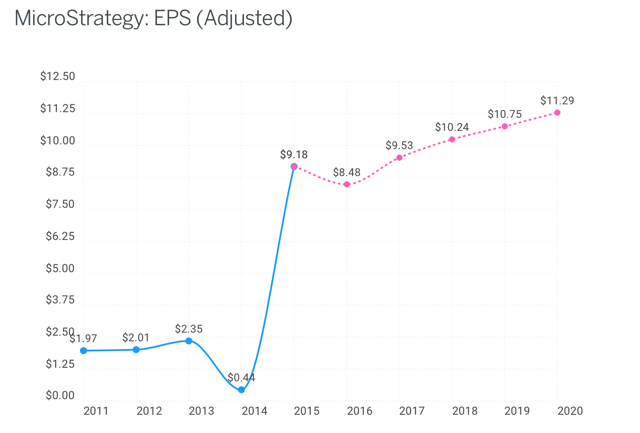 Overall, the company's outlook should be positive. In my investment thesis I have focused rather on the long-term than the short- or medium term. MicroStrategy surely did have problems in the past, but the company has proven its place in its market. It has moved into the right direction and has anticipated important market trends early enough to largely benefit from them in the future. If MicroStrategy can translate these trends well enough, it faces a bright future. I personally believe it can.
Disclosure: I/we have no positions in any stocks mentioned, and no plans to initiate any positions within the next 72 hours.
I wrote this article myself, and it expresses my own opinions. I am not receiving compensation for it (other than from Seeking Alpha). I have no business relationship with any company whose stock is mentioned in this article.