This is my first Seeking Alpha article on the topic of gold, and the timing of this article has been prompted for many reasons as you will read below. From late 2011 to 2016, the gold spot price fell almost 50%, however, many gold funds and gold companies lost 90% or more.
Starting in January 2016, the gold price began to recover, moving up from just over 1,000 USD/ounce to USD1,320 per ounce (see graph below).
Gold price 10-year chart (USD) - Current price USD1,320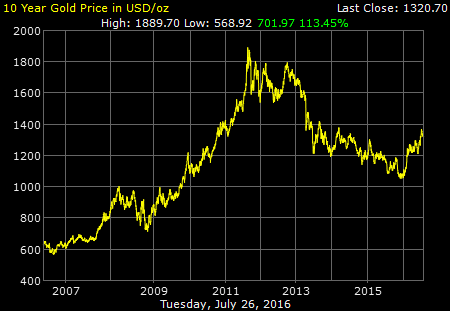 Some reasons why to hold gold:
1) Gold and gold stocks typically (not always) rise in times of heightened risk. This means adding some gold stocks to your portfolio can help you perform better in bad times. Given the current fragile state of the global economy, now would be a good time to include say 5-10% of your portfolio with quality gold stocks or ETFs.
2) Gold stocks are making nice profits now, as in many cases their costs have come down (lower labor costs after the bear market, lower operational costs due to a cheaper local currency relative to the USD), and the gold price has gone up.
3) Gold typically does well when central banks are printing money (devaluing fiat money). The global reserve banks are printing at record levels, with reports today in Japan that PM Abe will most likely launch a 28 trillion (USD265b) stimulus plan. Also, at the March 29, 2016, US Federal Reserve meeting, Janet Yellen hinted that the Fed would act similar to during the GFC when interest rates were brought to near zero and quantitative easing (QE) (money printing) was launched. Her exact words were: "We could use the approaches that we and other central banks successfully employed in the wake of the financial crisis." Add to this the poor state of many of Europe's banks (stress tests to be released later this week) and it is easy to see why investors should hold some gold, as an insurance.
Which form of gold should I buy?
Gold can be held via gold bullion, gold ETFs, or indirectly by buying the gold miners. Each has its advantages and disadvantages. Bullion is real, but will need to be stored and earns no income. Top gold ETFs such as the SPDR Gold Trust ETF (NYSEARCA:GLD) and the iShares Gold Trust ETF (NYSEARCA:IAU) track the gold price. Investors need to remember these are not 100% backed by real gold, so they have a risk of gold delivery, should it ever be required. Gold miner ETFs such as the VanEck Vectors Gold Miners ETF (NYSEARCA:GDX) and the iShares MSCI Global Gold Miners ETF (NYSEARCA:RING) are also a good way to gain broad exposure to that sector, however, they carry more risk, and you are buying the gold mining companies, not the gold. They are good for investors to reduce the stock-picking risk. Finally, for those more willing to take on stock-picking risk, you could buy shares in some gold miners.
I prefer to buy the miners, as I know a good gold miner can do very well even if the gold price stays the same.
My current top 2 gold miners
1) McEwen Mining, Inc. (NYSE:MUX) [TSE:MUX] - USD3.91, CAD5.13
McEwen Mining, Inc. is a Canadian growing gold and silver producer with projects in the Americas. The objective of McEwen Mining is to be a profitable gold and silver producer in the S&P 500.
You can see the location of projects below, which includes Argentina, Mexico and Nevada. Some are in production; others are at exploration or early development stage.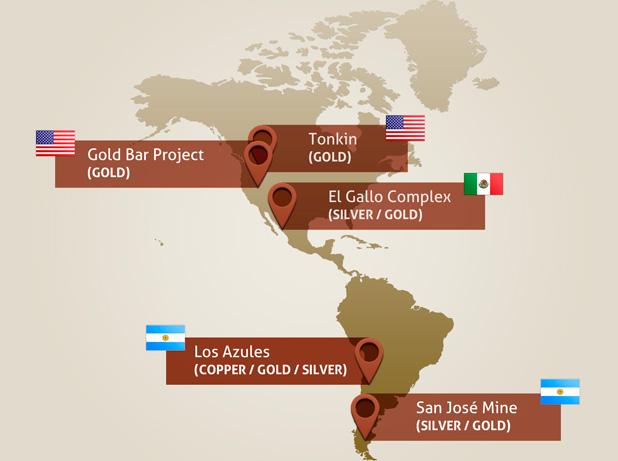 Company-wide production for 2016 is forecast to be around 144,000 ounces of gold equivalent.
Company-wide resources
| | | |
| --- | --- | --- |
| | Indicated | Inferred |
| Gold (ounces) | 2,500,299 | 3,269,310 |
| Silver (ounces) | 48,634,313 | 109,715,413 |
| Copper (pounds) | 5,400,000,000 | 14,300,000,000 |
As you can see from the table above, the silver and copper price also affects the company. I am bullish on both silver and copper after the past five-year bear market for all commodities.
I choose McEwen Mining, as it has, in my view, the best management in the form of Rob McEwen, who owns 25% of the company. Mr. McEwen has possibly the best reputation for success and rewarding shareholders in the industry. He is extremely ethical and only benefits if shareholders benefit. For example, he pays himself no salary, he issues himself no bonuses, no options, and no rewards. He only gains if the stock price rises. Now, that is very rare in this world.
Rob McEwen

McEwen Mining currently has no debt, USD46m in liquid assets, a PE of 46, and a market cap of USD1.165b. Given the company is increasing production levels each year, and has been increasing reserves with new discoveries, I have estimated 2017 production to reach 170,000 of gold equivalent. That gives an end-2017 valuation of $4.26, or an upside of 9% (based on a cost price of USD750/ounce and a PE of 15). Of course, should the gold price rally, this will increase. Consensus analyst forecasts are for a buy and a target price of USD4.00. I would suggest to buy some at this level and to add on any significant market dips. This stock will always trade on a premium based on a brilliant CEO in Rob McEwen.
2) K92 Mining, Inc. (OTCQX:KNTNF) (TSXV:KNT) - USD1.45, CAD1.89
K92 Mining is a new Canadian gold mining company, which is in the process of restarting the Kainantu gold mine, located in Papua New Guinea (home to some of the world's largest gold mines).
It first listed in May 2016 at around CAD1.20. The company bought the Kainantu gold project in PNG from Barrick Gold (NYSE:ABX) at the bottom of the bear market (paying a mere USD2m; later it may pay milestone payments, which, technically could be as much as USD60m over time). Barrick previously paid USD140m, and spent USD100m on the (underground) mine and processing plant.
Basically, K92 Mining got a gold mine and all the equipment almost free, and a very easy project to restart, which is planned for this August 2016. You can read, "The gold mine Barrick may regret selling," here.
The entrance to the Irumafimpa underground mine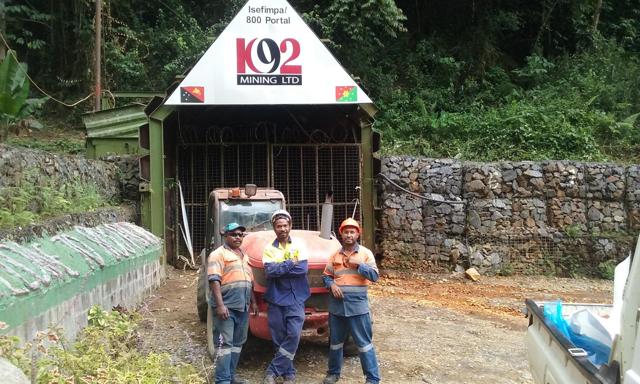 The NI 43-101 report estimates resources of 1.84Moz @ 11.6 g/t gold equivalent. Inferred, and 240,000oz @ 13.3 g/t gold equivalent. Or broken up as a resource estimate, containing 1.4 million ounces of gold, 5.2 million ounces of silver, and 222 million pounds of copper.
Even better is that there is significant exploration upside, as it has the mining lease for 405 sq km of exploration ground in gold-rich PNG. The first mining will be at Irumafimpa, then it will target Kora, then Eutompi. The company's plan is to use cash flow from Irumafimpa, then medium term to start Kora (big potential of gold at a best guesstimate, or 4-5x Irumafimpa), then other sites on its land. The mine came with an existing and working mill on site (with a capacity of approximately 500 tonnes per day). It has a valid mining license until 2025 and an environment license for 40 years.
Kainantu is located in an area of large mines as evidenced by the underlying geology and presence of nearby major projects operated by global majors Barrick, Newcrest (OTCPK:NCMGY) and Harmony (OTC:HGMCF). See map below:
K92 Kainantu gold mine and PNG map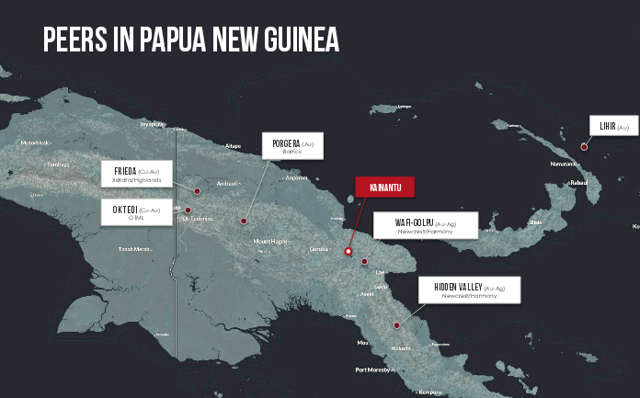 The mine is close to the existing infrastructure with paved road access, and has a very experienced management team lead by CEO Ian Stalker. Mr. Stalker stated, "There's a real chance of a very large mine popping out of this little company." You can read more here at the company presentation, or read eight reasons why to buy K92 mining here.
K92 Mining currently has no debt, enough cash to restart the mine, no PE, and a market cap of USD253m, based on 134m shares.
My model forecasts, based on 2017 production of 50,000 ounces of gold (at a cost price of USD750/ounce and a PE of 15), a stock price of CAD2.61, or 38% upside. If the company is able to increase production to 100,000 ounces pa by 2018 or 2019, the stock price can reach CAD5.21, or 176% upside. Currently, there are no analyst forecasts.
Risks
Gold mining stocks are risky, as there are numerous things that can go wrong. McEwen Mining is a larger, more established gold miner with several projects, and a CEO with an outstanding track record, so I would consider it a lower-risk gold miner, albeit fully valued right now. K92 Mining as a start-up of a re-start mine is less risky than an explorer or new, unproven producer as it bought an established mine with proven gold and large exploration upside. It is however more riskier than McEwen, as it only has one project, and it is a new company yet to prove itself. Both companies have had very large stock price gains so far in 2016, so investors should buy cautiously now, and save funds to buy more should there be a 20-30% market-wide pullback. K92 Mining is best bought on the Toronto Stock Exchange Venture (TSXV) for liquidity reasons.
Conclusion
Investors should consider owning some form of gold in their portfolios even if just to diversify and hedge against global money printing. After a severe four-year bear market for gold and even more severe for gold stocks, those that survived are now experiencing improved conditions with a strong USD gold spot price that could well get stronger going forward.
I would typically advise around 5% or maybe 10% of the total portfolio in gold-related instruments. I keep this relatively small to protect against the possibility that gold price falls, and the fact that gold pays no income. As a small percentage of your portfolio, that should not concern you. I see it as an insurance against the perils facing the global economy and the global financial system.
On the positive side, should the gold bull run of 2016 continue for the next five years (as the gold chart would suggest to me), gold investors can look forward to some very nice returns. More conservative investors should stick to the gold ETFs whilst more risk-tolerant investors should look to buy a mixture of top-quality gold miners, and a few speculative gold miners.
My message to investors is that I believe now would be a good time to enter into the gold market, especially given the current government money printing (not yet US again) and the fragile global economy. Granted six months ago, it would have been better, but that is speaking in hindsight.
I am not an employed analyst and investors should do their own due diligence.
As usual, all comments are welcome, and happy to hear if you have a great gold mining company to mention.
Disclosure: I am/we are long MUX, K92 MINING, INC. (TSXV:KNT).
I wrote this article myself, and it expresses my own opinions. I am not receiving compensation for it (other than from Seeking Alpha). I have no business relationship with any company whose stock is mentioned in this article.
Additional disclosure: The information in this article is general in nature and should not be relied upon as personal financial advice.
Editor's Note: This article discusses one or more securities that do not trade on a major U.S. exchange. Please be aware of the risks associated with these stocks.