I've long liked the story at Acme United (NYSEMKT:ACU), a relatively unknown micro-cap with stable businesses and incentivized management. I did see reason for a bit of caution coming out of Q1, after Acme had missed badly on guidance in 2015, but still saw enough reason for long-term optimism.
After Q2, there's more reason for that optimism. In fact, I wrote after Q1 that "to get excited [about ACU], and to see fair value exceeding $20, there needs to be a substantial move up in guidance - $1.55 at least..." And in its Q2 release, Acme raised full-year guidance to $1.55, and the market responded: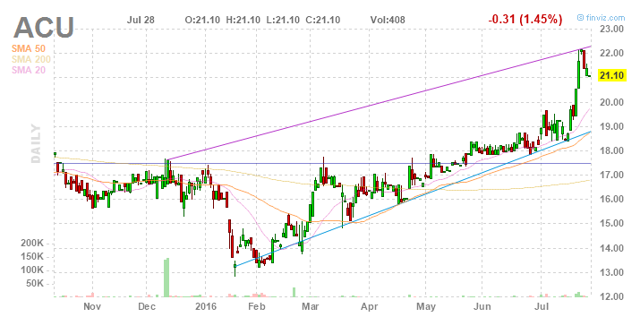 Source: finviz.com
The quarter itself was so strong that I can see an argument for more upside going forward. ACU's products are hitting across its three key categories, the February acquisition of Diamond Machining Technology already is outperforming expectations, and Acme is guiding for a significant improvement in the balance sheet over the second half of the year. There's one potential stumbling block within Acme's guidance, but with the stock fading back to a multiple below 14x that guidance, I still think ACU has more upside.
Strong Sales
Acme isn't a terribly fast grower: organic sales actually declined in FY15, one reason I'd gotten a bit cautious heading out of the Q1 report. From that standpoint, the Q2 performance was outstanding: net sales increased 21% year-over-year, with 17% of that growth organic. (The remainder was from DMT.) The success was broad-based; CEO Walter Johnsen said in the Q2 release that Westcott cutting tools and Camillus knives gained market share, while the first aid kit business seems to be very well-positioned at the moment. DMT continues to impress: Acme originally had expected initial weakness, but two major orders hit in Q1 and the $1.3 million figure in Q2 suggests year-over-year growth. Acme actually is working to expand the business's capacity, which, as Johnsen put it on the Q2 conference call, is a "good problem."
Again, across the three categories, the news looked pretty solid. Cutting tools are performing well; Acme continues to innovate in its Cuda line of fishing tools, which have driven solid early returns and positive reviews on Amazon. Camillus and Westcott are working, with Acme using its patented Titanium Bonded process across product lines. The first aid segment - now over one-third of revenue - seems to have hit on a successful strategy of shipping first aid kit refills. Johnsen said cost to end customers was about 30% of the van-based refills provided by ZEE Medical, recently acquired by Cintas (NASDAQ:CTAS).
It's not clear that Acme is taking much share in the early going, however. Based on CTAS filings and its Q4 conference call, ZEE drove ~$100 million in revenue in Cintas' FY16 over ten months (against ~$45 million for Acme's first aid segment this year). Cintas had expected $110-$120 million in annual revenue at the time of the acquisition a year ago, so ZEE's run rate appears to be on track at the moment. But there does appear to be a longer-term opportunity for Acme to build recurring revenue, as Johnsen pointed out, and it's also worth noting that CTAS paid ~1.1x revenue for ZEE; ACU's consolidated multiple remains below 1x. The shrinking school supply business might bring that down; but the higher-margin, higher-growth cutting tools should balance that out; and a 1x revenue multiple would get shares to ~$30 by year end.
School and office had a strong quarter as well, with Johnsen citing a strong back-to-school period. The collapse of the merger between Staples (NASDAQ:SPLS) and Office Depot (NYSE:ODP) provides a long-term benefit, as it limits potential store closures and gives Acme more time to pivot away from the declining office channel into mass market retail. Europe posted huge growth thanks to office strength and Canada appears to have stabilized after being a significant drag in 2015.
The only negative takeaway from the quarter was guidance. Acme raised its full-year revenue projection to $123 million, implying a 12% increase year-over-year and 6-7% excluding DMT. But as strong as Q2 was, that still implies a substantial deceleration: second-half sales are guided up 7%, and likely in the range of 2-3% excluding the benefit from DMT. Meanwhile, back-half EPS actually is guided to decline year-over-year, which raises a key question coming out of the quarter.
Is Guidance Conservative?
Acme's updated EPS guidance of $1.55 implies 2% growth in Q3 and Q4 combined on a reported basis. But even that minimal growth excludes $400,000 in costs related to a facility consolidation last year. On an adjusted basis, ACU appears to be guiding for a reasonably sharp decline, with EPS of $0.47 in 2016 against $0.52 in 2015.
The numbers don't quite seem to work, unless Acme is expecting a huge increase in SG&A. Gross margin is guided at 38% in the second half, against a ~36% adjusted figure a year ago. Revenue is guided up 7% on a reported basis - and the share count should be down 3-4% in Q3 and Q4. SG&A did increase over 12% through the first six months - something to keep an eye on - but some of that increase was attributed to variable selling costs, which should be less of an issue given back-half revenue guidance. By my numbers, SG&A needs to increase close to 20% year-over-year to provide the operating margin pressure implied in the adjusted comparison.
ACU IR didn't respond to an email asking for clarification, so for now the question is whether ACU is being conservative on the bottom line after disappointing on that front in 2015. It seems that way; but on the other hand, operating margin compressed 10 bps in Q2, due to gross margin pressure driven by mix toward school and office products. There's room for improvement in first aid, in particular, given that Acme has had to add shifts of newer workers to meet demand and will be getting leverage from newly added production in North Carolina. Even after a very strong quarter, ACU likely needs to drive that leverage going forward.
Valuation
With a market cap of $77 million and generally a 4-5% bid/ask spread, there's reason to give ACU a micro-cap/liquidity discount. But even accounting for that, the stock hardly looks expensive at 14x EPS guidance and ~16x FCF guidance at a current price of $21.10.
ACU doesn't have any real publicly traded comparable, so there's a bit of a 'feel' to valuation. Both multiples imply little in the way of growth, and given Acme's organic performance of late (and accounting for the aforementioned liquidity discount) those multiples might seem appropriate.
But I think there's enough in the story here to stay bullish, even with ACU having hit my previous targets and having gained ~18% in a matter of sessions. At the moment, $1.55 looks conservative; Johnsen may have learned his lesson from last year's disappointment, and he alluded to being conservative coming out of Q4, saying Acme wanted "the pleasure of hopefully being able to raise [guidance] as the year goes on." The improved balance sheet and a credit facility that was expanded in May give Acme room for another acquisition, with Johnsen saying on the Q2 call that another purchase was likely in the next 12 months.
There's been some criticism about compensation and share issuance, but Acme also has generated cash from option exercise: 33,400 shares were issued in Q1 at an average exercise price of $10.52, for instance. Compensation fell sharply in 2015, and Johnsen now owns nearly 17% of outstanding shares, and COO Brian Olschan another 6.6%.
The long-term case then remains intact: ACU offers an incentivized management team that has grown sales and earnings in part through a disciplined and so-far successful acquisition strategy. Those managers will have the opportunity to continue that strategy, likely in H1 2017, and there's still room to drive scale benefits from DMT and the first aid business (much of which came from the 2014 acquisition of First Aid Only). The story may be a bit more expensive, but assuming ACU can get 2016 EPS to ~$1.60, a ~13x multiple still looks reasonable, if not quite as attractive as the 11-12x offered before Q1 (or the ~9x offered in early February, an opportunity I'm still kicking myself for missing). ACU does need to show some margin strength in the back half, particularly on the SG&A line, and there's a risk that deceleration in Q3 and/or Q4 might dampen enthusiasm. But, for now, I still think ACU is a bit of a hidden gem - even if that gem is more expensive.
Disclosure: I/we have no positions in any stocks mentioned, and no plans to initiate any positions within the next 72 hours.
I wrote this article myself, and it expresses my own opinions. I am not receiving compensation for it (other than from Seeking Alpha). I have no business relationship with any company whose stock is mentioned in this article.
Editor's Note: This article covers one or more stocks trading at less than $1 per share and/or with less than a $100 million market cap. Please be aware of the risks associated with these stocks.