By Parke Shall
Results released at a conference yesterday drove shares of Anavex (NASDAQ:AVXL) lower by about 40% and it looks like AVXL will be opening under $4 this morning when trading starts.
The reason for the huge drop is that the controversial Anavex 2-73 Alzheimer's drug showed in later stage data that its effects were wearing off and were not as strong as perceived closer to the beginning of the study. You can view the company's full-size poster here.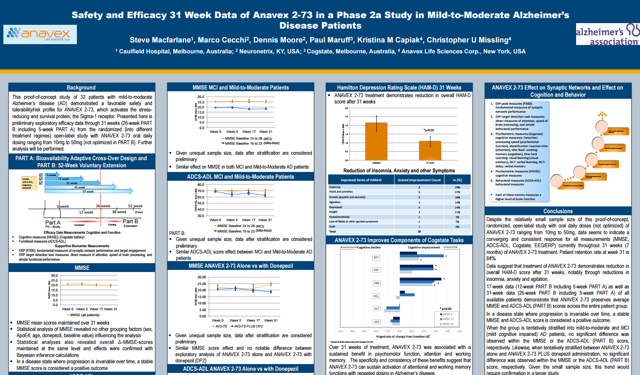 Regardless of those who had taken exception with the way that the study was conducted, these results are admittedly poor by any standards. Trends seem to show that memory loss and daily activities were not as positively affected as once thought. It's a sobering reality for a drug that has been touted as a potential cure for Alzheimer's.
An article out yesterday from The Street argues that the AVXL trial should have been conducted as a double-blind, randomized trial, which it was not. The article argues that due to the small and somewhat secretive nature of the Phase 2 trial in Australia, participants may have had a more pronounced placebo effect in this case than they normally would. The Street reported,
A scientific poster of the study data presented at the Alzheimer's Association International Conference shows 31-week declines in the patients' MMSE score, a measure of memory loss, and the ADCS-ADL, an assessment of daily living activities.

Last fall, Anavex presented data showing Alzheimer's patients treated with 2-73 for five weeks had improvements on five of six cognitive tests. After 31 weeks of treatment, only 3 of the 6 cognitive tests showed improvement.

Anavex shares recently fell 39% to $4.53 after the new 2-73 Alzheimer's data were disclosed Wednesday afternoon. The stock traded over $8 per share, essentially doubling in price, in the days leading up to the updated 2-73 study results.

The stock exhibited the same pump-and-dump trading pattern last fall when results from the 2-73 study were first presented.

Bad clinical trials produce bad data, and Anavex is conducting a garbage study.
Granted, this is not the be-all and end-all for this trial and the company may choose to try and ride this trial out further or even push on to Phase 3. But what investors in AVXL need to understand is that moving forward is going to cost the company significantly, and it's now going to cost them twice as much as it would have had the stock not been halved yesterday.
AVXL has burned through $1.9M and $3.2M in cash per quarter over the last two quarters. As of the last quarter, the company had about enough cash on hand to last another year. It is going to have to do a capital raise.
In order to push Anavex 2-73 through further trials, which some would argue is an act of futility, the company is going to need to secure probably at least $30-$50 million. A controversial company like this one will likely only be able to get financing through an extremely dilutive equity financing. Any financing that the company was already working on just got twice as dilutive due to the company's share price being cut in half yesterday. Imagine you are a potential investor in AVXL and you were working on doing a financing with AVXL. You just saw the stock get cut in half. Are you going to argue for better terms? The answer is probably yes.
Better terms for those financings generally mean much worse terms for the company and its shareholders.
The simple fact is that we're not even sure that the company is worth anywhere close to the $150 million market it currently has.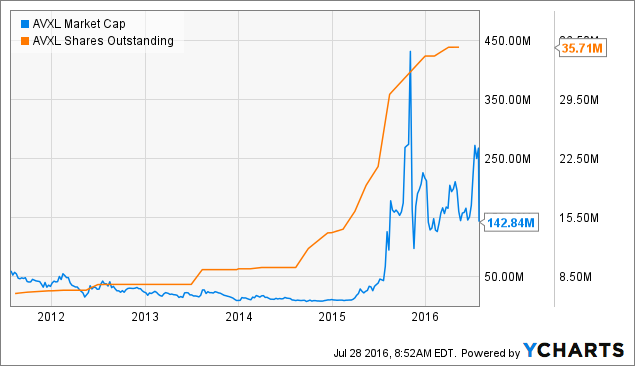 AVXL Market Cap data by YCharts
If the company winds up diluting further - which, judging by the above chart, it will - the stock price will wind up moving much lower. The dilutive effects of any financing and the public's potential for realizing that this is not a $150 million company are two very real risks that we believe AVXL shareholders face.
These risks don't even get into any of the previous claims made about the company's trials or other sketchy behavior surrounding the company.
The facts are that
For the first time, data is confirming that AVXL may be worth much closer to $0 than many thought
There is a history of questionable behavior surrounding AVXL
A coming equity raise will be on terms that are twice as bad as they would have been days ago
The company is going to need cash in 3-4 quarters
Regardless of the legitimacy of the trial, dilution is coming if the company wants to stay in business. For this reason alone, we expect shares to move lower and we would not want to be shareholders here. We are short.
Disclosure: I am/we are short AVXL.
I wrote this article myself, and it expresses my own opinions. I am not receiving compensation for it (other than from Seeking Alpha). I have no business relationship with any company whose stock is mentioned in this article.