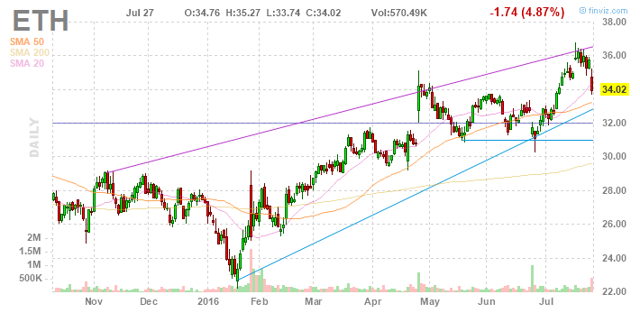 source: finviz.com
My opinion of Ethan Allen Interiors (NYSE:ETH) admittedly has been a bit erratic over the past couple of years. As growth stayed relatively stagnant - top-line CAGR was barely 1% from FY13 through FY15 - I wasn't terribly impressed, nor did a brief activist effort last year drive much enthusiasm.
But a blowout fiscal Q2 (ETH fiscal years end June 30) seemed to show that a product overhaul and initiatives to improve the manufacturing process had the potential to jumpstart growth; after shares gave back initial post-earnings gains, I took a long position betting that the quarter was the start of sustainable improvement. Q3 at first glance appeared to support that argument, with 10% revenue growth; but with shares up over 20% I took profits after the quarter, as there were enough puts and takes in the quarters to leave me unsure Ethan Allen's improvements weren't a head fake.
At a current price of $34.09, ETH basically is back at those same levels after dropping nearly 5% following Q4 earnings Tuesday evening. The report looked like it should have been bullish: results beat consensus rather handily. But weak orders and commentary about FY17 seemed enough to spook the market, and analyst downgrades from Citigroup and Raymond James (both to neutral, offset by an increased price target of $42 from Dougherty) didn't help.
I see some concerns as well. Things sound OK on the top line, and orders actually look better than the numbers suggest. But margin expansion appears limited, at least for FY17, and that raises serious concerns about how ETH will fare once it begins to lap the solid performance in Q2-Q4. The clearest takeaway from Q4 is a sense that the last three quarters were an improvement in the results - but maybe not quite so in the business. At $34, that won't be enough.
One More Good Quarter
Working through the report, in particular, it's difficult to see why on Earth shares of ETH would have declined post-earnings. Revenue increased 6.3%, including a 9.4% comp gain in the retail stores. Retail orders were down 1.2% (comp orders down 0.6%), but the comparison matters: last year's 10.4% increase was driven by a July price increase that pushed orders into the end of Q4 FY15. ETH is taking price in August this year, so normalized order strength actually looks pretty solid. The same goes for backlog; that figure was down almost 14%, but more efficient manufacturing, and emphasis on drop-shipping, and the order comp from a year ago don't make that figure particularly concerning.
Gross margin increased 140 bps to 56.3%, retail operating margin better than doubled, and company-wide operating margin exceeded 12% in the quarter, and neared 11% for the full year. That's a solid level on a peer basis: La-Z-Boy (NYSE:LZB) is at 11%, for instance, and Bassett Furniture (NASDAQ:BSET) is targeting 8-9% in the mid-term. ETH finished FY16 with adjusted EPS up 36%, and full-year comps of 8.5% - even after a pedestrian Q1.
There's a bit of a vindication in the results for CEO Farooq Kathwari, who fought off activist Sandell Asset Management last year. Kathwari had installed a multi-year, four-phase overhaul of the company's offerings, which is now complete, with the final introduction of several more modern lines wrapping up this month. And after three years of relatively middling growth, Ethan Allen's fiscal 2016 showed a 5.2% increase in sales, an 8.5% gain in comps, 160 basis points of adjusted operating margin expansion, and a 36% increase in adjusted EPS, to nearly $2 ($1.92). It would seem that the concerns I had after Q3 were overblown - but I'm not sure that's the case.
Uh Oh
So we already have increased our margins. Gross margins are pretty strong. When you take a look at our gross margin of operating [sic] at 56.3%, as compared to 54.9% - they're pretty high margins. And secondly, if you took a look at our operating margins of 12.3% this quarter versus 10.3%, they're high. So it's hard to predict, but I think if you're able to maintain these high margins, it would be pretty good.
I suppose picking out as material to the investment case one sentence from one executive on one quarter's conference call seems like a ridiculously short-sighted overreaction. But this is a pretty important sentence from Kathwari. The long-term case for ETH before and during its transformation was based on the company jumpstarting revenue growth that would allow its vertically integrated model to gain leverage both in the wholesale and retail businesses, providing an amplified impact on operating margin.
At least in FY17, however, it doesn't look like gross or operating margin expansion is on the way. Kathwari said later that 55-56% on the gross line would "be a good margin"; the full-year figure was 55.7%. It seems likely that additional clearance activity (to make room both for the 'phase 4' merchandise and new product from a collaboration with Disney (NYSE:DIS)) will have a modest impact on retail gross margin; but it also appears that retail sales are expected to slow somewhat, since higher retail mix helps gross margin (those gains, of course, are offset somewhat in SG&A).
Meanwhile, advertising spend as a percentage of revenue is guided up 100 bps+ in Q1, admittedly off a somewhat lower base; CFO Corey Whitely said that "looking ahead, we have some aggressive plans", which likely implies some margin pressure for the full year as well.
All told, it sure seemed that Ethan Allen management was trying to limit expectations for FY17, which seems to take away much of the potential upside from the bull case I saw in January. My argument then at $27 was that if Ethan Allen really had changed enough to drive a multi-year improvement, there was a chance to hit $40; while even a return to previous low-growth performance (and a low-teen multiple) still seemed likely to keep the stock in the mid-$20s. At $34 coming out of Q2, that case still seemed roughly similar - but risk/reward had changed markedly.
The problem at $34 coming out of Q3 is that now it looks like even the $40 level might be a stretch. Margin expansion seems likely to be limited, and revenue growth is reliant on new more modern products and the Disney rollout. In my (admittedly inexpert) opinion, the newer product lines look a lot like Restoration Hardware (NYSE:RH) products, which seem to have had some demand issues (although, admittedly, RH has had a number of self-inflicted supply issues as well). I'm still a little skeptical of the Disney rollout from a brand perspective. Traffic growth has moderated - though Kathwari attributed some of that to customers "window shopping" online instead of in stores - and it's been exceedingly choppy at peers. (Both Restoration Hardware and Bassett have attributed that choppiness to stock market volatility, which makes some intuitive sense.) And Ethan Allen starting in its December quarter has to lap the acceleration it's seen over the past three quarters. A little bit of margin expansion and a little bit of revenue growth would be nice - but I'm not sure it's driving much of a bull case at $34.
Valuation
On a trailing basis, ETH is trading at about 17.5x adjusted EPS. That's about a half turn ahead of LZB and a bit over a turn more than BSET. Neither of those stocks looks particularly cheap at the moment; from a multi-year standpoint, it does look like Bassett has the most room for improvement (particularly on the margin side, as noted above) but that stock likely already carries the most risk.
For ETH (I know, I'm being erratic again), I actually see the outlines of a short case - and I'm not alone: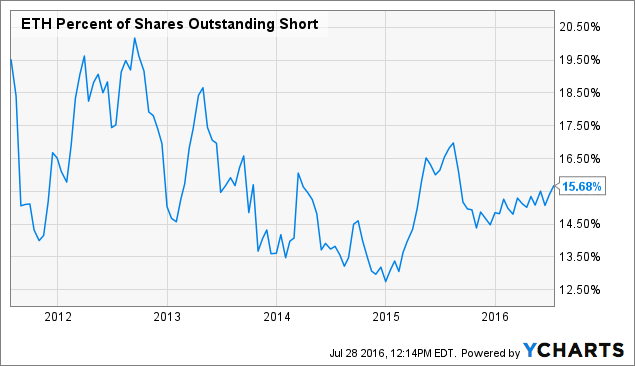 ETH Percent of Shares Outstanding Short data by YCharts
This a macro-sensitive stock with a multiple that implies reasonable levels of growth even though it's running into very difficult comparisons in Q2. Meanwhile, the question coming into Q4 - is the growth sustainable, or did ETH just get a nice bump thanks to easy trailing comparisons and a bit of macro improvement? - leads to a bit of a binary conclusion. It's rather unlikely ETH will be at $34 a year from now; that valuation sort of feels like a 'split the difference' number between solid FY17 growth (which can get the stock into the high $30s - something like 17-18x $2.15, double-digit EPS growth) and a return to the single-digit top-line increases of FY13-FY15 (which would put ETH back near or below $30 - think 14-15x $2-$2.05). With potential margin pressure coming, low-single-digit sales growth isn't going to drive much in the way of EPS, and that's going to lead the multiple compression.
I do think there are better macro-sensitive shorts in a broad market near its highs, but the next six months certainly look dangerous for ETH shares. The broader point is that it looks like Ethan Allen is headed back closer to what it was - a well-known brand with decent growth - instead of on the path to a significant change. And it does look like some of that significant change still is priced in.
Disclosure: I/we have no positions in any stocks mentioned, and no plans to initiate any positions within the next 72 hours.
I wrote this article myself, and it expresses my own opinions. I am not receiving compensation for it (other than from Seeking Alpha). I have no business relationship with any company whose stock is mentioned in this article.