I recently read an enticing theory regarding the rising rig count (NYSEARCA:USO) proposed here by Arthur Berman. The proposition is that capital flows drive rig counts. When money is available for companies to drill, they can't help themselves but act. This is a common problem due to human instincts, and a desire not to be left behind. In capital markets, companies are often punished for leaving capital on the balance sheet; it signifies a lack of profitable places to invest and inadequate management. In cyclical sectors such as commodities, it is imperative that managers can hold on to capital until the worst of the bear trough has passed. Unfortunately, for many shareholders, this is not the case.
Mr. Berman's thesis has plenty of convincing data to back it up. As the rig count in the U.S. rises for the fourth straight week, we again see a pullback in prices. This seesawing begs the question, how did company managers not see this coming? There is a clear correlation between a rise in WTI, an increase in rig count, and a subsequent fall in WTI.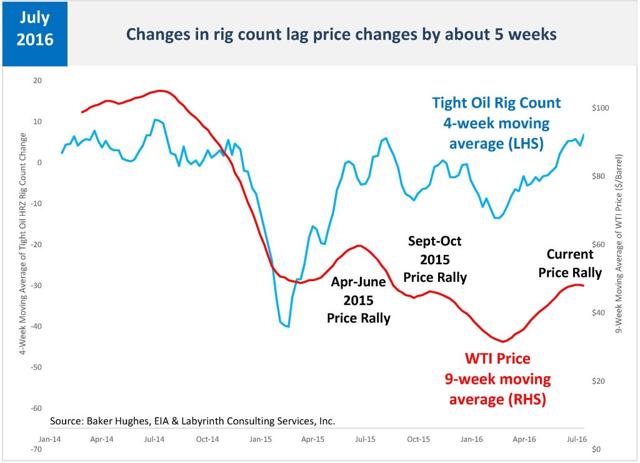 Source: oilprice.com
Companies Can't Stop Spending Capital
As the well-known commodities investor Rick Rule points out:
"Convincing a management team that has been brought up to put stuff into production, to move projects forward-to convince them to do nothing is very difficult."
And it certainly is. Many of these companies are built to execute projects. There is a funnel that captures data and ideas and progressively moves them through a set of gates towards capital projects. This project flow is how these companies have been built to operate. For many big companies, they know no other way. Think of it as trying to change the purpose of a computer system that took decades to build. The change is not going to be easy.
Many companies are operating just like a computer system. They receive inputs in the form of seismic, drilling data, production data, and economics - and they output projects. To change the habits of those working at these companies is difficult at best. And, the bigger the company, the harder the shift. Cyclicality in oil is not new, and perhaps that is why this time may be the most dangerous. The investment community is looking for the bottom, for the turnaround, and for a break from the meager returns elsewhere. Perhaps that is why capital inflows to the oil and gas so far in 2016 have topped the highest seen for an entire year since 2006.

Perhaps that bottom has come, but this author thinks that - at the risk of sounding like a broken record - this time will be different. Traditional oil producers now have a major competitor in the form of shale oil. Oil also has a new competitor, alternative energy. Oil is no longer the sole means of providing energy dense transportation fuels. As a result of high prices, investment into electric cars, solar, and renewable created a new supply chain that could serve the same purpose.
An Alternative to Liquid Transport Fuels
While a new supply chain is taking shape as an alternative to liquid transport fuels, it is very young and slight. As of yet, it is not taking a meaningful piece of the transportation pie, and it likely won't for another decade. However, the path is set. Higher oil prices would only encourage the uptake of alternative energy. As a matter of hindering the competition for transport fuels (the primary market for oil), and preventing consumers from changing behaviors, OPEC can elect to work to maintain a lower oil price band.
The upcoming competition of electric cars, cheap energy in the form of natural gas, and a drive towards efficiency and carbon neutrality are all headwinds for the oil industry. As a result, wealthy countries with slow rates of population growth have seen demand for liquids fall.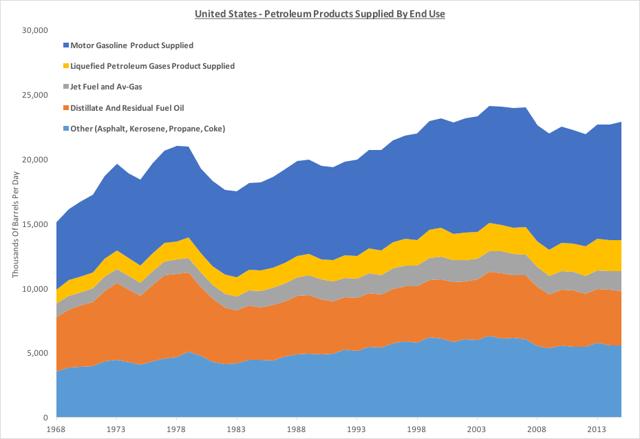 Source: EIA
Back To Oil
Counteracting the stagnation of demand in many rich countries is the increase in demand from emerging economies. We have seen rising oil demand continue despite the headwinds in the U.S. and Europe. However, it is only a matter of time until the emerging economies of the world catch up. Growth is slowing everywhere, not just in rich countries. If growth slows, then the rising numbers of the middle class around the world slow down.
Oil companies will fail to respond to this reality as long as capital markets fuel them. Oil executives need to at least entertain the idea that oil demand growth may not continue forever. The companies that survive that inevitability will be the ones that focus on being industry leaders, not producing the biggest reserve figures.
As Mr. Berman points out, many of the shale operators drilling for oil are doing so despite spending an average of four times earnings in the first quarter of this year. Despite making record losses, companies kept spending.
A Broken Incentive Structure
Oil companies will continue to act in a way that directly damages their business model until cash dries up. I don't believe this comes from incompetence, but from the incentive structure created.
I am a big believer that humans respond specifically well to incentives. Consequently, if you pay someone handsomely to spend money and find oil, they will do so regardless of the effect on the wider company - that is how people work.
"Mr. Grigel found that 14 of the 25 companies he studied either made no change in 2015, or didn't disclose the details of their bonus calculations. Four companies increased their emphasis on production and reserve growth last year, while seven lessened the importance of these factors." - Wall Street Journal
The boards of businesses that fail to adjust their incentive structure in light of an apparent failure of management to create value have fallen into a psychological trap - that the current market is transitory, and we must prepare for the cyclical uptick. By viewing the current market price as cyclical, one can convince themselves again that oil companies are growth companies. Reserves must rise, production must increase. At the end of the day, what matters to investors is profits and dividends. The incentive structure in place fails to this end. Until it changes, any free capital at "growth" companies will be poured right back into the problem that got them here in the first place.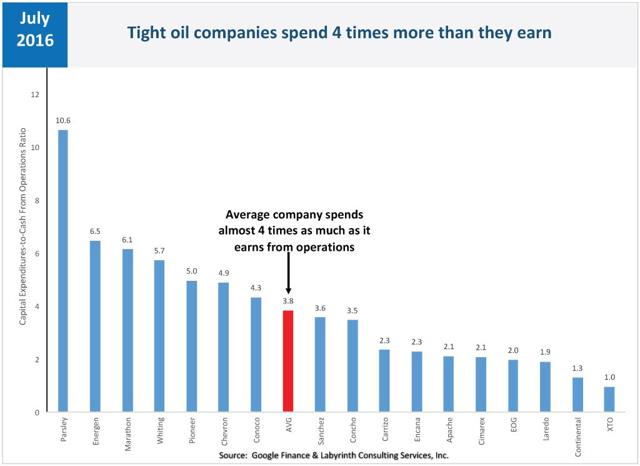 Source: oilprice.com
It is hard to provide an incentive structure that guarantees that management teams act in their investors' best interests in all scenarios. Incentivizing production growth and reserves during periods of high prices guarantee the development of a bubble.
Incentives should focus on maintaining a high ROACE (Return On Average Capital Employed), generating free cash flow, and let the shareholders decide whether they want the company to pile money into growth, share buybacks, or dividends.
Executives need to get back to focusing on being world-class operators and innovators, rather than world-class salespersons and financial wizards.
If you found this article interesting, head to the top and click on the "Follow" button next my name to get updates on future articles.
Disclosure: I/we have no positions in any stocks mentioned, and no plans to initiate any positions within the next 72 hours.
I wrote this article myself, and it expresses my own opinions. I am not receiving compensation for it (other than from Seeking Alpha). I have no business relationship with any company whose stock is mentioned in this article.