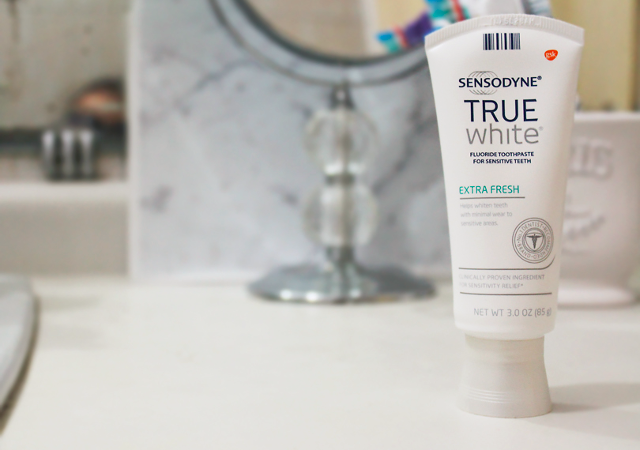 Back in April when reviewing GlaxoSmithKline's (NYSE:GSK) Q1 2016 results, I argued that it looked as though the pharma giant was finally starting to see positive momentum build:
GlaxoSmithKline has been slowly but surely gaining a little traction in its (recent) results. In these Q1 results, it really does look as though they are beginning to generate the momentum needed to actually deliver on its long-term potential for investors.
What we wanted to see now, I argued, was these positive trends to being consolidated upon in future reports. Now we have their Q2 results in hand, can we say they have? At the risk of spoiling the rest of this article for you, the simple answer is "yes."
With these Q2 results we see many of the same positive trends we saw in Q1 with added progress to boot. The Novartis (NYSE:NVS) deal which saw GSK shift some of its weight toward its vaccines and consumer healthcare business has clearly started to bed in and generate results. Exactly what I was hoping to see. Let's drill down into them a little more to see what I mean.
Growth Continues
First let's point out that Q2 2016 was in some regards a little weaker than in Q1. Q2 2016 saw a little softening of pro-forma growth (taking into account the Novartis deal) which left H1 results a little slower than in Q1: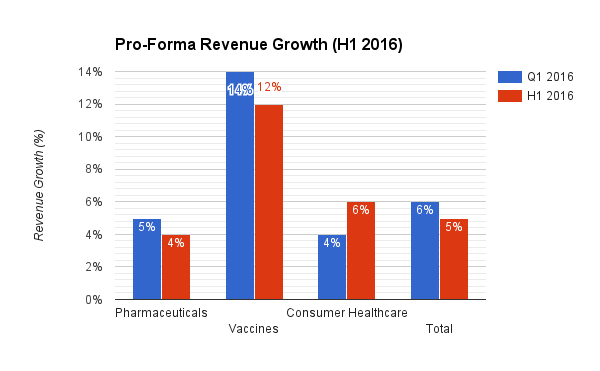 Yet what this remains is a compelling jump on the results seen this time last year: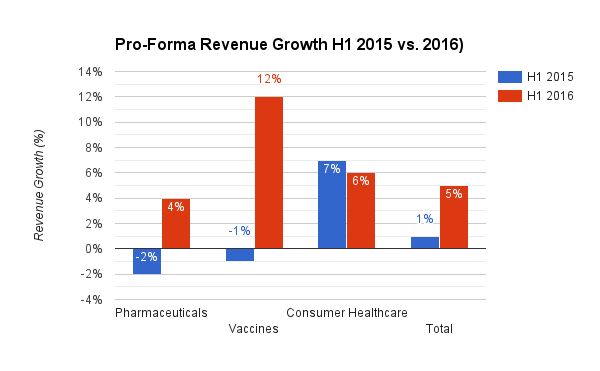 Unlike in 2015, all major segments saw strong revenue growth. The only weaker segment was consumer healthcare. Yet, bear this in mind, it continued to do exactly what that segment is supposed to do: provide stable if unspectacular growth rates. Chipping in an additional 6% growth is very much welcomed in light of this and seems, to me, a justification of the shift the company has made in this direction. Indeed, in H1 2016 the consumer healthcare segment grew in importance further for the company, contributing over 27% of revenue, showing how important it is we keep an eye on this segment: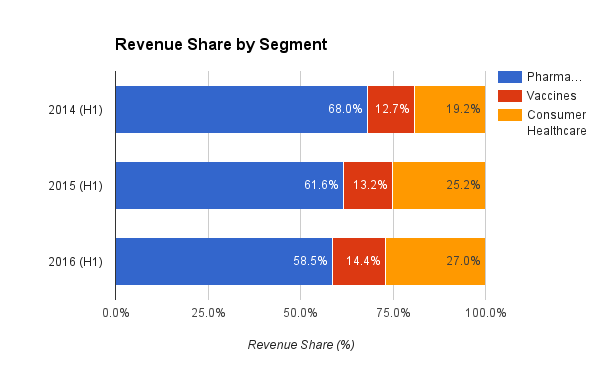 The picture of a positive leap in performance from this time last year is reinforced when we look at GSK's operating profit figures. Unlike in 2015 where it managed to keep profit stable, in 2016 GSK saw this power ahead too: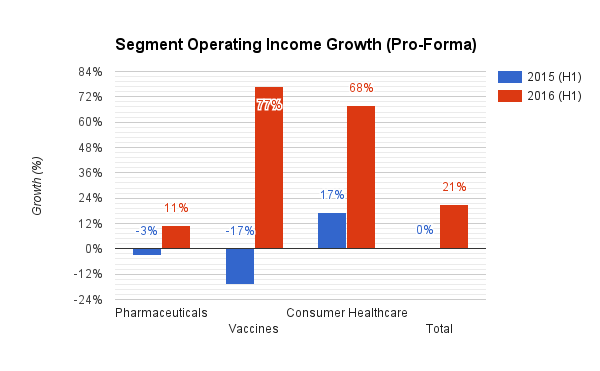 This suggests to me that from a top and bottom line perspective, GSK has certainly managed to consolidate its successes in Q1 over the last three months. We still need to see this continue throughout the rest of the year, but the picture so far is very good indeed.
Pipeline Continues to Deliver
Digging deeper into the still core pharma segment shows that their investment in the pipeline continues to deliver. New pharma and vaccine revenue continued to accelerate in Q2 with nearly £1 billion added from this source: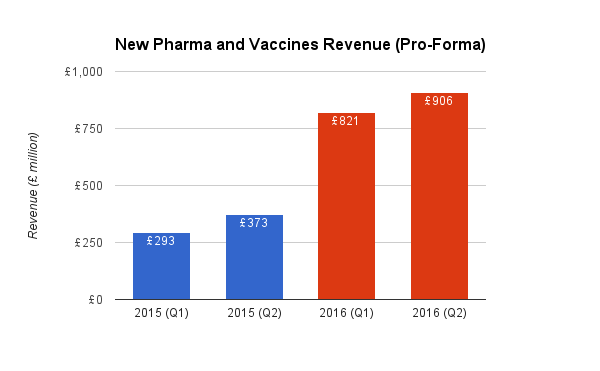 Breaking down the data more, it is great to see that although as in the past the new HIV products continue to lead the pack, other new pharma and vaccine additions are seeing strong growth indeed (especially in the important respiratory segment, of which more later):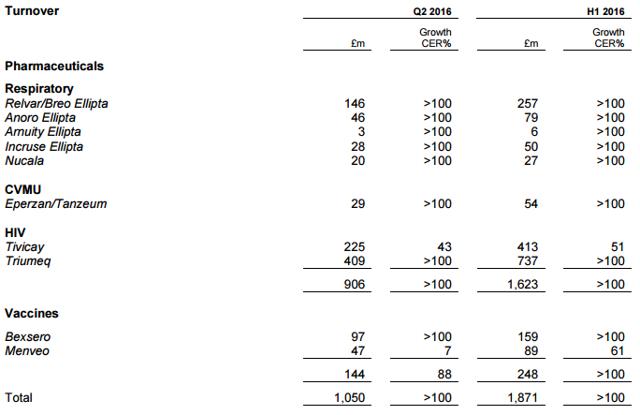 New products also have been warming up, ready to contribute to revenue figures in the future. For instance, GSKs stem cell gene therapy, Strimvelis, received EU approval in May. The company also declared that four significant filings were expected in the remaining half of the year.
Indeed, this performance has been very impressive. GSK has therefore stood by its belief that revenue from new pharma and vaccine products will bring in £6 billion in revenues by 2018 rather than the original target of 2020. Again it is hard to leave reading this without coming to the conclusion that the momentum is still building.
Respiratory Segment Makes Progress
GSK's respiratory segment has always been a key pillar of its pharma business. Indeed, even after fairly rapid declines in revenue in recent years it still constitutes over 40% of total pharma revenue: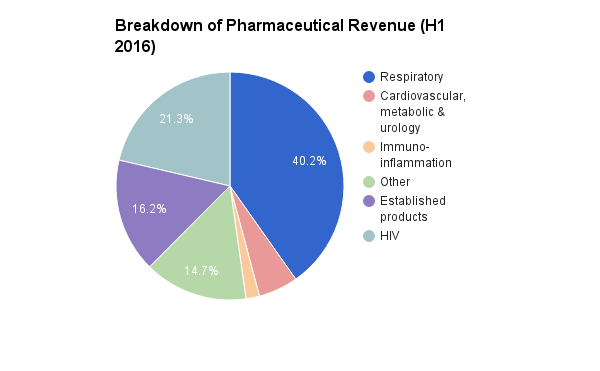 Encouragingly, therefore, Q2 was happy to report that revenues from this segment were flat rather than what has become the familiar drop: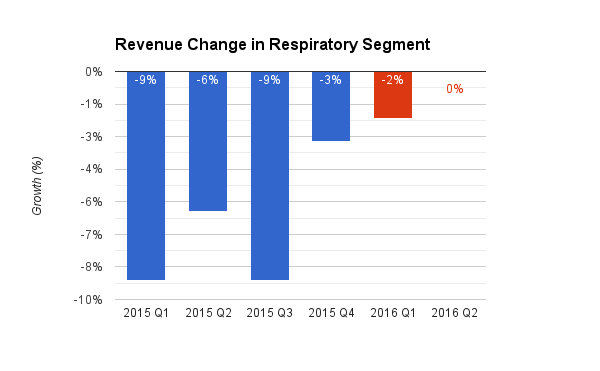 Sure, flat revenues may seem like hardly something to write home about, but this is important. Assuming they continue this momentum with new products generating similar revenue growth we should see the Respiratory segment growing as we head toward the end of FY2016.
A key driver of these revenue declines in recent quarters has been the eating away of revenue of the recently off-patent Advair/Seretide blockbuster treatment. Yet its replacement Relvar/Breo saw revenue jump significantly again in Q2 helping to produce strong revenue figures for the first six months of 2016: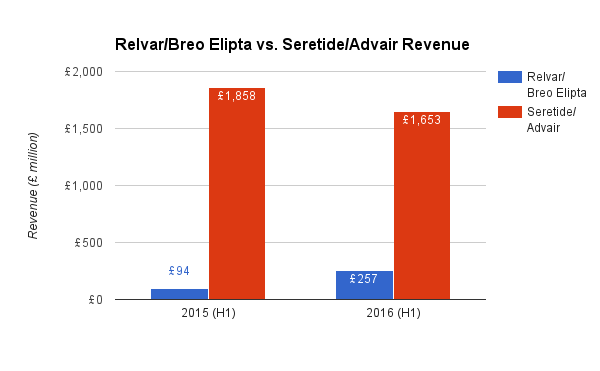 While Advair has lost another £205 million in revenue since this time last year, Relvar has added a nice looking £163 million. This looks good for the new respiratory drug to be well placed to start to replace the revenue declines of its older stablemate. Yet this responsibility does not rest entirely on Breo's shoulders. Other respiratory products also are performing well, with the result that, as the company explained: "Sales growth of new respiratory products more than offset decline in sales of Seretide/Advair."
All told, this is an important turn of events for GSK. Its respiratory segment remains a critical part of its pharma business. Q2 2016 sets the stage for the potential return of revenue growth in the near future. For long-term shareholders this will no doubt be some relief.
Consumer Healthcare Powering Ahead
GSK's consumer segment also continued to show its potential for growth. The segment as a whole grew by 7% on a pro-forma basis compared to 4% growth in Q1. A great performance in itself, yet it could have been better had it not been for a weaker performance in Europe: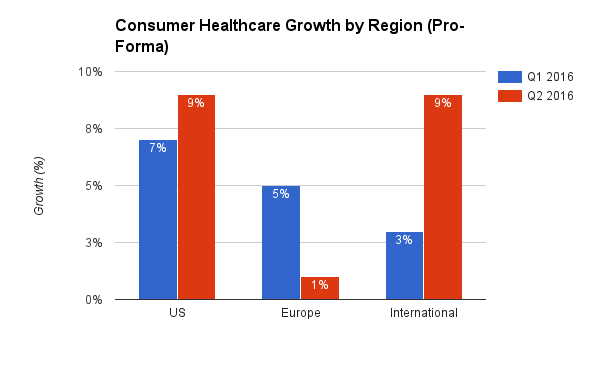 This relative weakness was expected, however, and disguised a stronger underlying performance. As the company explained:
Growth in Q2 was impacted by the expected phasing of sales due to systems integration projects. From a consumption perspective, many of the power and core brands continued to grow faster than the market, with Voltaren and Sensodyne performing particularly strongly. Oral health sales grew in mid single-digits with strong performances in Sensodyne and Gum health offset by a decline in Aquafresh due to increased competitive pressures in family oral health.
Certainly oral health continued to help power the segment forward, yet encouragingly the consumer segment in general saw strong improvements on Q1:

The two core segments which compose about 82% of segmental revenues - oral health and wellness - saw strong growth rates. Yet even with the smaller segments which have been shrinking, the scale of that shrinkage has reduced in Q2. This bodes well for a potential return to growth in these small but not insignificant parts of GSK's increasingly important consumer business.
Convenient Currency
Although GSK's business itself was seeing a continuation of healthy moves seen in Q1 a new, indirect assistance to its results has emerged. The cause? Currency tailwinds. Needless to say, GBP has weakened significantly recently. As GSK reports in GBP this is a helpful hand to the company. I previously tried to roughly calculate the potential effect this would have on the company. It turns out that the company itself believes the impact could be even greater still. I had assumed this at the time as I had worked out my calculations based on higher forex rates and only including the core USD and EUR currency effects. Yet the company explained that they felt that:
If FX rates held at Q2 period end rates (they would see an) estimated impact of +19% on 2016 Sterling core EPS growth.
In the short term while these positive trends in the underlying business continue to make themselves felt, this additional currency assistance is welcome. With this combined with the improving figures coming out from across the company's operations, the ~4.7% dividend is looking increasingly safe (a point I was anxious about previously). Again, for long-term investors, this is a very welcome thing to think upon.
Conclusion
There is no doubt that GSK has continued to build upon the positive momentum it had generated in Q1 well into Q2. Indeed, I found the results even more encouraging than I had expected. All segments of the business are finally starting to yield results which are looking increasingly sustainable as time passes. More needs to be done and proven. Yet I see little reason why H2 should not see similar trends further built upon.
The performance of the consumer healthcare segment continues to impress. This part of the business has always been appealing to me as a top and bottom line ballast to the more tempestuous results coming from the pharma and (to a lesser extent) vaccines business. Yet a ~7% revenue growth rate pleasantly surprised me.
GSK's continued success in driving revenue from its new pharma and vaccine products also leaves me very pleased. This is especially true of its important respiratory segment which has, recently, been a core driver of revenue declines.
All told, I'm left as a very happy shareholder. Indeed, had I not already been holding an overweight position in the company I'd be happy on the back of these results to continue building up my holding. The yield remains attractive (even for non-GBP investors, despite currency headwinds) and increasingly secure.
The shift toward a greater position in consumer healthcare and vaccines appears to be justified as the strategy (so far) generates results. Yet it remains a pharma company, and here it looks well placed to continue to deliver over the medium-term and beyond. Right now it is also starting to deliver in the immediate term - this I'd expect to be true in coming quarters as well. GSK still has some way to go to catch up with its pre-patent-cliff self. Yet it is certainly making strong progress so far in 2016.
Notes
Unless otherwise stated, all graphs and the calculations contained within them were created by the author. Image reproduced from BeautyMilk.
Disclosure: I am/we are long GSK.
I wrote this article myself, and it expresses my own opinions. I am not receiving compensation for it (other than from Seeking Alpha). I have no business relationship with any company whose stock is mentioned in this article.