Do you think the bull market has room to run? Or is it ready to get ripped apart by a bear? Here's a better question... Does it matter? I don't think so. Here's why...
Not so old, expensive, or emotional
A recent opinion piece on Bloomberg suggested that the current bull market didn't start in 2009, but, instead, began in 2013. That pretty much cuts the age of the bull market in half, suggesting that it isn't long by historical standards and could have plenty of life left.
The article also talks about investor sentiment, relying on survey from Bankrate.com. The results are actually quite interesting, since respondents basically said that the best long term investments are property, cash, and precious metals. Number four was stocks and five was bonds. The argument being that bull markets don't end until every investor in the world loves stocks. If this bit of research is any indication, that's clearly not the case.
The last point was valuation. Here, the argument is that valuation depends on how you measure it. So you can find measures that suggest the market is cheap and measures that suggest it's expensive. And, equally important, the article explains that low inflation and low interest rates justify higher prices.
On the other hand
Here's the thing, I could refute some of these claims. For example, historically reliable market valuation tools are screaming overvalued today. They key words are historically reliable. Even if you don't like John Hussman's opinion on the market, he's one of the best market statisticians around (and, trust me, it's worth reading the opinions espoused by people you don't agree with because it forces you to question your own beliefs). He's compared different valuation measures so he could find the most reliable ones. Two that have stood the test of time better than most are Shiller P/E and, even more reliable, market cap to gross domestic product. Both suggest a market that is seriously overvalued.
In fact, the Shiller P/E and market cap to GDP both suggest future returns will be in negative territory. Keep in mind, also, that market cap to GDP is a measure favored by Warren Buffett-in other words it has some street cred. Hussman, for his take, expects returns of around zero over the next twelve years or so, including dividends.
As for low rates, I'd argue that they do justify higher returns. But, and this is a big but, those returns are being dragged to the present from the future. Which is why future returns for investors are likely to be so dismal. And it gets to the heart of my bigger issue-I can't find good dividend stocks I think are cheap.
Pick a side, it doesn't matter
Aside from highlighting market cap to GDP, Buffett has a host of other colloquialisms that really hit home. One of my favorites, and one I have to constantly remind myself to follow, is that you don't have to swing at every pitch in the stock market. The so-called Oracle of Omaha talks about the market as a baseball game where balls and strikes don't matter, allowing you to sit and wait for the pitch you like. In other words, you can just sit around and do nothing. And sometimes nothing is the best thing you can do.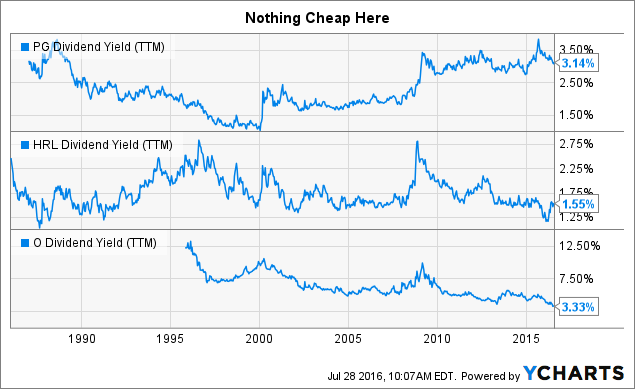 PG Dividend Yield (NYSE:TTM) data by YCharts
For example, I like Procter & Gamble (NYSE:PG), but price to trailing earnings, price to forward earnings, price to book, and price to sales are all above the company's five year average. Dividend yield and price to sales are basically sitting at their averages. I could argue that it's fairly valued, but I can't argue that it's cheap. I prefer cheap. Thanks, but I'll pass on that pitch. I'll get interested when the yield moves closer to 3.75%, even though the 3.1% yield is historically high for the company. And if the yield never pops higher, I'll just fine something else.
I really like Hormel (NYSE:HRL) and the shares are off some 15% or so from their recent highs. But PE, PB, price to sales, price to cash flow, and dividend yield are all expensive compared to their five year average. I'll become more interested when the yield is the 2.5% range. Right now, for reference, Hormel's 1.5% or so yield is far closer to its historic lows than its highs.
I'm also a big fan of Realty Income (NYSE:O). This monthly dividend payer is a rock in a storm. But the yield is hovering around all time lows. Unless you believe that the real estate investment trust's valuation has suddenly found a new, much higher, plane, it's not cheap. I'll wait...
I could keep going, listing stock after stock that I think is worth owning but that the price just isn't at a point where I'm interested in stepping in. The reason is easy to explain, too. If you buy a stock when it's expensive you are limiting your future returns. It really is that simple and it has nothing to do with bulls or bears.
If you are finding stocks that you think are cheap, and worth the risk/return trade off, that's great. I'm not, so I'm letting cash pile up on the sidelines. Oh, and I think the market is expensive, investors are overly positive, and the bull market is at risk. The two are related, but not tied at the hip. Lest you think I'm some kind of bear lover, I was finding stocks I liked at the end of last year and into the early part of this year, during the market sell off. And I liked the opportunities enough to bit the buy button...
So believe what you want about the bull market, but don't ignore the valuation of individual stocks. Sometimes it really is best to sit on your hands and do nothing, as hard as that can be, no matter what's happening in the broader market.
Disclosure: I/we have no positions in any stocks mentioned, and no plans to initiate any positions within the next 72 hours.
I wrote this article myself, and it expresses my own opinions. I am not receiving compensation for it (other than from Seeking Alpha). I have no business relationship with any company whose stock is mentioned in this article.