The EIA reported an injection figure of +17 Bcf, bringing the total storage number to 3.294 Tcf. This compares to the +49 Bcf build last year and the +49 Bcf build for the five-year average.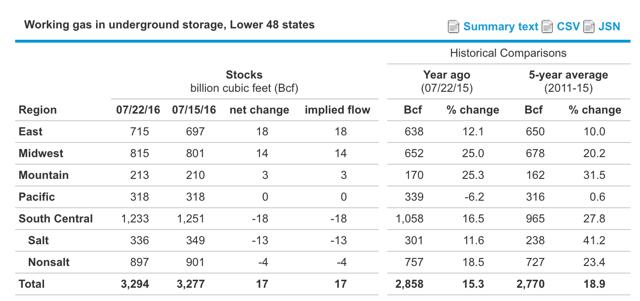 Can we call it for what it is? This is bullish. This applies to both bulls and bears. The lowest estimate we saw this week was +17 Bcf, while the consensus average was +26 Bcf, and we expected +20 Bcf. The report came in right at the lowest point and beat our forecast by 3 Bcf. Natural gas prices, on the other hand, don't care whether you think they're bullish or not because they have taken off already.

The "widow maker" is at it again.
The REX pipeline maintenance certainly had something to do with lower supplies, but this was materially lower than what people expected. Traders were also likely not positioned correctly going into this report. This report sets up well for next week. Next week's average forecast so far is for a +5 Bcf injection, while we see estimates as low as -2 Bcf. This would be a record setting July as it shattered four of the five-year minimum injection figures.
In order to penetrate the psychological $3/MMBtu barrier, August injection figures have to come way down from where they are currently at. Overall, this was a very bullish report. The +17 Bcf bodes well for storage as it further reduces the year-over-year surplus. Bulls can take this one home.
We hope you enjoy our weekly natural gas (NYSEARCA:UNG) storage reports. Be sure to check out some of our previous ones and click on the "Follow" button above if you would like to receive our "Natural Gas Daily" articles. In addition, we also have a premium subscription platform that's tailored to long-term, value-oriented investors. We provide recommendations of stock ideas and portfolio composition. We look forward to you joining the HFI platform.
Disclosure: I/we have no positions in any stocks mentioned, and no plans to initiate any positions within the next 72 hours.
I wrote this article myself, and it expresses my own opinions. I am not receiving compensation for it (other than from Seeking Alpha). I have no business relationship with any company whose stock is mentioned in this article.