EIA reported quite a bullish injection report today. It was a storage injection of +17 Bcf vs. the +26 Bcf average estimate. We expected +20 Bcf.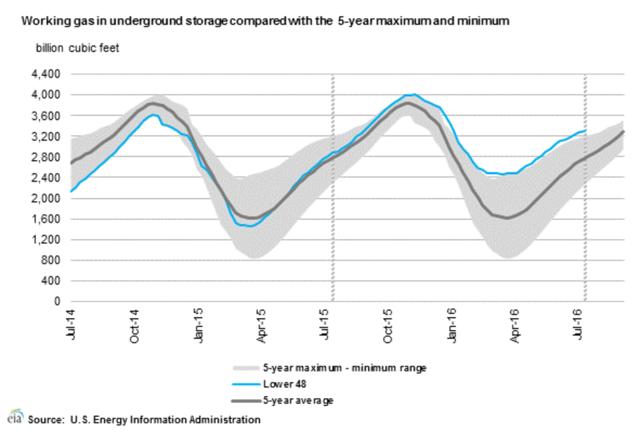 That blue line for next week should be pretty much flat. The report was bullish all around and bodes well for the coming weeks. As we wrote in our article titled "Natural Gas Prices Won't Go Over $3... Yet - Natural Gas Daily," these are the things that need to happen for natural gas to move above $3: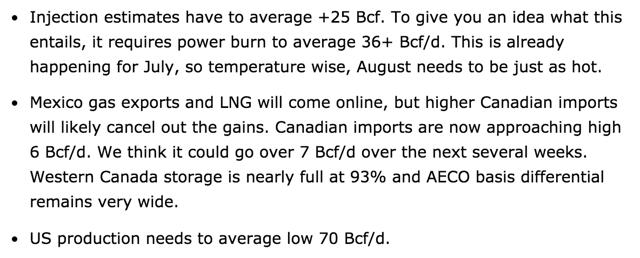 For the first week of August, we will get a nice and low injection figure. The current forecast is around 20 Bcf. But the two weeks after that are currently averaging +45 Bcf, which is not good.
Cheniere Energy's (NYSEMKT:LNG) Sabine Pass Train 2 has now increased its intake. LNG's run rate is currently 1.1 Bcf/d, which is just slightly below the 1.2 Bcf/d of capacity. Mexican gas exports picked up slightly to 3.8 Bcf/d, and could see further increases in August.
Canadian gas imports are remaining steady just above 7 Bcf/d, and U.S. gas production is averaging low-70 Bcf/d. So far so good, but temperature remains the wild card here. Temperature-adjusted demand models currently pin overall power burn demand just slightly below 35 Bcf/d, which would result in a ~40ish injection figure. We would need to see an increase to 38 Bcf/d in order for the +25 Bcf injection figures to come in.
The other variables are playing out as we expect, but we do need August to remain hot for us to see $3+ gas. Logically speaking, the difference between $2.99 and $3.01 is just $0.02, but psychologically speaking, it's a big mental barrier for the traders. A move above $3 could see further buying.
Eight- to 14-Day Outlook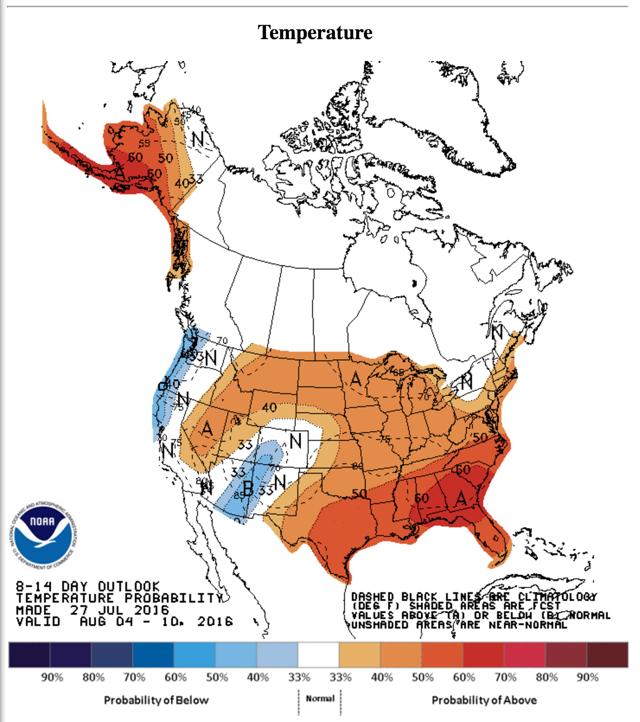 Natural Gas Prices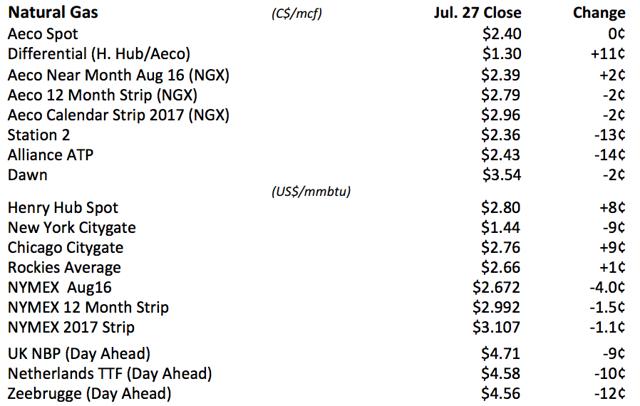 Thank you for reading our Natural Gas Daily (NYSEARCA:UNG). If you want to read more of our articles, please be sure to hit the "Follow" button above. We also write a weekly HFI portfolio update for premium subscribers. You can read a sample weekly update here and view ourdelayed one-month portfolio update here. We hope you can join the HFI community.
Disclosure: I/we have no positions in any stocks mentioned, and no plans to initiate any positions within the next 72 hours.
I wrote this article myself, and it expresses my own opinions. I am not receiving compensation for it (other than from Seeking Alpha). I have no business relationship with any company whose stock is mentioned in this article.