Given the current oil & gas price environment, it was no surprise that ConocoPhillips (NYSE:COP) posted another quarterly loss today. However, operationally, there were some surprises: Volumes were higher than expected, while cap-ex and op-ex were lower than expected. As a result the company raised full-year 2016 production guidance while simultaneously reducing 2016 cap-ex by $200 million.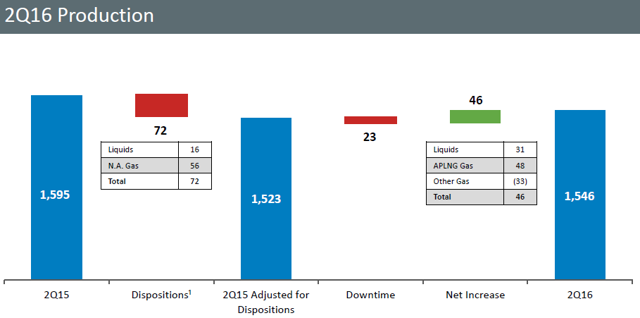 Source: Q2 presentation.
Adjusted for dispositions and downtime, Q2 production grew 3% driven by 27 LNG cargos loaded from APLNG Train 1 during the first half of the year. The first cargo from Train 2 is expected in Q4.
During the quarter, production began at Foster Creek Phase G and production from Eagle Ford wells exceeded expectations. On the other hand, forest fires in Canada negatively affected production at Surmont - making the quarterly results even more impressive.
During the conference call today, Chairman & CEO Ryan Lance pointed out that once both APLNG trains are fully ramped, and the new oil sands projects at Surmont and FCCL are completed and running at full capacity, approximately 1/3 of COP's entire production base will have no decline for the next 20 years. That is a powerful long-term advantage - and catalyst - for ConocoPhillips.
The company continues to execute on its phased exit of the deep-water business by selling its position in Senegal and taking a $800 million dry hole and leasehold impairment for the Gibson and Tiber prospects in the Gulf of Mexico.
Meanwhile, Al Hirshberg (EVP of Production & Drilling) reported on the conference call that the latest Shenandoah appraisal well (#3) hit 1,000 ft of net pay. The Shenandoah #2 well also ran into 1,000 ft of net pay while the discovery well, Shenandoah #1, hit 300 ft of net pay. ConocoPhillips has a 30% WI in Shenandoah and Partners include operator Anadarko Petroleum Corporation (NYSE:APC), also with a 30% working interest.
Operating expenses continue to fall with an 18% yoy drop in adjusted operating costs. Debt was reduced by $800 million during the quarter.
Despite all the good news, COP is by no means out of the woods. The overall average realized price dropped from $39.06/boe in 2Q15 to $27.79 in 2Q16 (-29%) and the continued low price of oil and gas is the still a dark cloud over the E&P company. That said, with production guidance increasing and cap-ex and op-ex falling, COP is certainly ahead of where I thought they would be this quarter. Note also that natural gas prices are up nicely YTD. In the long-run, the company's excellent low-cost production base will be a big advantage once a sustained price recovery occurs. But that won't likely happen until mid-2017 at the earliest. COP is a HOLD. That said, investors looking to take advantage of any oil price and/or market decline may want to consider COP around $34-$35. At $34 the $1.00 annual dividend would equate to a near 3% yield. That's not bad considering COP's future upside potential and a 1.5% 10-year T-bill.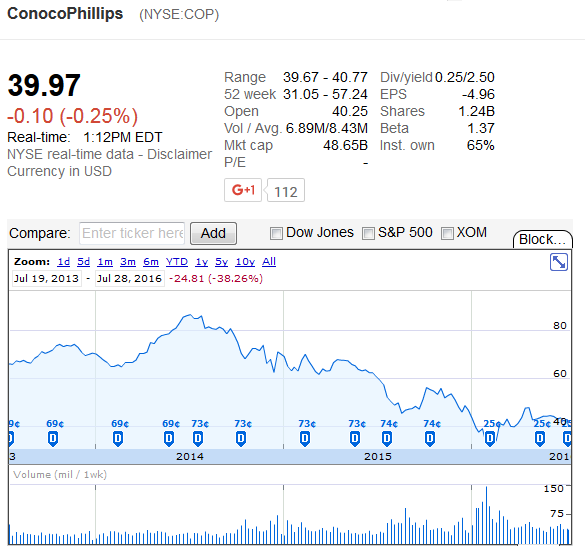 Disclosure: I am/we are long COP.
I wrote this article myself, and it expresses my own opinions. I am not receiving compensation for it (other than from Seeking Alpha). I have no business relationship with any company whose stock is mentioned in this article.
Additional disclosure: I am an engineer, not a CFA. The information and data presented in this article were obtained from company documents and/or sources believed to be reliable, but have not been independently verified. Therefore, the author cannot guarantee their accuracy. Please do your own research and contact a qualified investment advisor. I am not responsible for investment decisions you make. Thanks for reading and good luck!