Dividend growth investing seeks to create an income revenue stream from dividend income that increases year on year. Quality companies that are able to sustain their annual dividend payments and grow them over time (either through organic growth or acquisition) are highly sought after by dividend growth investors, who are usually investors with a long-term holding time frame (sometimes indefinitely).
In dividend growth portfolios, these dividends may be reinvested in the stock, set aside as cash to direct into other dividend growth stocks, or withdrawn regularly to provide the investor with a recurring and growing income stream (aiming to generate a sustainable revenue stream from ongoing dividend payments). UGI Corporation (NYSE:UGI) is a sound diversified company that has endured changing markets and continues to distribute dividends since its first was issued in 1885.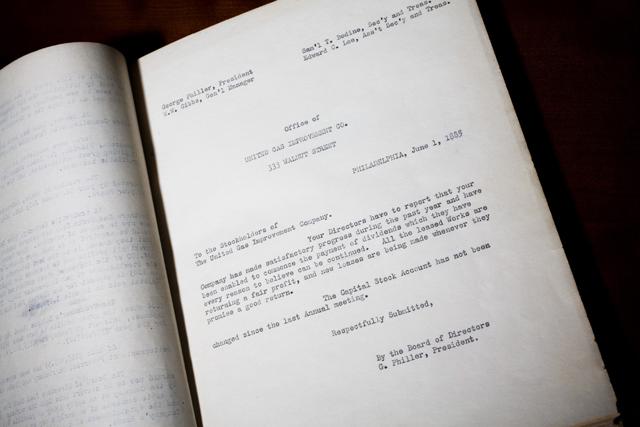 Inaugural dividend letter to UGI investors, June 1, 1885
Quality diversified companies with strong records of increasing dividends annually are highly sought after by dividend growth investors. This article will examine the historical performance of UGI Corporation, including capital growth, dividend growth and how it sustains its outlook for future growth in core and ancillary energy sectors. The basis of this analysis will outline why UGI's pipeline of dividend growth and free cash flow warrants its inclusion in a dividend growth portfolio.
UGI - Energy to do more
Energy companies come and go, but as with all industries, quality companies endure the rigors of time and history. Incorporated on June 1, 1882, UGI has gone from strength to strength, enduring numerous business cycles, the Great Depression, World Wars and the divestment of assets following the Utility Holding Act of 1935. The company issued its inaugural dividend in 1885, and by 1892, it controlled 30 gas companies across numerous states and net income of ~$1 million.
By 2012, the company marked its 128th consecutive year of dividend payments and its 25th year of dividend increases. Today, it has a market cap of $7.79 billion, generates $125 million of free cash flow annually for reinvestment and has diversified across commodities, geographic locations, market segments and supply chain delivery. UGI's management is committed to delivering 6-10% EPS growth and 4% annual dividend growth. It is by all measures a very boring company, but very highly valued by dividend growth investors.
UGI Disposition and Revenue Pipelines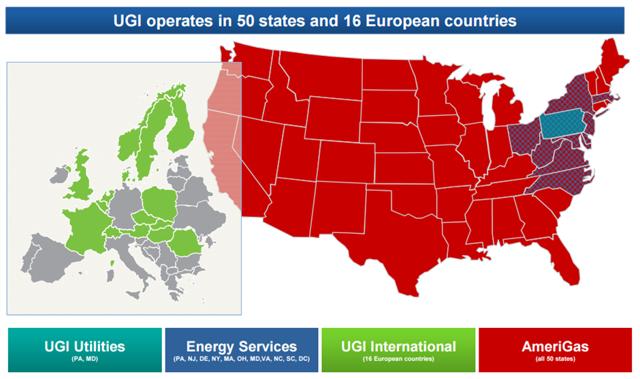 UGI Corporation is structured as a holding company with businesses focused on providing energy distribution, transportation, marketing and storage services.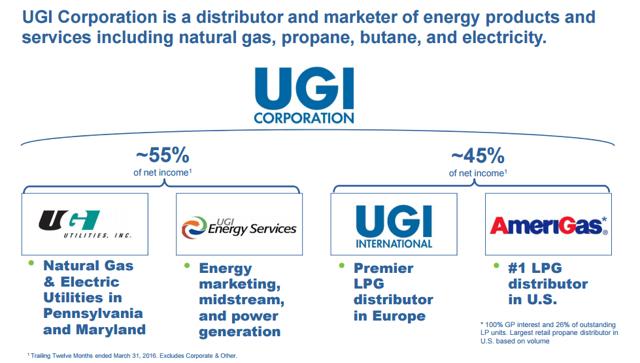 UGI Utilities: UGI's natural gas utility operations consist of the regulated natural gas distribution businesses of its subsidiary, UGI Utilities (and subsidiaries PNG and CPG). The company is authorized to distribute natural gas to approximately 600,000 customers in portions of 46 eastern and central Pennsylvania counties through its distribution system of approximately 12,000 miles of gas mains.
UGI Energy Services: This business unit consists of the energy marketing, midstream and power generation businesses within the group. The energy marketing business sells natural gas, liquid fuels and electricity to approximately 17,000 commercial and industrial customers at approximately 41,000 locations. Energy Services serves customers in all or portions of Pennsylvania, New Jersey, Delaware, New York, Ohio, Maryland, Massachusetts, Virginia, North Carolina and the District of Columbia. Energy Services distributes natural gas through the use of the distribution systems of 36 local gas utilities. It supplies power to customers through the use of the transmission systems of 20 utility systems.
UGI International: UGI International services the propane markets of 16 Western and Central European countries. In fiscal 2015:
UGI France sold approximately 283 million gallons of LPG in France (including approximately 52 million gallons attributed to Finagaz's operations in France and approximately 47 million gallons of LPG in the Benelux countries).
Flaga sold approximately 326 million gallons of LPG, including Kosan Gas, which is one of the largest sellers of LPG in the Nordic region of Denmark, Finland, Norway and Sweden.
AvantiGas sold over 156 million gallons of LPG in the United Kingdom. AmeriGas Partners (NYSE:APU): UGI's domestic propane distribution business is conducted through AmeriGas Partners, which is responsible for managing the Partnership. The Partnership serves approximately 2 million customers in all 50 states from approximately 2,000 propane distribution locations. The Partnership also sells, installs and services propane appliances, including heating systems, and operates a residential heating, ventilation, air conditioning, plumbing and related services business in certain counties of Pennsylvania, Delaware and Maryland. Typically, the Partnership's propane distribution locations are in suburban and rural areas where natural gas is not readily available.
The UGI "Growth Engine"
Operating under the radar as what I would describe as a quiet achiever, UGI Group has built its sustained growth and financial health over the years by taking care of the "growth engine", ensuring company free cash flow supports reinvestment in growth, in addition to rewarding shareholders with an annual (growing) income revenue stream.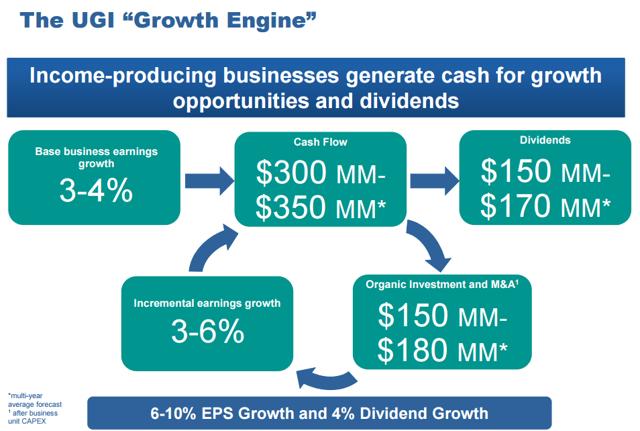 Shareholder Return: Sustained Growth and Outperformance
UGI continues to deliver on its long-term promise on delivering a sustainable return to shareholders through both capital growth and dividends.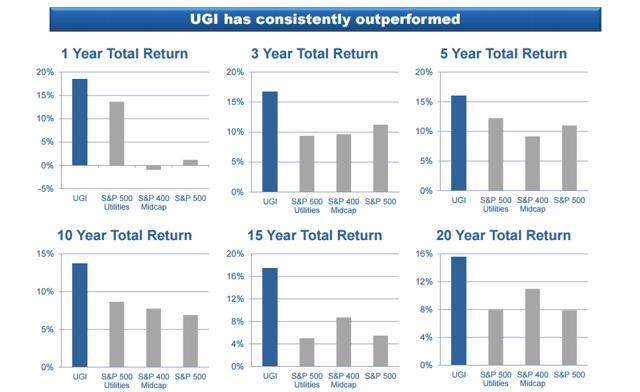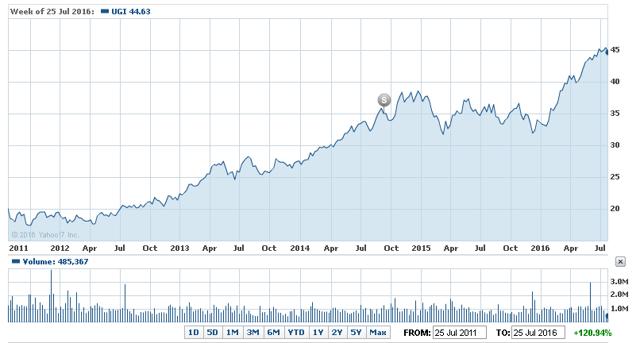 Recent Financial Performance
Looking to its current performance, UGI is trading with a P/E ratio of 22.47 and has a five-year forward-looking PEG ratio of 2.99. The company's current share price of $44.631 per share represents a $27.60 premium over its current book value per share. The stock is approximately 2.23% below its 52-week high of $45.65 per share and 41.64% above its 52-week low of $31.51 per share. Its current profit margin is 5.99% (TTM) against a return on equity of 13.00%, and it pays a dividend of $0.95 (yield of 2.09%).
Dividend Performance Table: To expand on the current performance snapshot above, I have tabled the dividend data from 2005 to 2016 from David Fish's Drip Investing Resource Centre.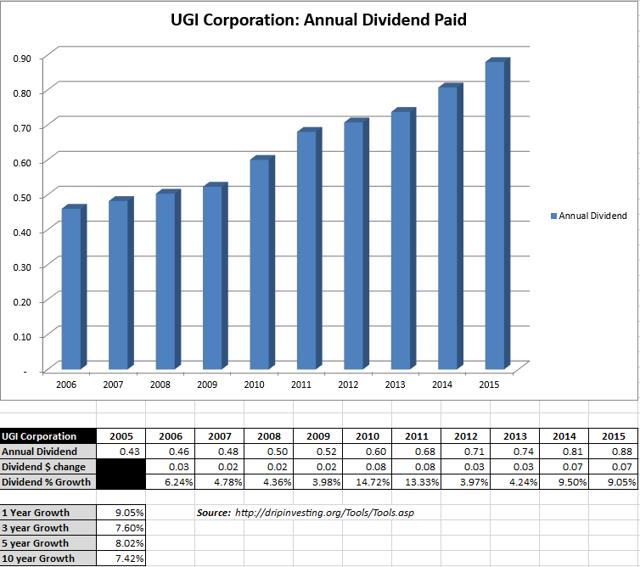 Dividend Growth: UGI, over the last 10 years, has reinforced its position as a Dividend Champion. Not only has it sustained 29 years straight of sustained dividend increases, but the company has paid its dividends uninterrupted since 1885. UGI has delivered average dividend growth of 7.42% over the last 10 years, easily meeting its ongoing target of 4% annual dividend growth.
Summary and Recommendation of Actionable Item
Having reviewed the continued strong ongoing performance of UGI Corporation, including uninterrupted dividend payments since 1885, sustained dividend growth for the last 29 years and current levered free cash flow of $555 million, I find it astounding that there have only been five analytical focus articles on the company in the last five years. Which kind of begs the question, do you hold UGI in your portfolio? If so, why? But more importantly, if not - why not?
Disclosure: I/we have no positions in any stocks mentioned, and no plans to initiate any positions within the next 72 hours.
I wrote this article myself, and it expresses my own opinions. I am not receiving compensation for it (other than from Seeking Alpha). I have no business relationship with any company whose stock is mentioned in this article.
Additional disclosure: I was a customer of UGI Corporation from 2010 to 2012. I have no interests with UGI or its subsidiary companies.