Goldcorp (NYSE:GG)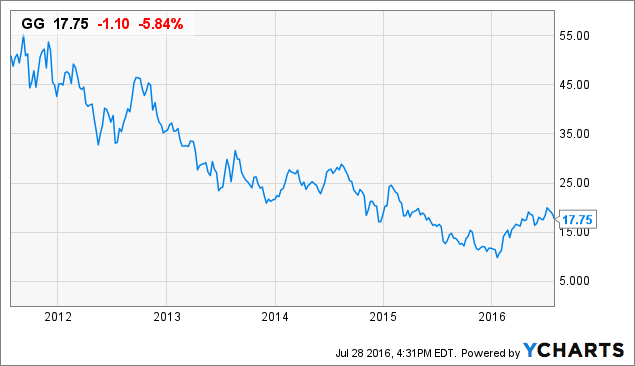 GG data by YCharts
Recent Stock Price: $17.74
Shares Outstanding: 832 million
Market Cap: $14.76 billion
52-Week Range: $9.46 - $20.38
It has certainly been a disappointing week for Goldcorp shareholders. The stock is now down close to 6% today following the company's release of its second-quarter 2016 financial earnings. Was Goldcorp's Q2 earnings really that bad, or is the market overreacting?
Honestly, it was a pretty bad quarter. Goldcorp says production came in at just 613,400 ounces of gold, down huge from the 908,000 ounces produced in the year ago quarter. It was blamed on a 10-day milled shutdown for maintenance at the Penasquito mine, lower ore grades, and the exhaustion of surface stockpiles at the Cerro Negro mine.
What's more: Goldcorp's cash costs rose quite a bit in Q2, as its all-in sustaining costs came in at $1,067 per ounce -- well above $853 per ounce last year.
The lower production and higher cash costs of course led to weaker earnings, as Goldcorp earned just $308 million in adjusted operating cash flow, down from $523 million, and reported a net loss of $78 million, or -$.09 per share, compared to net earnings of $392 million or $.47 per share in 2015.
It's amazing Goldcorp reported a net loss this quarter given the surge in gold prices and because Goldcorp booked after-tax gains of $358 million on the sale of non-core assets. If Goldcorp did not sell these assets, its net loss would have been tremendous and well over $400 million.
Now, you can argue that shareholders should have seen this coming. For one, the shutdown at Penasquito was planned and the production of lower ore grades was also expected. But the company admitted that ramp-up at Penasquito following the shutdown was "slower than expected" and the results are certainly worse than what I was expecting from the company.
The net loss is actually quite shocking when you consider the fact that Goldcorp earned close to $400 million on asset sales and reported an average realized gold price of $1,277 per ounce, up from $1,189 last year.
Despite the poor quarter, Goldcorp is sticking to its 2016 gold production guidance of 2.8 million-3.1 million ounces at AISC between $850 and $925 per ounce. The company says it expects Q3 and Q4 production to increase over the second quarter as Penasquito operations get back to normal. However, due to the addition Coffee Project following Goldcorp's acquisition of Kaminak Gold, the company says its growth spending should increase by $90 million-$100 million. As for the company's balance sheet, its debt rose to $2.603 billion, up from $2.47 billion last year, while its cash and equivalents was basically unchanged at $328 million.
As I mentioned in my last article on Goldcorp, I expect the company and the stock's underperformance to continue and it has done just that. I wasn't impressed by the company's performance then, and I certainly am not impressed now. In that article, I said to expect pretty weak results this quarter, but this was much worse than what I expected. I also wasn't a huge fan of the Kaminak Gold acquisition, as I felt Goldcorp overpaid for the asset, and wasn't happy Goldcorp issued shares for the acquisition.
So no, I wouldn't buy Goldcorp's stock here. I would recommend waiting to see how the company performs in Q3 and Q4 before even considering buying shares. There's much better opportunities in the gold market right now.
Out of the majors, I felt Barrick Gold (NYSE:ABX) had the best quarterly performance and I'm looking to build a position soon. More on Barrick can be found at the above link. In addition, in late 2015 I listed my top 10 overall gold stock picks for this year, and most of these picks have outperformed Goldcorp, the benchmark gold miners index (NYSEARCA:GDX), and the junior miners index (NYSEARCA:GDXJ). Investors should avoid Goldcorp and focus their attention elsewhere, for now at least.
Disclosure: I am/we are long GDXJ.
I wrote this article myself, and it expresses my own opinions. I am not receiving compensation for it (other than from Seeking Alpha). I have no business relationship with any company whose stock is mentioned in this article.