I picked up Barclays (NYSE:BCS) post-Brexit as a value play, as I considered the huge drop to be overdone. There are many unknowns over the next 3-5 years though and I needed to do further investigation into the prospects for the London-based bank. Let's review the past year and forward looking risks in order to understand what's on the horizon.
Last Year
From July 27, 2015 to July 27, 2016, BCS dropped from $17.98 to $7.96, a 56% drop. This included multiple scandals and lawsuits including the Libor manipulation scandal and a $13M US mutual fund oversight lawsuit as well as large pressures on global banks as interest rates only decreased with the exception of a 25 basis point increase in the US and ring-fencing rules in the UK (similar to Glass Steagall in the US).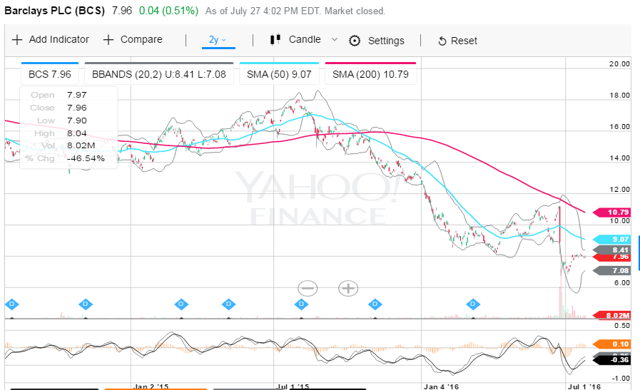 Source: Yahoo Finance
All of this contributed to depressing the price to a $9-11 trading range. The Brexit surprise then plunged the stock further into the $7-8 trading range. At this point, many investors were salivating at a perceived oversell, myself included. I added a position at a cost basis of $7.88 with some amount of confidence. Assuming the dividend is maintained, this would be a 5-5.5% yield on a company that had lost half of its market cap. It is very difficult to justify a decline greater than 50% for a company that is still viable and Wall Street price targets are still above $12 (52% upside). Even adjusting for currency changes, there is significant room for appreciation.
The Risks
Having made my impulse purchase, I now needed to dive further in to understand more than just the technical aspects of the stock. I needed to understand further why the market was pricing the stock at such a discount. The first such risk was the most obvious, Brexit's ongoing drama. The Brexit will continue to play out over the next 3-5 years as politicians on both sides feel their way through this. I have seen two basic positions on this:
Viewpoint 1: In order for the EU to prevent a slide into a full breakup of the union, the EU leadership will look to "punish" Britain as much as possible. I expect that this will focus on trade terms to ensure that other countries understand the economic detriment that they would welcome by leaving. The EU would accept the retaliation of poor terms for exports into Britain to make the point and stabilize their currency from the speculation associated with long term doubts. Britain also is poorly positioned to renegotiate its trade deals with non-EU members in its new status as a standalone negotiator and this will lead to further deterioration.
Viewpoint 2: The EU and Britain are too interwoven to push each other away. While there will be big talk for at least a year, when all is said and done, they will work together for the greater good. Impacts will occur but not to a significant degree and it will be limited to specific industries. Britain will manage to negotiate new trade deals outside of the EU with little impact on its import/export business in the same fashion as they are a key trading partner.
If you are a pessimist (V1), you expect this will drive business away from BCS as they will be less competitive and hurt their margins on the business they keep. If you are an optimist (V2), you expect minimal impacts and the stock is oversold. We won't really know for a year or more so this could pressure on the stock until resolved. BCS will likely see reduced business from the unknown but could recover after it is complete. Given the unpredictability of politics, I would take any expert opinions on where this will end with a grain of salt.
In addition to the trade issues, Brexit has driven the pound to decline ~10% versus the dollar since the vote. The two viewpoints also will dictate your perspective on the future of the exchange rates. If the USD continues to strengthen against the pound, BCS stock value will continue to decline for US investors, as will the dividend value. The central banks are adding pressure to interest rates across the globe via real reductions and commentary to expect further reductions, further impacting bank spreads.
The next risk is the business outlook. Knowing the Brexit related risks and currency risks, BCS will likely need to adjust its guidance in their quarterly results discussions. While the market understands this is likely (hence the pricing), the stock will likely drop again on the confirmation when contrarians are proved wrong and value investors' resolve is wavering. Concurrently, the next dividend will need to be announced. BCS changed to a biannual dividend from quarterly starting in 2016 and the next distribution should be around October. This means they should be announcing shortly the dividend dates and quantity. I think that there is high likelihood that they will maintain for now to prevent further share price deterioration but need to reduce in 2017 if the climate declines as described in V1. Even V2 may cause enough short term pressure in business to require either increasing debt or decreasing the yield. Either could cause the price to drop again.
Conclusion
BCS stock price has dropped by 56% YoY. If you are risk tolerant enough and optimistic about Britain's Brexit outcomes, BCS has significant upside potential in the next 5 years from its depressed position. If you prefer to invest in more stable environments, now is not the time to jump into British finance. There are too many unknowns with how the Brexit will impact international relations and what that will mean for BCS. A play on BCS is also a currency bet that the USD will not continue to appreciate against the pound. All things considered, this is too much risk for me and I have sold my position at $8.01 earlier this week (+1.6%).
Disclosure: I/we have no positions in any stocks mentioned, and no plans to initiate any positions within the next 72 hours.
I wrote this article myself, and it expresses my own opinions. I am not receiving compensation for it (other than from Seeking Alpha). I have no business relationship with any company whose stock is mentioned in this article.