Apple Inc. (NASDAQ:AAPL) reported better than expected results on the top and bottom line and the stock is appreciating on July 27 th. As an Apple analyst I haven't been willing to recommend a Buy on shares of AAPL due to the fundamental erosion of the business that centers on selling more and more iPhones annually. As the iPhone goes, Apple goes. While earnings declined in the company's Q3 2016 by greater than 20% and revenues fell more than 14% YOY, these results were actually better than anticipated by the broader analyst community. And when viewed in that light, investors feel that the pessimism in shares of AAPL has been overdone. I won't bore readers and investors to tears with the greater details surrounding the company's results, as there are more important things to consider going forward for investors. Having said that, this article will serve to evaluate a proven, greater investment vehicle when compared to shares of AAPL.
Not only have I avoided recommending buying shares of AAPL since March of 2016, but also I believe that investing with shares of AAPL will only serve to underperform the broader averages for some time to come. Additionally, there are far better investment vehicles to devote capital to, as I believe an investment in AAPL in this stage of the company's business cycle is highly speculative. Below is a 2-yr chart of AAPL shares, indicating the stock has underperformed the broader S&P 500 by nearly 14 percent.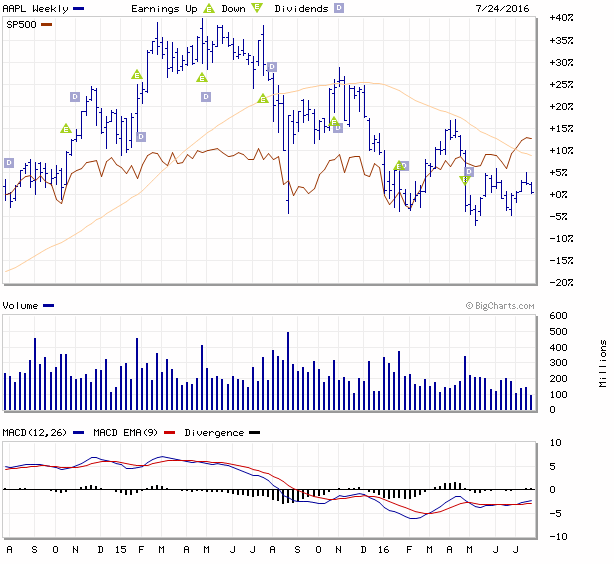 The reason I have kicked-off this narrative in this manner, discussing AAPL, is that I have been quite bearish on the company since the beginning of the year. My bearishness has been justified with the poor company metric performance and subsequent poor stock performance, notwithstanding the recent rally in shares. But more importantly, in avoiding shares of AAPL, I believe I have benefited the investor community by promoting investment and trading vehicles that offer a greater opportunity for returns on capital. After all, that is what investors desire most. With this in mind and as I have been highlighting in many of my publications in 2016, I continue to promote the investment and trading vehicle that is delivering some of the greatest returns on capital, ProShares Ultra VIX Short-Term Futures ETF ( UVXY).
As many investors and traders may understand through my publications, UVXY is designed/constructed to exhibit share price erosion long-term. In my 2-part instablog series on UVXY, I offered the following definition concerning the construction of UVXY and what generates the guaranteed long-term share price erosion of the ETF. Please follow the link for a full-scale analysis of how the UVXY works in the market.
The value of UVXY is closely tied to twice the daily return of the S&P VIX Short-Term Futures. This index manages a hypothetical portfolio of the two nearest to expiration VIX futures contracts and everyday that mix changes. Remember it's a matter of volatility this instrument was constructed to track, which generally is only a singular element of the S&P movement up or down.

ProShares achieves the 2X daily return by taking advantage of the fact that VIX futures only require a small percentage of their face value be deposited as margin to purchase the contract. By doubling up the number of contracts they own they can double the returns. To keep this leverage near a constant 2X, Authorized Participants (Aps) have to adjust the number of futures contracts held by the fund at the end of every trading day. This adjustment is a compounding process. Authorized Participants feed and manage the process daily and if the trading value of the UVXY breaks away from the IV value they will step in and rebalance the trading value.

For the sake of brevity you should know that the 2X leverage only applies to daily percentage returns and not longer-term returns. As an example, for a leveraged fund longer-term results depend on the volatility of the market and general trends. In UVXY's case these factors usually conspire to dramatically depreciate its price when held for more than a few days or weeks.

The leverage process isn't the only drag on UVXY's price in case you were wondering and you definitively should be. The VIX futures used as the tracker carry their own set of problems or circumstances. The worst being depreciation over time and consistently. Most days both sets of VIX futures that the UVXY tracks drift lower relative to the VIX, dragging down UVXY's underlying, non-leveraged index at the average rate of high single digits per a month, which equates to over 60% annually. It's otherwise known as contango loss. The combination of losses due to the 2X structure and contango losses add up to typical UVXY losses in the teens each month or 80% annually since its inception in 2011. Nobody should buy and hold UVXY obviously and as indicated in the chart below.

It's literally impossible, per the designed architecture of the UVXY, to go up long-term. Minor price spikes to the upside happen occasionally, but that is the limited strength that exists in the instrument, which is doubly identified on the way down. This means it is literally impossible for UVXY not to erode in price value over time. Given the degree of certainty being 100% predictable price action, you have an investment that is very low risk.
The double-leveraged ETF tracks volatility and the nature of volatility is such that it can only remain elevated for brief periods of time. Investors witnessed this first hand during the Brexit trading days. The VIX shot up dramatically the day after the Brexit vote, and shares of UVXY rallied about 45 percent due to the spike in the VIX. But even as the major averages sold off the very next day, the share price of UVXY dropped precipitously as the VIX fell. The reason the VIX fell in the face of major averages continuing to sell-off is again due to the nature of volatility, which can only remain elevated for short periods of time.
The best way to participate long-term with shares of UVXY is to short shares of the ETF. Moreover, despite the aspect of shorting as an activity for utilizing UVXY as an investment vehicle, it carries with it limited risk. In general, the individual shorting the instrument must introduce the only risk associated with shorting shares of UVXY. In other words, make sure when shorting shares of UVXY, one does so with levels of liquidity that can withstand brief, but dramatic volatility spikes that can propel shares higher. As I have held a short investment in shares of UVXY since 2012 I always consider, with respect to my investable cash account balance, that shares of UVXY can move up 50%, 100% even 200+ percent within weeks and during a calamitous time in the markets. As such, whatever shares I own short the ETF, I consider these potential spikes in terms of my liquidity so as not to achieve a margin call. Naturally, since shares of UVXY have eroded by several hundred percent since 2012, it is virtually impossible for my account to achieve a margin call absent an Armageddon. Furthermore, long-term investors in UVXY actually desire price spikes as they continue to prove to be a way to compound capital gains for one's portfolio. For every spike in the UVXY share price, it reverses doubly.
For those newly interested in participating with the UVXY, kindly account for positioning with the ETF in accordance with your investable cash account balance and in juxtaposition with the aforementioned price spikes. Now let's move on to discuss and example why the UVXY has proven to be a better investment vehicle when compared to AAPL over the last two years.
If we look at the chart of UVXY over the last two years and compare it with shares of AAPL, here is what we come to understand from the chart.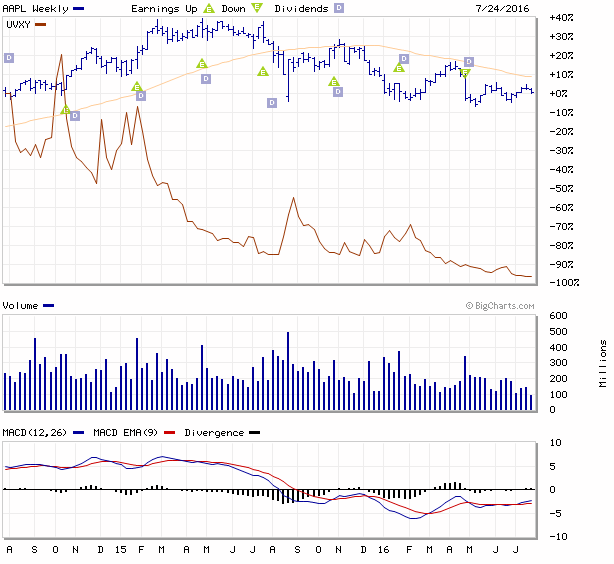 As previously noted and identified in the chart above, UVXY shares are virtually guaranteed to exhibit share price erosion long-term. Furthermore, shorting the UVXY and avoiding investing in AAPL shares would have found investors with the greatest of investment strategies. UVXY has delivered a return on invested capital many multiples greater than AAPL, even when accounting for AAPL's dividend yield. Lastly, the chart above doesn't even recognize the reverse stock splits occurring in 2015. In 2016, shares of UVXY once again split as the share price fell all the way below $6 a share. Shares were reset to begin trading this week at $30 a share and have already fallen almost 10 percent.
Apple is a great company, hands down and I don't begrudge the company its due respect. Having said that, the fundamentals of the company have faltered and most every metric result the company reports, short of service revenues, has contracted YOY. For these undeniable reasons, I will continue to avoid shares of AAPL in favor of better investment and trading vehicles like UVXY.
So hear we are with the UVXY having reverse split. For those who have been long, this is likely a better opportunity to evaluate layering on short positions, as your long shares are reduced in the face of a reverse split. This strategy can serve to offset losses being held with a long position. If shares of UVXY do spike on any near-term volatility, one can then eliminate or scale out of long positions while picking price levels to continue layering short positions. Makes sense? Ok let's move on to my recent Italy vacation.
The reason I mention my recent vacation is that I was genuinely surprised to see as many travelers wearing Fitbit (NYSE:FIT) devices as I had in Rome. None in Venice, but I counted 62 people wearing Fitbit products in the 4 days I was in Rome. Only counted a single Apple Watch. I own share of FIT with a modest cost basis compared to where shares are presently trading. Fitbit will report Q2 2016 results early next week. I've issued my latest analysis on the company and shares of FIT in an article titled "Fitbit Denied Smartwatch Status By IDC".
Fitbit has managed to beat results in every quarter since its IPO late last year. Nonetheless shares have been under severe pressure and stuck in the mud recently. With Apple reporting declines across most every metric, but reporting above lowered expectations, shares have risen nicely on July 27 th in the wake of its report. I'm of the opinion that if Fitbit reports as it usually does, with strong beats and strong growth, shares will finally appreciate and possibly for the next 90-day period. But we will see!
In closing out this publication, I hope readers and investors better understand why I have chosen to avoid shares of AAPL in favor of a continued investment and trading participation with UVXY. In truth and for what I believe a great many UVXY investors would like to see is a spike in volatility that produces a downdraft in the S&P 500. While it is great to witness the steady share price erosion of the UVXY long-term, compounding returns on capital are greatest when UVXY spikes, investors layer on more short positions and cover those positions as UVXY depreciates thereafter. I will update investors as to the status of the Golden Capital Portfolio early next week. Good luck traders and inventors!
Added Investor Takeaway
I often trade UVXY and other instruments intraday and with a reasonable amount of success. If you appreciated the reporting and analytics within, please feel free to follow me on Seeking Alpha and/or Twitter (NYSE:TWTR) via my Twitter feed .
Disclosure: I am/we are short UVXY.
I wrote this article myself, and it expresses my own opinions. I am not receiving compensation for it (other than from Seeking Alpha). I have no business relationship with any company whose stock is mentioned in this article.
Additional disclosure: I am long FIT shares with cost basis of $13.61 outlined in Golden Capital Portfolio.