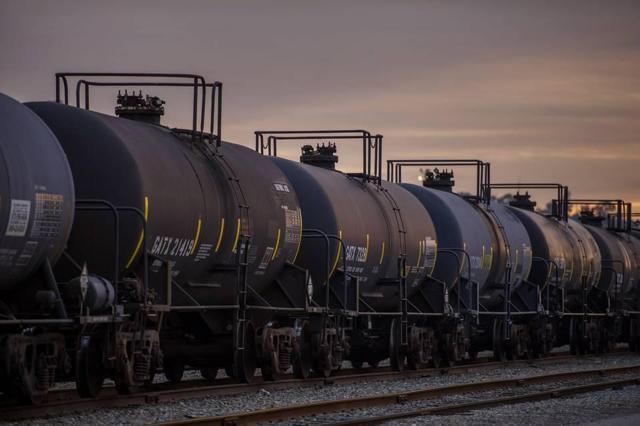 American Railcar (NASDAQ:ARII) reports Q2 earnings Friday. Analysts expect revenue of $147.4 million and eps of $0.99. The revenue estimate implies a 16% sequential decline. Investors should focus on the following key items:
Is Leasing Revenue Recurring?
The company's bread and butter is the shipment of railcars. Rail traffic is in decline, which means railroads might have less demand for railcars. For the first 28 weeks of 2016 cumulative U.S. carloads fell 12% Y/Y. Meanwhile, Q1 railcar orders for the entire industry were off 58% Y/Y.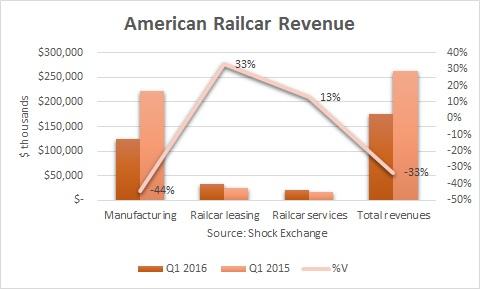 In Q1 the company's Manufacturing revenue was off 44% Y/Y, but the decline was buffeted by revenue from Railcar Leasing (up 33%). Leasing allows customers an avenue to transport product cross country, yet forgo the capital outlay of buying railcars outright.
The decline in railcar shipments appears to be a foregone conclusion. If Leasing demand also falls off, it could create negative sentiment for ARII. Trinity buffeted its leasing segment by selling railcars from its lease fleet. Otherwise, its Q2 results might have disappointed. In my opinion, the performance of Railcar Leasing will be key to American Railcar's Q2 results.
The Backlog Could Free Fall By Year-End
I personally do not believe declining rail orders have been priced into shares of railcar manufacturers. In this market as long as they continue to meet or exceed revenue projections their share prices can attract bulls. Based on high-level assumptions I believe American Railcar's backlog could fall from 7,801 at year-end 2015 to less than 3,000 at year-end 2016 -- a decline of about 58%.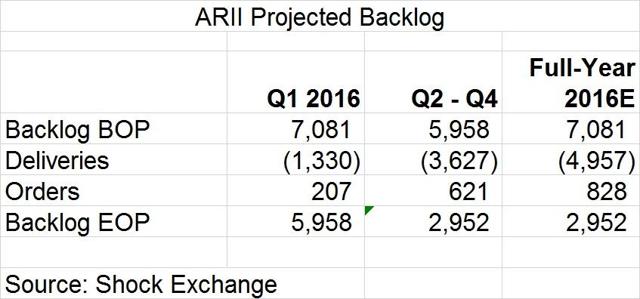 In Q1 the company had 1,330 deliveries and ended with a backlog of 5,958 units. That implied 207 new orders were generated during the quarter.
Management projects 4,957 deliveries for 2016. That implies 3,267 units will be delivered from Q2 2016 to Q4 2016.
I assumed 207 new orders each quarter. A beginning backlog of 7,081 units less [i] 4,957 deliveries plus [ii] 828 new orders would leave an ending backlog of 2,952.
The 2016 year-end backlog under this scenario could potentially fall by 58% versus the beginning backlog of 7,081.
The lion's share of the company's 2016 revenue is practically included in its backlog. However, if American Railcar's new orders do not improve its year-end backlog could free fall and negatively impact 2017E revenue and earnings. Eventually ARII could fall based on a dismal 2017 outlook. Investors should continue to avoid the stock.
Disclosure: I am/we are short ARII, TRN.
I wrote this article myself, and it expresses my own opinions. I am not receiving compensation for it. I have no business relationship with any company whose stock is mentioned in this article.