"Resolving Retirement" subscribers had an advance look at this material.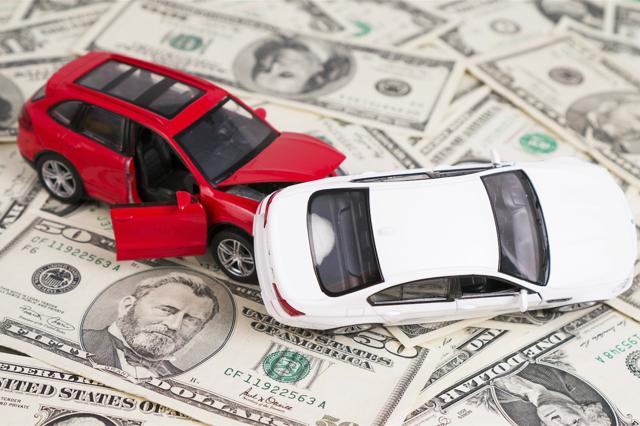 Self-managed investors and retirees have the advantage of avoiding fees. This is now more important than ever because of the market's very low yields. How important?
A self-managed investor starting with $250,000 and getting a 6% average annual return for 20 years will end with $801,783.87. An investor paying a 0.99% annual advisor fee and getting the same return will end with $664,589.05, with the advisor getting the other $137,194.82. Even with relatively modest fees, investors can expect to lose a significant portion of their gains.
It is crucial for investors to self-manage and avoid fees, but many investors may not feel comfortable doing that. We think we have a solution - we think the best strategy for self-managed investors is to have a US equity portfolio, and a CD ladder when entering retirement.
We have been recommending a number of investment ideas for the US equity portfolio, and now we want to look at the US equity opportunities in two defensive, high income, unloved sectors: healthcare and financial services.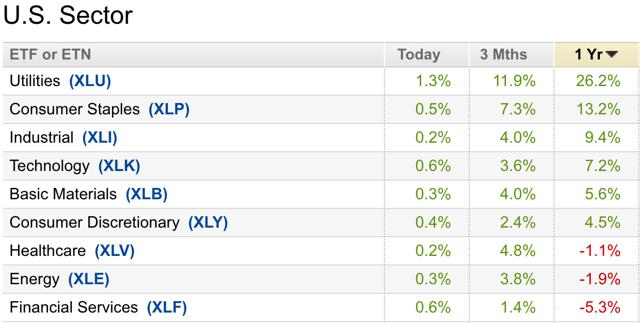 We tackled healthcare in our last piece, today we will focus on the financials.
No energy sector?
We are bullish on the long-term prospects of healthcare and financial services. But the energy sector seems to be stuck in a world with low demand. Secular stagnation seems very real, and if that is indeed energy's problem, it should persist for quite some time, maybe even a generation.
But we think healthcare and financial services will bounce back, and right now the market is giving long-term investors excellent entry points in these two sectors. Let's look at the financial services sector.
The Most Profitable Virtual Casinos
Just as energy prices may have long-term headwinds due to slack demand, interest rates may stay low for a long time for the same reason. So banks may not have higher interest rates and healthy net interest margins in the near future.
But banks are not the only financial service companies in the sector, and there are values elsewhere in finance - notably insurance companies.
The property and casualty insurers in particular are looking like good values right now. Here are eight reasons to consider going long the P&C insurance stocks here:
Longevity - The insurance industry will be around as long as capitalism is around.
Virtual Casino - The insurance industry is based on math in favor of the insurance corporation, just like a casino. That is an enviable business model.
P&C is Most Difficult and Profitable - Projecting how often cars will crash, cargo will be damaged, workers will be injured, or crops will be wiped out is a much less exact science than trying to project the average remaining natural lifespan of a large group of people. Property and casualty is harder to underwrite than other types of insurance, and consequently, the insurers end up erring on the side of favoring themselves, and raising rates when they are wrong. P&C tends to be the most profitable type of insurance, because it tends to be the most difficult type of insurance to underwrite.
Short Tail Less of a Detriment - In the past, life insurance and other types of insurance with a "long tail" were very profitable. A company may keep a client's money for forty years, earning good returns before it has to pay out coverage. Something like auto insurance, with a short tail of perhaps five years until a claim, was not as preferable. But these days, with the market yielding very little on anything safe, the "carry" is less important and the underwriting profits are more important. "Short tail" insurance lines are on more level ground with the "long tail" lines in this new low-rate world.
Opportunity Cost Reduced - Many insurers are priced at a discount to the broader market, ostensibly because of low yields. Insurance companies have large amounts of money to pay off claims, and invest it conservatively. The insurers suffer in a low yield world, as they get low returns on their assets. This is true, but in a low yield world flush with cash looking for a place to go, the opportunity cost of owning large amounts of low return assets is reduced as those returns are reduced.
Domestic - Many P&C insurers are US pure-plays.
Income - Many P&C insurers are well-funded, steady businesses that pay good dividends.
M&A - P&C is a very fragmented business - there are many small companies that could reduce costs by combining forces. Right now, valuations are low enough to suggest mergers and acquisitions may be imminent. To wit - ACE Limited (NYSE:ACE) just completed its acquisition of Chubb (NYSE:CB), making Chubb (ACE kept Chubb's name) the world's largest publicly traded property and casualty insurance company.
There are some very good reasons to like the property and casualty insurance stocks here. Let's have a look at some metrics for evaluating the P&C insurers.
Evaluating Insurers
Some important metrics for insurers include:
Price/Book- Insurers have a lot of investment assets that can provide a margin of safety. Companies that do good underwriting and are trading near book value should have limited downside.
Return on Assets - Insurers sit on a lot of assets, the higher return they can generate on them through underwriting and investing the better.
Price/Earnings - P/E ratios use net income for earnings and are a good metric for insurance companies. There is not much need to look at things related to debt or physical assets like interest payments, depreciation, amortization etc.
Combined Ratio - This is a critical insurance statistic measuring underwriting profit. It is calculated by combining the loss ratio (losses/premiums) and the expense ratio (expenses/premiums). The lower the better, and anything under 100% is an underwriting profit.
Net Earned Premiums Growth - P&C insurers will underwrite policies that may be good risks, but can still be too large of a risk to take in the case of catastrophic events. P&C insurers will take reinsurance in this case, passing some risk and premiums on to the reinsurer, which is often another P&C insurance company. Net earned premiums are the sum of premiums written, minus premiums ceded to reinsurance companies, plus any reinsurance premiums assumed. A P&C insurer with a healthy combined ratio and a good growth rate in net earned premiums should be one that flourishes.
With that, let's have a look at some of the best P&C insurers in the market, starting with two honorable mentions.
Honorable Mentions
Two P&C companies worth noting are Erie Indemnity Company (NASDAQ:ERIE) and Infinity Property and Casualty Corp. (NASDAQ:IPCC).
Erie Indemnity Intrigues
Yield: 2.99%
P/B: 6.51
2015 ROA: 12.81
P/E: 28.23
2015 Net Earned Premiums Growth: 5.46%
Q1 Net Earned Premiums Growth: 2.89%
Erie is not a traditional public P&C insurer, but is an interesting company in its own right.
The two most common types of insurance companies are stock and mutually owned. Stock insurance companies are for-profit corporations that have issued shares to fund the business - the other six P&C insurers on this list are stock insurance companies. A mutual insurance company is something like State Farm, where the policyholders own the company, and in effect insure each other.
A third type is a "reciprocal inter-insurance exchange" that is similar to mutual company. A reciprocal insurer is an association of policyholders (subscribers) whose premiums (deposits) fund each others' claims, much like a mutual company. But whereas a mutual company is incorporated and performs its own services, a reciprocal exchange is not an incorporated entity.
The Erie Insurance Exchange is a reciprocal inter-insurance exchange for individual auto and home insurance, as well as some commercial lines. The subscribers of the exchange need the services of managing, selling, investing, underwriting, and issuing policies, and that is where the Erie Indemnity Company comes in. Erie Indemnity Company performs these services, and earns a percentage of the deposits (currently 25%) from the Erie Insurance Exchange.
Erie Indemnity is not an insurer but a services company. This gives it the advantage of not assuming the risks of the policies (the subscribers are insuring each other), yet the company still takes advantage of the highly profitable P&C premiums. What a deal.
That explains Erie's P/E of 28.23, P/B of 6.51 and ROA of 12.81, easily the highest numbers on this list. But it has a nice yield of 2.99%, and has increased its dividend for 26 straight years. The rest of the P&C companies are trading at a significant discount to the market, so we will just give Erie an honorable mention, but it is an attractive business that deserves to trade at a premium to the market (S&P 500 P/E is currently 25.2).
Affinity for Infinity
Yield: 2.51%
P/B: 1.32
2015 ROA: 2.16
Q1 ROA: 1.28
P/E: 19.50
2015 CR: 96.7%
Q1 CR: 97.7%
2015 NEPG: 1.5%
Q1 NEPG: 0.9%
Infinity Property and Casualty is an auto insurance company with a niche in the nonstandard market. It provides insurance to people that have a hard time getting it from the standard insurers. It also does things like classic collector automobile insurance, in addition to providing more standard auto coverage. Having raised its dividend for thirteen straight years, and nearly tripling that dividend in the last five years, Infinity has a good record as a dividend growth stock.
Infinity's combined ratio in the upper 90s is fine, but compared to the other stocks on the list it seems Infinity should be priced as a bit more of a bargain than its P/E and P/B are showing. Infinity is a profitable P&C insurer priced at a discount to the market, it pays a reliable and growing dividend, and it deserves an honorable mention.
The Fab Five Financials
We like Erie and Infinity, but we think the following five stocks represent the best opportunities in an unloved finance sector.
5) Cincinnati Financial Corporation (NASDAQ:CINF)
Yield: 2.56%
P/B: 1.83
2015 ROA: 3.37
Q1 ROA: 3.93
P/E: 17.95
2015 CR: 91.1%
Q1 CR: 91.4
2015 NEPG: 5.59%
Q1 NEPG: 5.48%
Cincinnati Financial does personal and commercial insurance, commercial property, homeowners' insurance and liability coverage, amongst other P&C insurance lines.
Cincinnati is entirely domestic, providing coverage in 40 US states. It's a high-quality company that has been raising dividends for 55 years, and does an excellent job underwriting and controlling costs, consistently keeping its combined ratio in the low 90s. That underwriting acumen has translated into handsome profits and growing dividends. It also has earned Cincinnati an "A+" rating from A.M. Best, which is likely the most respected insurance rating agency.
Cincinnati's investment mix is somewhat aggressive, with equity investments growing to almost a third of the portfolio: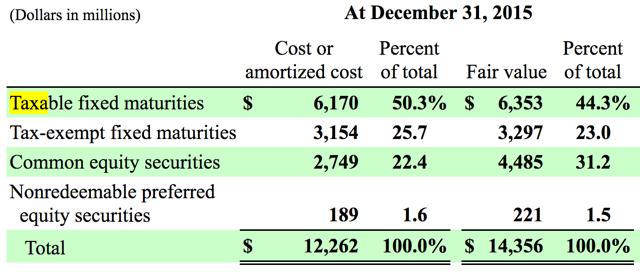 But the conservative portion of the portfolio is conservative indeed. The fixed income portfolio has relatively short maturities for an effective duration of 4.7 years. This limits the exposure to risks from moves in interest rates. And while Cincinnati does do some trading in this part of the portfolio, it buys these securities with the intention to hold until maturity, so there is effectively little interest rate risk.
The credit profile of these short-dated securities is relatively strong, with the vast majority being investment grade:

Cincinnati is a very solid company with strong and consistent profitability, healthy growth, and an exceptional dividend history. In an "over-bought" market, Cincinnati looks like a terrific buy.
4) Donegal Group Inc. (NASDAQ:DGICA) (NASDAQ:DGICB)
Yield: 3.55%
P/B: 0.95
2015 ROA: 1.40
Q1 ROA: 3.06
P/E: 16.51
2015 CR: 97.4%
Q1 CR: 92.1%.
Q2 CR: 95.0%
2015 NEPG: 8.57%
Q1 NEPG: 8.15%
Q2 NEPG: 7.63%
Donegal does personal and commercial P&C insurance lines in the US, mostly in the mid-Atlantic. This company is growing nicely and trading below book value and at a low P/E. Donegal also has an A.M. Best rating of "A."
Donegal's investments are relatively conservative - 99.8% are in Treasuries, government-sponsored mortgage backed securities, or investment grade corporate bonds. The durations are less conservative. Many of the investments are long-dated and are subject to interest rate risk. Donegal holds some investments until maturity, but trades others, so there is some rate exposure:
With lower returns and a less solid dividend history, Donegal is not as good a company as Cincinnati Financial. But the market is valuing Cincinnati more dearly than Donegal, especially on book value, and Donegal looks a bit cheaper here. Overall, Donegal looks like a great buy.
3) EMC Insurance Group, Inc. (NASDAQ:EMCI)
Yield: 2.67%
P/B: 1.08
2015 ROA: 3.31
Q1 ROA: 3.80
P/E: 13.27
2015 CR: 96.3%
Q1 CR: 92.7%
2015 NEPG: 5.46%
Q1 NEPG: 2.89%
EMC is a US pure-play P&C insurer that sells coverage to small and medium sized mid-western businesses. It does a good job underwriting, and gets very solid returns on its assets. Like Donegal, EMC has an "A" rating from A.M. Best, and is quite a value on both a P/B and P/E basis.
EMC is due to raise its dividend in the fourth quarter (the payout is low and earnings could cover a 7.5% yield), and this would be the seventh year in a row of raises.
As far as investments, EMC has a small allocation to equities, but is otherwise almost entirely in investment grade corporate debt:
EMC may not always intend to hold its bonds to maturity, but with a short effective duration of 4.6 years, its rate exposure is limited.
EMC is a very cheap company that writes good business, is growing prudently, is reasonably invested, and gets very good returns. Trading at a deep discount to the market, EMC looks like a great buy.
2) Endurance Specialty Holdings Ltd. (NYSE:ENH)
Yield: 2.24%
P/B: 0.92
2015 ROA: 3.10
Q1 ROA: 3.63
P/E: 12.80
2015 CR: 82.9%
Q1 CR: 77.9%
2015 NEPG: 6.14%
Q1 NEPG: 41.90%
Endurance Specialty Holdings does P&C insurance as well as a significant amount of reinsurance. Endurance has a history of insuring crops, but has expanded meaningfully into a wide range of P&C lines: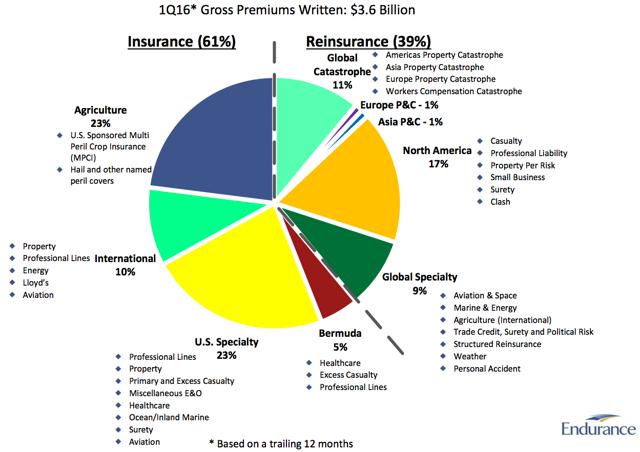 Endurance also has a diversified portfolio of investments: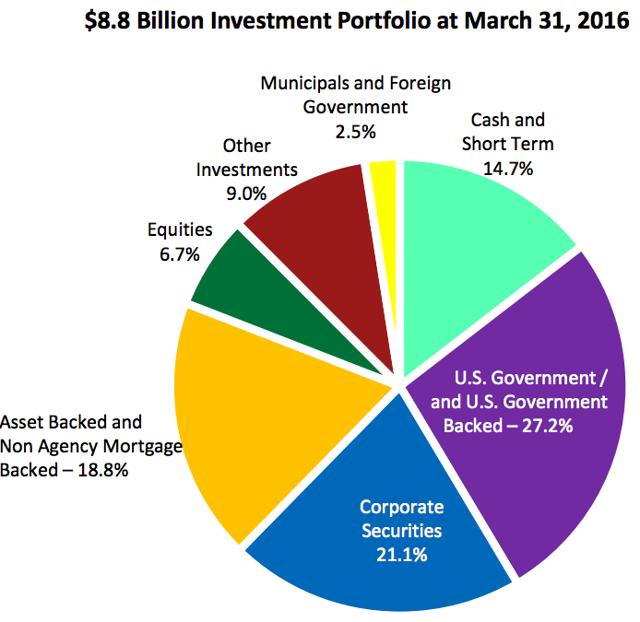 The portfolio may not be entirely in the safest securities like Treasuries, but its fixed maturity portfolio has a duration of just 2.65 years - interest rate risk is largely off the table.
By just about every metric, Endurance is looking good or great. Its returns are good, its underwriting is fantastic with a combined ratio around 80%, and it is growing quickly. And Endurance trades at less than 13 times earnings, and below book value. That looks like quite a value.
CEO John Charman seems to think it is, he has stepped in with some of the most impressive insider buying we have seen in any company:

Endurance Specialty Holdings looks too profitable and cheap to ignore.
1) Kingstone Companies Inc. (NASDAQ:KINS)
Yield: 2.86%
P/B: 1.38
2015 ROA: 4.90
Q1 ROA: 1.41
P/E: 9.09
2015 CR: 80%
Q1 CR: 96.9%
2015 NEPG: 48.99%
Q1 NEPG: 39.92%
Kingstone was a mutual insurance company for more than a century until it demutualized in 2009. It is a US pure-play, writing personal and commercial lines of P&C insurance in New York.
The company is still growing into its new structure, and has recently gotten licensed to do business in PA, NJ, CT and TX - all of which are expected to contribute materially in 2017. As the company grows, it is doing so in a healthy manner - the premium growth rate far exceeds the growth in employees:

All of the company's metrics look good or great, and are getting steadily better:

Kingstone formerly offered commercial auto insurance, but found the area problematic. There tend to be more claims on company vehicles as people are not as careful with them. The commercial auto runoff is now complete. CEO Barry Goldstein on the Q1 call:
Finally we're pleased that the run-off of the commercial auto business is now complete. As of May 1, there were no active commercial auto policies and our efforts to settle and close the remaining 47 claims are a major focus of our claims staff. In addition, please note that the commercial auto line was responsible for nearly all of the adverse development during the period 2010 through 2014.
Kingstone currently has an A.M. Best rating of B++. Management has the goal of earning an "A-" rating next.
Mr. Goldstein again:
once you get outside this New York City metropolitan area, the- it's almost a necessity to have an A rating. Being almost A is- it's good, but it's a threshold that we need not -- we don't want to have that be an impediment. Having an A rating and wanting to write commercial lines is especially important, but there is to my knowledge, I don't think there's another company out there that points its offering specifically to the small mom-and-pop main street type agency. And if in fact they do, I don't know of any A rated company that does that. As you could see from our results, we're getting phenomenal results from dealing with the smaller agents who really see an alignment of interests with Kingstone. I sat with the analysts from A.M. Best just a couple of weeks ago and they made it a point to call out the fact that at least those analysts don't have one company there rating at this point where only one year in the last 10 was the combined ratio in excess of 90%. That's Kingstone. We've got the numbers, we've got the credibility, we need the recognition and we need to remove those impediments for those brokers.
Those agents are a key focus for Kingstone. All of the company's business is generated by its relationships with independent agents, and the arrangement is going very well. Larger carriers are less committed to servicing the smaller agencies, and Kingstone has made this a priority, with excellent results. With a market cap of less than $70 million, Kingstone can stay focused on the smaller agencies for a long time before it is too large to do so. For comparison, at $59.3 billion in market cap, Chubb is more than 800 times the size of Kingstone.
Organic growth is robust for Kingstone, and the company is now entering new geographic areas. In addition to the organic growth, management reports that it is also actively seeking opportunities to purchase smaller carriers and renewal rights.
Management has done an excellent job stewarding the firm since it has become a stock company. Their interests are most certainly aligned with shareholders, as management owns a full 29% of the company. In addition, all employees share in the profits of the company as part of their incentive plans tied directly to the company's combined ratio. The results over the last seven years speak for themselves, Kingstone has some of the best numbers in the industry.
Kingstone is invested in a number of different securities, with investment grade corporate and municipal debt making up the lion's share.
Including superstorm Sandy, Kingstone has maintained about an 80% combined ratio. That's remarkable, and as the company has grown, it now reports that another superstorm Sandy would only impact just over one quarter's worth of earnings and less than 10% of its annual combined ratio. Despite its lack of geographic diversity, Kingstone is in good shape.
The first quarter was a rough one for Kingstone, yet it maintained growing profitability. Mr Goldstein again:
We delivered a profit ahead of that posted in the first quarter of 2015, but we're unfortunately hampered by winter weather and unusual spate of large fire losses.

Winter losses we always deal with just as we always have and will always have fire losses. But in Q1 we had more than our share of those larger size fire losses. To this, all I can say is that insurance is a fortuitous business and in Q1 we felt the pain… The fire frequency wasn't up, it really was just the severity.
So Kingstone's lusty ROA and combined ratio took a hit in Q1, but the profits still more than covered the dividend in an unlucky quarter.
Kingstone is a very well run business, making great profits, growing quickly and expanding by geography. Kingstone pays a good and growing yield now, but with the strong underwriting and very robust growth, Kingstone could be an excellent dividend growth stock going forward. Kingstone is our choice for the best P&C insurer in the market.
Conclusion
Property and casualty insurance is one the best areas in the financial services sector. There are a number of stocks with strong business fundamentals that are trading at attractive entry points. Our choices for the best in the market are Cincinnati Financial, Donegal, EMC, Endurance, and Kingstone.
For More on Retirement:
Each of these stocks are in our Top 25 Dividends Portfolio, as part of our Resolving Retirement newsletter (click here to see our performance).
Please follow us by clicking "Follow" next to "Premium Research" at the top of the page under the article's title.
Disclosure: I am/we are long KINS, DGICB, ERIE, IPCC, CINF, EMCI, ENH. I wrote this article myself, and it expresses my own opinions. I am not receiving compensation for it (other than from Seeking Alpha). I have no business relationship with any company whose stock is mentioned in this article.
Editor's Note: This article covers one or more microcap stocks. Please be aware of the risks associated with these stocks.