Earlier this month, Black Coral Research opined that, since the Coca-Cola Company (NYSE:KO) was likely to have a weak Q2, the earnings report that was released on July 27 could provide dividend investors with an opportunity to buy into the stock, which has been in the mid-to-high $40 range for most of the past year.
The report on July 27, which showed that while Q2 EPS of $0.60 beat estimates by $0.02, revenue of $11.54 billion missed by $100 million, confirmed Black Coral Research's prescience. As of June 28 close, shares of Coca-Cola were trading just above $43.50. On June 26, they were at over $45. The opportunity that was predicted has now arrived.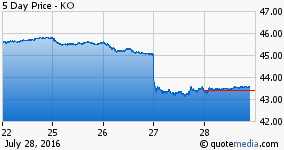 Coca-Cola's P/E ratio of 26.22 (trailing twelve months) will put many prospective investors off, but that does not take into account the forward P/E ratio of 21.18, or the 3.23% dividend yield. The payout ratio of 80% is another alarming aspect, but currency fluctuations affect earnings, and Coca-Cola generates earnings worldwide.
Furthermore, as Team Money Research recently observed, Coca-Cola's restructuring (e.g selling company-owned bottling territories to bottling partners; cost reductions; connecting regional operations more effectively to HQ; more efficient resource allocation) will make it a much leaner and more effective organization, better able to take advantage of its pole position in the beverage sector and exploit future opportunities.
For anyone seeking to establish a lifelong position with a top-tier Dividend Aristocrat/Dividend King with a beverage portfolio of 3,500 beverages, 500 brands and twenty billion dollar beverage brands, a distribution network which makes their products available in over 200 countries worldwide, and promising growth prospects in Africa, the current dip in Coca-Cola's share price should be welcome.

The dip itself is likely to be short-term. As Michael Tomsett of the Street pointed out:
Support was set in April slightly above $43.50, and that price has held until earnings day when the price fell below on a large gap. At the same time, resistance has been rising from $45.50 in early May to $46 by mid-July. This pattern - - level support and rising resistance -- formed an ascending triangle, a bullish continuation signal.
Below is the table Tomsett produced to illustrate his point: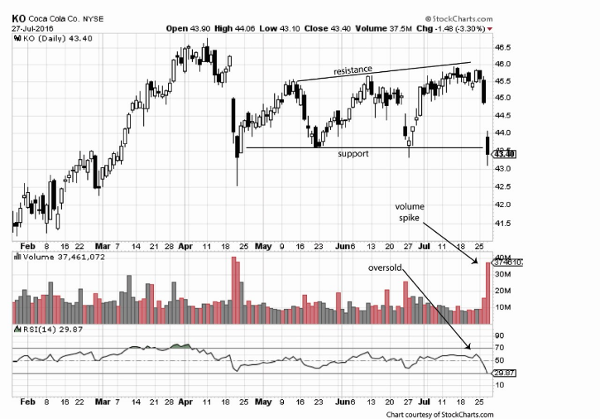 Even though it is still slightly overvalued, the likelihood of any short-term issues hindering Coca-Cola in the long-term is slim, as I stated in March. It remains the world's pre-eminent non-alcoholic beverage company, and a worthy addition to any long-term investor's portfolio. The overvaluation at its current price is minimal at a forward P/E ratio of 21.18, and will not take too long to burn off. In my view, the current dip is an excellent opportunity to either begin a position or add to an existing one.
DISCLAIMER: I am not a financial professional and accept no responsibility for any investment decision a reader makes. This article is presented for informational purposes only. Furthermore, the figures cited are the product of the author's own research and may differ from those of other analysts. Always do your own due diligence when researching potential investments.
Disclosure: I am/we are long KO.
I wrote this article myself, and it expresses my own opinions. I am not receiving compensation for it (other than from Seeking Alpha). I have no business relationship with any company whose stock is mentioned in this article.