In these uncertain and complicated times around the world it is good to be sure that Altria (NYSE:MO) has its core business in the United States. Thus, it is completely protected from problematic variation in foreign currency exchange rates and terrorist threats in different parts of the world. This is very good for the company. Moreover, it is not covered by tobacco plain packaging laws which are being introduced in many countries. A law of this kind, to remove the visual differentiation can have negative effects on many companies in this sector. However, it is unlikely that the United States follow this legislative path.
Following my last article I will continue to select a portfolio of high profile companies ("Unbeatable Stocks With Everlasting Dividends") with excellent market position and relevant long-term outlook which pay increasing dividends. This is the sixth company selected and I will add four others soon which will take into account several important factors stated below.
With solid results and a secure dividend this cigarette heavyweight company meets the key factors for the components of this portfolio:
Excellent generation of free cash flow
Sound earnings per share and strong valuation
Stock appreciation over the years
Very limited drawdown potential
Dividend yield of around 3% (including dividend growth)
Despite comparisons with a strong 2015, Altria's 2016 first-half adjusted diluted EPS increased 10.9% to $1.53. Altria has decided very wisely to diversify into new businesses that are indispensable and promising. One example is the e-vapor category which already represents a significant portion of its global revenues. In the future, another relevant area seems to be the partnership with AB InBev (NYSE:BUD) to purchase SABMiller, the world's second-largest brewer. Upon closing this deal - if it will be accomplished - Altria expects to own around 10.5% of the new combined company. For now, the company held approximately 27% of the economic and voting interest of SABMiller.
Altria's levered free cash flow [LFCF] was $5.68B and it had 1.96B shares outstanding. LFCF per share was: $5.68/1.96= $2.90 per share.
Taking MO's last closing price of $67.11 and dividing that by $2.90, we get 23.14. It means that the company is trading around 23 times its LFCF which is a fair result.
Altria raised its guidance for 2016 full-year diluted EPS to an average of $3.04 representing a growth rate of 8.5% compared to 2015. Taking a forward P/E of 20 we arrive at a current value of $60.80 per share. However, it is not included here the potential for new businesses. We may use a basic discounted cash flow (DCF) analysis with conservative assumptions:
Adjusted FCF at 8% CAGR reaching ~$8.82B in 5 years
A 20x multiple against FCF in 5 years gives Terminal Value
WACC (Discount Rate): 7%
Cash minus debt: -$12.02B
Thus, with a total market value of ~$145B and supposing that there will be the same number of fully diluted shares outstanding (1.96B), we arrive at a value of $73.75 per share.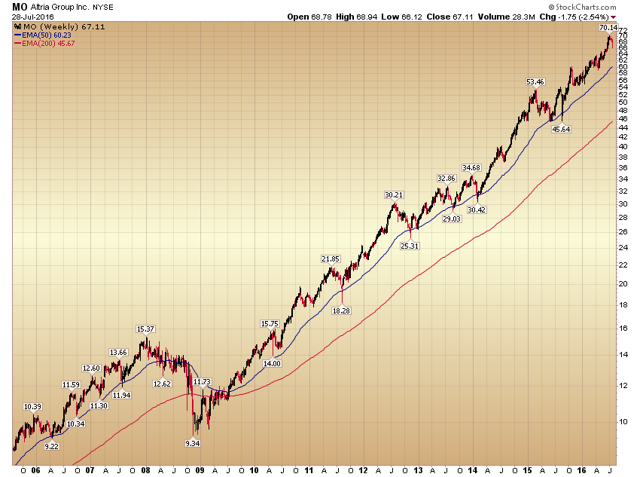 Chart courtesy of StockCharts.com
This stock has a good margin of safety. In fact, looking at the 11-year weekly chart above we may notice that its very strong long-term uptrend only was interrupted by the Great Recession. MO had an intermediate top at $15.37, but following a 39.2% decline the stock price resumed its progress above that level two years later.
As a great dividend growth stock, MO currently pays $2.26 per share which represents a dividend yield of 3.37%. The company has been increasing its dividend every year since 1970.
Conclusion
We have to keep in mind that this is an investment for the long run. While the company has a mixed Q2 report with increasing earnings, sales have dropped 5% in volume. For this reason, Altria stock is undergoing a correction which I think is of short duration because the technical indicators were already quite stretched. In my opinion, Altria has an excellent business position in the United States with a retail cigarette market share that held steady at 51.4%. Nevertheless, cigarette demand is slowing year after year affecting all companies in the sector. Therefore it is important to do the needed diversification in the way that the company is carrying out as mentioned above. Another crucial aspect is the fact that the company is getting more profits with lower sales which is a great sign of improvement in productivity. In short, my opinion is favorable. However, who will invest for the first time in the company must do so during this correction which is also a good opportunity for investors to add more shares.
Note: This virtual Portfolio is only intended to be a guide for investors.
Disclosure: I/we have no positions in any stocks mentioned, and no plans to initiate any positions within the next 72 hours.
I wrote this article myself, and it expresses my own opinions. I am not receiving compensation for it (other than from Seeking Alpha). I have no business relationship with any company whose stock is mentioned in this article.
Additional disclosure: The author of this article gives only his personal view and opinion, never making any investment advice to buy or sell specific securities. Investors in financial assets must do so at their own responsibility and with due caution as they involve a significant degree of risk. Before investing in financial assets, investors should do their own research and consult a professional investment adviser.