We reviewed an important report from the Office Of Financial Research ("OFR"). They are a government agency set up by Dodd-Frank. The Fed would agree with their report which reminds us that medium-term risks have not dissipated. We think that is the reason the Fed only said "near-term risks" have diminished. Medium-term risks have not. One of those risks is the elections themselves.
This is critical in understanding to know that the Fed is heavily biased not to raise rates this year.
Let's see what the OFR said this week (July 25th).
The U.S. Office of Financial Research released today its mid-year summary assessment of threats to U.S. financial stability, concluding that overall risks remain in the medium range but have been pushed higher by the United Kingdom vote to exit the European Union."
They are talking about medium-term risks increasing this week in their mid-year summary.
Let's look at what the Fed told us in their FOMC statement Wednesday.
Near-term risks to the economic outlook have diminished."
On July 28, we Elazarized that to mean, "The Fed saw stocks hold up after Brexit."
When comparing the OFR, we see a whole new perspective. The Fed statement really meant the following. We're now going to take both the OFR and the Fed statement and Elazarize that for you.
While the near-term risks have diminished now that stocks have held post-Brexit, medium range risks have been pushed up because of Brexit."
If the OFR and Fed don't disagree, which they don't, it means the Fed was speaking near term and left out the medium term that the OFR was talking about.
Why in the world would they do that? Medium-term risks are important to us aren't they? All commentators (except us) were hawkish after the Fed meeting. We were not, we said it was more dovish.
Why would the Fed be so cute to leave out medium-term risks? There are two main reasons and this gets hairy. We are sorry.
Is it possible that the Fed has some bias not to shake markets (NYSEARCA:SPY) in an election year? Do they have something to gain by steady markets? Does their view of Trump affect their communications and decisions? Is that why they left out that medium-term risks DID NOT diminish?
First our take, then we'll prove it to you.
1) The Fed does not want to shake markets because they would prefer Clinton to win.
2) Trump is one of those medium-term risks. Part of their bias to think that is because many are pro-Clinton.
This can affect their decision process to hold back rate hikes even if they are needed. This can affect their communication to the street even if it needs to be stronger.
Remember the Wall Street Journal had us expecting that the "Fed would get our attention?" Maybe it was after the RNC that the Fed backed off on that.
Don't forget, we said we'd prove it.
Let's see their political bias. We think some key Fed officials cannot be unbiased.
Lael Brainard is one of the five key Fed board members. She is one of the main supporters to keep rates low. She is also a max personal contributor to Hillary Clinton's campaign. She is not legally allowed to give more. She's at max. The New York Times points out that she is also in the running to join Clinton's cabinet if Clinton gets elected.
We ask you a simple question. Is there any chance in all the universe that she can be impartial? We'd strongly say no way in the world.
Okay? Next.
Robert S Kaplan was also a donor to Clinton. He is an alternating voting member (2nd Kaplan Search Click)
Okay? Next.
Daniel Tarullo, one of the top five Fed members "served in the Clinton Administration as Assistant to the President for International Economic Policy."
Would he have any bias to Clinton?
Okay? Next.
Janet Yellen, Fed Chair (Heard of her?). "Yellen served as Chair of President Bill Clinton's Council of Economic Advisors."
We think it's fair that the Fed is biased. There is no way they are unbiased.
The Federal Reserve President of Philadelphia Patrick Harker is also an alternate member of the FOMC. He said, "There are a lot of uncertainties that are in the economy. One of those is the upcoming elections."
We would guess that Mr. Harker's election uncertainty comment comes based on the chance that Donald Trump could win. We think it's fair to say that Clinton wasn't who he had in mind in that comment. A change of administration is the risk in their minds.
Based on a clear bias based on donations to Hillary Clinton and directly working for Bill Clinton, Fed officials can't avoid being unbiased. That means if inflation is on the table or the country needs a rate hike, the Fed could hold out anyway.
We are scared to say this, but they would hold a rate hike for two reasons:
1) We think they feel Trump would cause unknown risks like Mr. Harker's comments.
And this is the part we don't want to say:
2) If they are worried about those risks deep-down inside, they may be biased to act in a way that causes less stock market volatility in the near term. These Fed officials might be thinking based on their political bias that they are doing the nation a public good. Not raising rates helps markets remain calm in the short term, which allows Clinton the best chance to win.
The Fed has incredible sway in their communications and decisions.
If point one is correct as Mr. Harper says, then point two is certainly on the minds of some Fed officials, and more so the ones that worked for or donated to a Clinton.
Because this is such a delicate subject, we think that could be one reason the Fed chose to say that near-term risks were diminished (Brexit), but they did not want to worry markets about medium-term risks. For one, one of those medium-term risks is a hairy subject, elections. It could also bring up the subject of their bias, so maybe they avoid the subject altogether.
Down markets helped Obama win. Down markets today could also favor a change of administration, which would benefit Trump.
President Barak Obama was elected knee-deep in the 2008 crisis.
Let's see exactly when he was elected on a chart of the Dow Jones (NYSEARCA:DIA).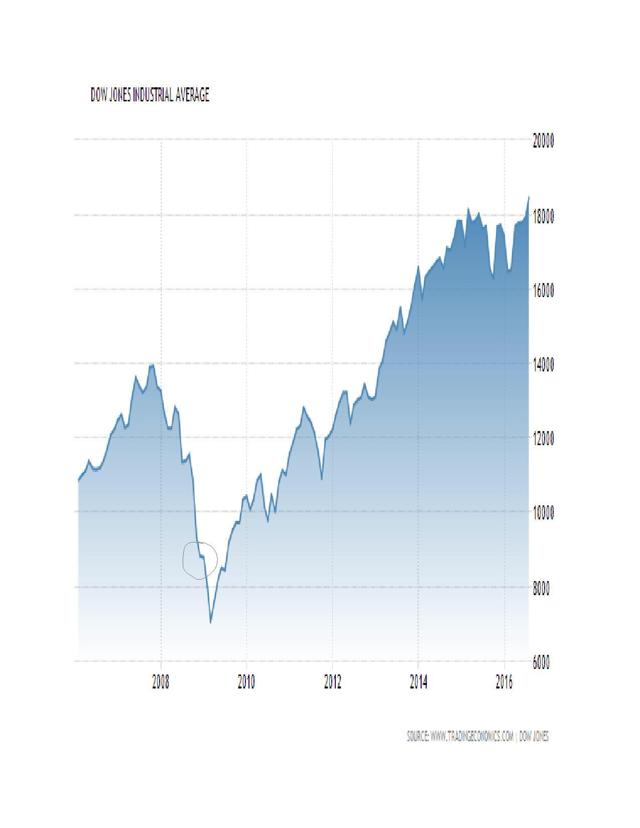 We put a scientific marking here on the chart to show you exactly when elections were. When the country was knee-deep in stock market turmoil, President Obama walked away with the next presidency. He took it from the Republicans who had been in charge to that point.
Did the stock market crash help him? Definitely, it did. Do you think that is top of mind eight years later? Definitively, it is. Do you think the Fed officials who see Mr. Trump as an economic risk factor that into their decisions? Definitely, they do.
We've just shown that it is impossible for these officials to be impartial. We would guess that their decisions are biased for Clinton and against Trump based on all the factors above.
The key risk to markets is inflation
Inflation has been picking up strongly, yet no Fed official has shown concern. Only one jobs number called off a rate hike but two strong PCE numbers have not brought on a rate hike.
The Fed is deciding to lean to the path of least market risk.
But letting inflation out of the cage is medium-term risk. Inflation itself, we think, will slow consumer spending by making their fixed budget basket cost more crowding out other purchases. Not doing anything about rates because of medium-term fears may let inflation out of the cage.
Here's PCE. It's jumped yet not a peep from any Fed official.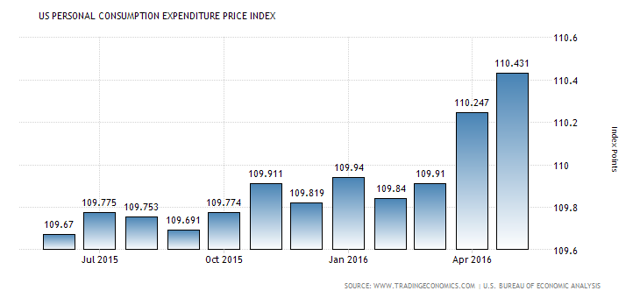 PCE, the main Fed inflation measure has jumped now for two months in a row. The Fed let one month of jobs in May call off a rate hike. Yet, two months that are way above trend in inflation... not a peep.
Here's the only Fed official I heard worried about inflation.
(Picture: All we heard about inflation was from this guy. This is the official Fed inflation spokes-cricket.)
But the Fed's main inflation measure PCE has jumped in the last two months. PCE reports August 2nd. If it continues up it will be a cause for concern.
We hope holding off rate hikes is not because of elections, but we don't see how it's not.
Conclusion
We showed how the Fed purposely said "near-term" risks "diminished." That is Brexit. Medium-term risks still exist. One of those risks to the Fed is the elections. They left that part out. They likely want Clinton to win because they have the most ties to a Clinton.
Our main stock market point is that could let inflation out of the cage and be a bigger risk to inflation and the economy down the road. Leaving rates the same, if it's because of elections, is a stock market risk medium term.
Please be safe. We remain bearish.
If you want Elazar's analysis on Seeking Alpha, scroll to the top of the article and hit "Follow." Elazar also writes real-time pieces as news is reported. If you want to be among the first updated check the box for "Real-time alerts on this author" under "Follow."
Disclaimer: All investments have many risks and can lose principal in the short and long term. This article is for information purposes only. By reading this you agree, understand and accept that you take upon yourself all responsibility for all of your investment decisions and to do your own work and hold Chaim Siegel, Elazar Advisors, LLC, bestideas, their related parties, and its authors harmless.
Disclosure: I am/we are short SPY.
I wrote this article myself, and it expresses my own opinions. I am not receiving compensation for it (other than from Seeking Alpha). I have no business relationship with any company whose stock is mentioned in this article.