Given United Natural Foods (UNFI) derives almost 35 percent of sales from Whole Foods (NASDAQ:WFM), there are bound to be questions emanating from the poor performance of Whole Foods, but the strength of assets and positive catalysts underway seem to position United on a much better footing.
United Natural Foods, as a major national distributor of natural, organic foods and specialty foods in the United States and Canada, should be high on the radar of some of the major supermarkets and food distributors, offering downside protection to the stock that is down almost 25% over the past two years and now trades around 0.3 times sales. Besides the downside protection during an uncertain economic environment, integration of the recent acquisitions and efforts to build scale in fresh, ethnic/gourmet and conventional produce, while creating a national supply chain infrastructure to support growth across different product categories do offer promise, thus is worth a closer look.
Last year, the company lost an almost $400 million natural and organic food distribution account with Albertsons and almost $100 million account with New Seasons Markets to the competitor - KeHE, a major setback for the stock and investor's expectations. Besides losing some of the major accounts last year, investors are worried about headwinds on the macro front, be it the economy that is barely growing, absence of inflation or the distributors of conventional groceries making a stronger push into organic and specialty goods.
Potential acquisition offers a good downside protection
Growing around 10-15%, the organic food market is clearly growing at 3-4 times the growth rate offered by the broader food market and given the increasing health cautiousness, there is limited evidence to suggest that the growth differential may ease anytime soon. Indeed, the U.S. organic industry saw its largest dollar gain ever in 2015, as expected when retailers across the board are increasing shelf space allocated to organic brands. This favorable setting is driving a strong interest in the assets that are focused on the organic products, as evident from the Danone (OTCQX:GPDNF) paying more than 20 times EV/expected adjusted EBITDA for the current year for WhiteWave Foods (NYSE:WWAV), a premium that was unheard of a few years ago and what most analysts would agree was for the leadership position that WhiteWave enjoys in the plant-based, organic dairy and organic produce categories.
Supplying to majors like Whole Foods Market, Sprouts Farmers (NASDAQ:SFM) and Roundy's Supermarkets, United Natural enjoys a leading position in the distribution of natural and organic foods. More importantly, at a national level, the business seems to be operating in a duopolistic industry, with KeHE, which is private and less than half of United Foods' size, being the other player. Besides the favorable industry characteristics, the dominant position at Whole Foods should be an asset for any major food distributor, including Sysco (NYSE:SYY) that is most often rumored as a potential suitor for the business.
But looking at the stock trading at 17-18 times forward earnings and 1.5-2 times book, there is hardly any significant acquisition premium attached to the name.
Positive catalysts, if the bids take time to arrive
Just as the acquisition provides decent downside protection to the stock, integration of recent acquisitions, easing competitive pressures and growth into new categories and channels should act as positive catalysts for the business as well as the stock.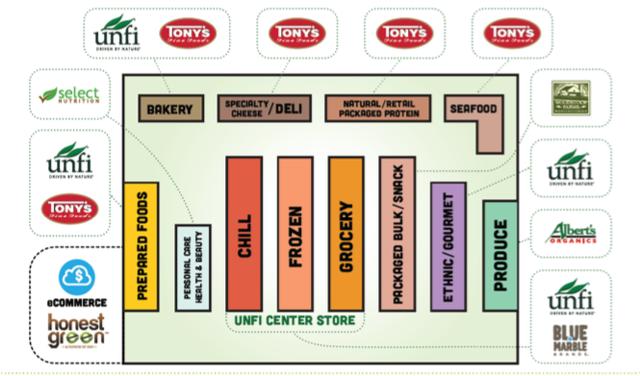 Source: United Natural Foods presentation
Somewhat common in the distribution business, acquisitions serve as an important source of growth, diversification and productivity gains for most players in the space and United Foods is no exception.
Just as Tony's Fine Foods and Trudeau Foods served an important role in building up the company's capability in the high-growth perishable product offerings, ethnic/gourmet and its distribution footprint in the western region, a deeper integration of some of the more recent acquisitions - Nor-Cal, Haddon House and Global Organic should act as positive catalysts for the company's push to offer full-service gourmet ethnic, fresh produce, grocery, wellness and e­commerce, while catering to an even wider range of customers. The estimates may continue to get a boost, as the Street understands strategic synergies and potential accretion from the acquisitions, some of which is already evident from the estimates moving higher over the past few weeks.
Some of the recent developments at KeHE, including a downgrade from Moody's, do suggest that the competitive pressures for United Natural may also start to ease. Besides winning Albertsons and New Season's market from United, KeHE's competitive pricing has been a concern for United, but with increasing troubles, including weak earnings and credit metrics, KeHE might be forced to take the foot off the pedal. Indeed, Moody's estimates debt/EBITDA will be over 7 times for KeHE due to an elevated level of operating expenses and capital expenditures, whereas leverage was close to 1.51 for United Natural at the end of last quarter, including the financing for Global and Nor­Cal acquisitions.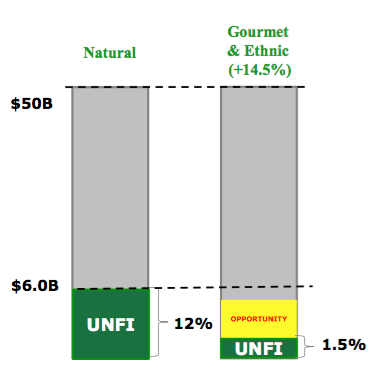 Source: United Natural Foods
Another major positive factor can be the faster than expected fruition of the company's effort to improve productivity, develop new channels, monetize the fast growth offered by e-commerce and building out 'the perimeter', through organic or inorganic means. The new organizational structure, with more regional focus and ability to represent the full range of brands, products and services, is expected to begin next month. Online sales of groceries is fast getting accepted and United does have an edge to monetize the trend, including the growth of more than 30% in the channel, even though Amazon (NASDAQ:AMZN) is making great strides.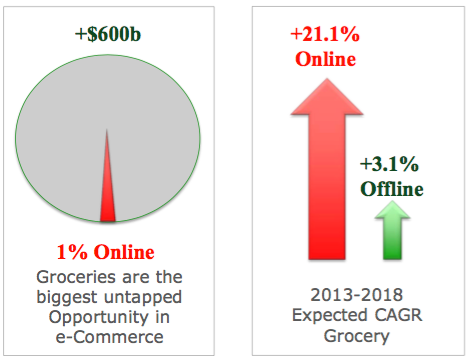 Image source: UNFI presentation
The stock
The finances are not just better than KeHE, but the numbers should continue to show improvement on a standalone basis as well, as evident from the recent improvement in EBITDA, which was up more than 100 basis points sequentially and the strongest nine-month free cash flow in the company's history. Indeed, the free cash flow for the current year is expected around $200-220 million, an almost 9% yield.
Given the better than expected earnings and improved outlook during the most recent quarter, while offsetting any gross margin pressure from competition or a shift towards lower margin products, the near-term momentum looks stable.
| | | | | | |
| --- | --- | --- | --- | --- | --- |
| Comps | EV/ EBITDA (trailing) | P/E current fiscal exp. | P/E next fiscal exp. | EV/ Revenue | P/Book |
| UNFI | 9 | 19 | 18 | 0.3 | 1.6 |
| SYY | 13 | 26 | 23 | 0.7 | 7.4 |
| WFM | 8 | 21 | 21 | 0.7 | 3.2 |
| HAIN | 17 | 26 | 23 | 2.1 | 2.9 |
| SFM | 12 | 23 | 20 | 1.0 | 4.2 |
Even if one ignores the possibility of an acquisition from the upside potential, there does seem to be a decent valuation gap between the business and other food distributors and organic food players, which should be closing as the uncertainty of last year gives way to the potential offered by the improving fundamentals.
Disclosure: I/we have no positions in any stocks mentioned, and no plans to initiate any positions within the next 72 hours.
I wrote this article myself, and it expresses my own opinions. I am not receiving compensation for it (other than from Seeking Alpha). I have no business relationship with any company whose stock is mentioned in this article.
Editor's Note: This article discusses one or more securities that do not trade on a major U.S. exchange. Please be aware of the risks associated with these stocks.