What a blow for Ford Motor (NYSE:F) shareholders yesterday. The auto company, which investors still hold in high esteem for its high grade dividend, shocked investors on Thursday when it reported weaker-than-expected 2nd quarter earnings that sent the company's shares into a tailspin. Ford investors are used to the occasional, emotionally-fueled drop, but yesterday was a new experience for many Ford shareholders for sure.
Ford Motor's shares crashed after the earnings release, slumping ~8 percent after the company not only underperformed analysts' earnings expectations, but also said that its guidance is at risk. Usually, guidance warnings don't go down well with shareholders, and that's exactly what played out yesterday.
Ford's chart looks ugly after Thursday's crash, but judge for yourself: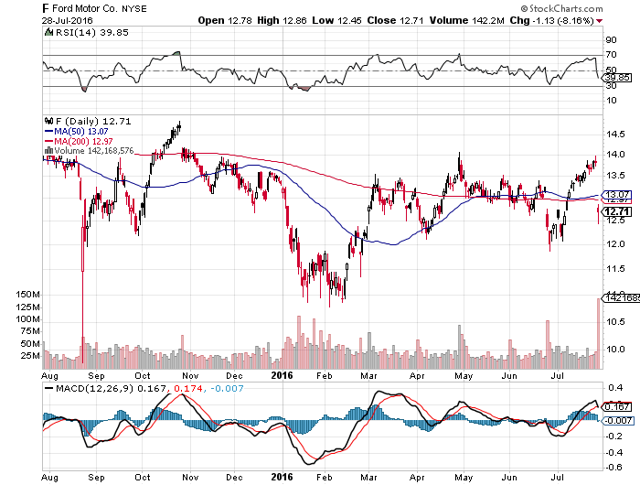 What Happened?
Ford Motor's 2nd quarter earnings picture really wasn't that great, to be frank.
The auto company said that its net income declined $190 million year-over-year to $2.0 billion. Ford's adjusted pre-tax profit of $3.0 billion (a significant number!) took a hit, too, slumping $293 million compared to the 2nd quarter of last year. Ford Motor's revenues, however, increased $2.2 billion compared to last year and hit $39.5 billion, a reflection of strong sales in the United States.
At the end of the day Ford Motor earned $0.52/share in adjusted profits, a decline of $0.02/share Y/Y. Importantly, Ford Motor missed the consensus adjusted earnings estimate of $0.60/share by a wide margin.
Guidance At Risk
Investor sentiment took a hit yesterday not only because of weaker-than-expected earnings, but also because Ford Motor said that its guidance is at risk, which of course was a negative catalyst for Ford Motor's shares. What investors ticked off was this sentence from the earnings release:
Expect another strong year of results, and Ford committed to full year guidance of company pre-tax profit and operating margin equal to or better than last year; however, company now sees risks challenging achieving guidance.
So, to recap: Weak earnings, missed consensus estimates, challenged guidance.
The big question now is what to do after yesterday's massacre.
Investors do have a point being worried about Ford's earnings trajectory over the short haul after yesterday's fairly direct guidance warning, but I don't think that the U.S. is headed for a major correction in auto sales at this point.
Further, as I have explained in my last piece about the auto company 'Ford Motor: A Buy-And-Hold Strategy Does The Job', if you are in the Ford name for the dividend, the best course of action is probably to not do anything right now. That's right. Take a deep breath, sit back, and gobble up a few shares on the cheap. Why check stock prices every day, and buy and sell, and be worried when one can just sit back and collect a solid dividend?
Based on Ford Motor's closing price on Thursday, $12.71, the company's shares throw off a 4.72 percent dividend yield. Stick with Ford and collect a nice dividend from a S&P 500 company.
Your Takeaway
Investors took it to the chin on Thursday thanks to lower-than-expected earnings and a shaky guidance, but the company is still pulling in billions of profits, and the dividend is quite safe in my opinion. Ford Motor is a buy-and-hold company where daily price swings really don't matter all that much. Importantly, investors' best course of action is to remain calm at this point. Better yet, buy Ford Motor for long term income generation.
If you like to read more of my articles, and like to be kept up to date with the companies I cover, I kindly ask you that you scroll to the top of this page and click 'follow'. I am largely investing in dividend paying stocks, but also venture out occasionally and cover special situations that offer appealing reward-to-risk ratios and have potential for significant capital appreciation. Above all, my immediate investment goal is to achieve financial independence.
Disclosure: I am/we are long F.
I wrote this article myself, and it expresses my own opinions. I am not receiving compensation for it (other than from Seeking Alpha). I have no business relationship with any company whose stock is mentioned in this article.