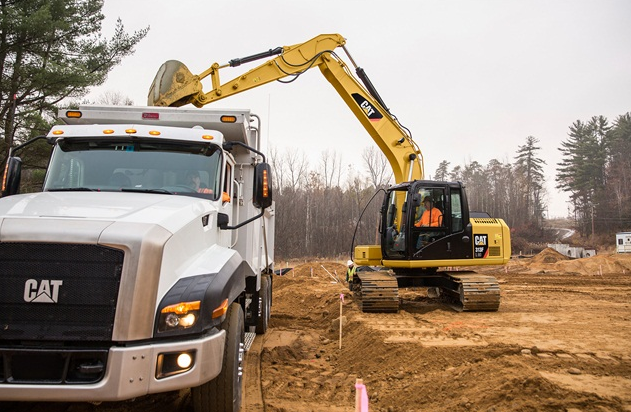 Caterpillar (NYSE:CAT) endured some very rough quarters in the past couple of years as the global slowdown in commodities has absolutely crushed its revenue base. This has led to a drastic reduction in earnings and while I've been negative on CAT's outlook, there have been times where I liked the stock as a valuation trade. But those days are long gone as CAT made new 52-week highs off of its rather dreary Q2 earnings report and while there is some optimism surrounding the idea that things may not continue to get worse, I hesitate to chase a stock that still has such terrible fundamentals.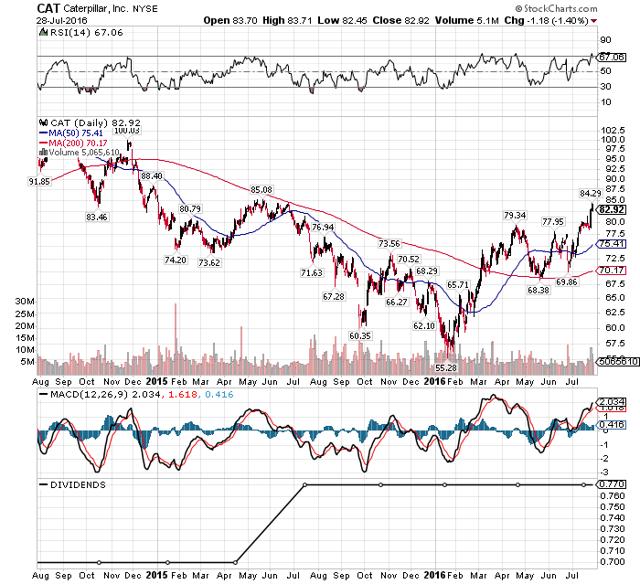 CAT continues to see enormous reductions in its revenue even a couple of years into this down cycle, something I warned about a few quarters ago. CAT is so beholden to high commodity prices that when cycles like what we've seen for the past two years occur, it has literally nowhere to hide. It just sees double digit decreases in revenue over and over and over again and Q2 was yet another occurrence. Total revenue was down 16% off of an already very low number and despite all of the cost cuts CAT has made - rightfully so - it is still ceding earnings at an alarming rate.
Excluding one-time costs, EPS fell from $1.40 last year to just $1.09 this year as CAT continues to try and cut its way to sustained profitability. I've said before that it is truly astounding that CAT is making as much money as it is with its revenue base shrinking the way it is but while that remains true, that isn't a reason to own the stock. In particular, that's true in light of its current valuation as optimism abounds on the shares.
CAT continues to see marked weakness in pretty much all of its businesses and even commentary from management was very dire following the report. There was talk of no improvement in its businesses and that included a cautious outlook on the second half in addition to the VP of Finance saying, "The combination of extra cost reduction and a few more sales hopefully will make the second quarter the worst of the year." I'm not sure about you but when a management team includes the word "hopefully" within its outlook, I become a little alarmed. Confidence isn't exactly inspired and while management may be hopeful, that implies they aren't confident or they would have said so. In short, the outlook for CAT is just as terrible as it was leading into the quarter and it seems nothing changed there.
What has changed dramatically since I last visited CAT is the share price as it continues to defy gravity despite all of the very obvious headwinds the stock is facing right now. Estimates for this year and next year are almost identical and CAT is trading in excess of 23 times both numbers. I don't have to tell you that is a gargantuan sum for a company that continues to report double digit declines in revenue and earnings with no upside catalysts in sight. China continues to slow and that is terrible news for CAT. In addition, so many commodity prices are low that CAT relies on and the outlook for improvements there is also low considering relative strength in the dollar as well as slowing global growth. But in spite of all of this, CAT is going for 23 times earnings.
Is the dividend the reason? CAT has continued to substantially raise its payout and at the current stock price, it yields about 3.7%. That's a terrific yield in any industry and it is safe; CAT has the ability to cover its payout for a very long time at its current level of earnings. The risks to its earnings aren't close to becoming a risk to its dividend and that is certainly something positive for bulls.
The problem with shares right now is that they are being valued like a turnaround story but as of yet, there is no turnaround. Management even told us that 2H2016 is going to be ugly and it isn't like a rapid improvement is just beyond the horizon; sales estimates for next year are basically flat. I get the idea that CAT will have a tremendous amount of operating leverage if/when revenue finally does improve, but how long can the stock trade at 23 times earnings without actual proof some kind of improvement is occurring? CAT turning itself around isn't like a retailer that can remake its assortment or go after a different consumer; CAT needs higher commodity prices and economic growth and there is absolutely nothing it can do about either. It all depends upon those factors for CAT and right now, they are both very weak with no upside catalysts to be seen. All CAT can do is continue to make equipment and hope people buy it.
For that reason, I think CAT is very expensive here and that investors have bid the stock up to where it should be after a turnaround has begun to take place. That could be a year or two or three from now so I just don't get the level of optimism. CAT's 200DMA has turned higher and that's great but it is trading 18% higher than its 200DMA right now, a staggering number that isn't sustainable. Yes, sentiment has returned in a big way but sentiment is a short term catalyst, not a reason for a long term rally. CAT cannot stay 18% above its 200DMA so it will either need to go sideways or down to remedy that. I think CAT should be $70 or so right now because its outlook is "less bad" than it used to be but nowhere close to a true turnaround. And with the yield at 3.7%, I don't think investors are being compensated for the risk they are taking in owning the stock near its highs. If CAT remains elevated, I'll be looking to short it because it isn't close to being worth $83.
Disclosure: I/we have no positions in any stocks mentioned, but may initiate a short position in CAT over the next 72 hours.
I wrote this article myself, and it expresses my own opinions. I am not receiving compensation for it (other than from Seeking Alpha). I have no business relationship with any company whose stock is mentioned in this article.