By Parke Shall
The entire auto sector was priced as if there was going to be catastrophe. Valuations coming into Ford's (NYSE:F) earnings yesterday suggested that we were waiting for a large auto credit bubble to burst and they also suggested that US automakers were pushing through as much inventory through incentive selling as was possible.
It seems as thought the latter was definitely true, but the former has yet to fully play out. This leaves Ford, a cash rich company, at a valuation that we still find enticing.
We know these scenarios are expected because shares of Ford have been priced at around 7X earnings for the last year or two and the company cannot seem to get its multiple to expand, even when it has good news.
The inverse of this, the company having bad news, easily drives the stock price down. There seems to only be one direction that Ford stock wants to go in and that is down. While it is nice that there seems to be unanimous miserable sentiment on the sector, as an investor what does this mean?
We wrote a small article yesterday after Ford's earnings stating that we would update our view after we got to listen to the company's conference call. We did get a chance to listen to the conference call, and it wasn't all bad news. Here are some of our favorite clips from the call,
Global market share declined outside of North America but share was up in the US and Canada. Our automotive operating cash flow was an all-time quarterly record. Europe's pre-tax profit almost tripled from last year and North America and Ford Credit remained strong.
Now combined with our first quarter record, we achieved record first-half pre-tax profit and operating margins for both the company and for North America. Now we continue to expect another strong year and we are committed to our full-year guidance of company pre-tax profit and operating margin equal to or better than last year, but at the same time we now see a number of risks that the entire Ford team is working hard to mitigate to achieve our guidance, and we'll explain more as we go through the information this morning.

Our returns were strong, as I just reviewed; now in terms of risk, we received a rating upgrade by Fitch. Our business units outside of North America collectively were profitable for the third consecutive quarter and we achieved $1.6 billion of cost performance in the first half versus our plan. And in terms of rewards, we distributed regular dividends of $600 million to our shareholders.

Okay, let's go on to Europe, which as I mentioned earlier was a bright spot for us. If you look at the wholesale and revenue up double digits, share actually declined a little bit. That was market mix. The Southern European markets grew disproportionately. Our share performance there is a little below the average of what it is in Europe and so that affected us. Margin was 5.8%, which is a very, very good performance and the profit that I touched on earlier. And then if you look at the first half, we made $900 million in the quarter, a margin of 6% and you can see very strong growth at the top line as well and share was flat. So this is a really great story.

Okay. Let's turn now to cash flow. Cash flow, a very, very good story for us in the quarter. It was the best ever in the quarter and the half - $4.2 billion operating in the quarter, $6.9 billion in the half. It was driven by the profit, but also you can see that we had favorable working capital and we had favorable timing differences.
As you can see, Europe is the first outside of US location that could help Ford navigate volatile quarters by contributing to profit from overseas. The goal for Ford is to become so diversified internationally that, while it is nice to have a domestic sales as a backbone, the company should be able to hit the bottom line from many different geographic locations.
Once the company achieves this type of diversification, shareholders will be far less at risk then they are now, with such a concentration of profit coming from the company's North American operations.
While we only saw glimpses of this yesterday, and admittedly the results were not as great as we thought they were going to be, we had to step back and take a cold hard look at Ford again yesterday afternoon. The company remains a cash cow. The numbers really continue to be impressive for the valuation: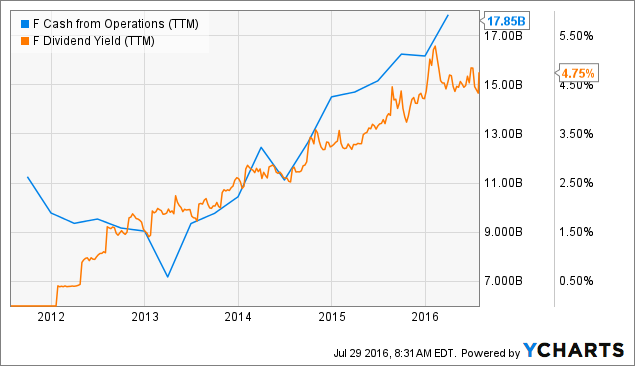 F Cash from Operations (TTM) data by YCharts
The fact is that the results missed estimates, yes. But YOY the results continue to still be impressive for a company priced with a 6X multiple. The company is a cash cow.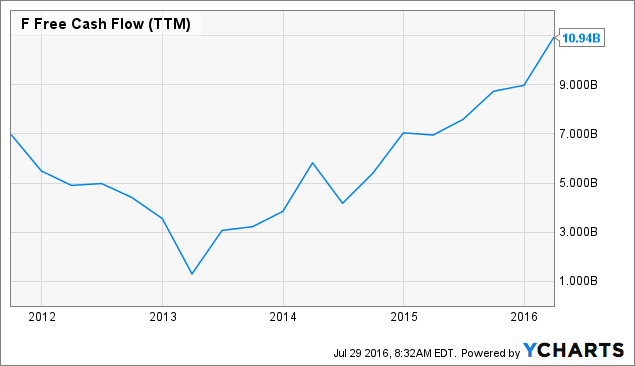 F Free Cash Flow (TTM) data by YCharts
The fact is that the guidance was soft and there continues to be a case for there being a bubble in the automobile financing sector. We are not disputing these claims.
But when it comes down to fundamentals, it is really tough to argue that a position in Ford is a terrible idea at these levels. With the company losing about 9% of its market share yesterday, shares are again now trading at about 6.3X forward estimates. This is an extremely distressed valuation, even for the automobile sector. This valuation is predicting nothing short of a total collapse in the sector, that we think Ford now can actually ride out with some of its international legs that it has to stand on.
Europe should be a talking point from yesterday's report.
Cash generation should be a talking point.
If the US auto market starts to implode, that traditionally isn't going to take down other international locations by itself. When Ford may see some weakness, it may be able to capitalize on strength in other international locations. We see this to be a tremendous positive and we think it is a key that will allow Ford to elude watching it's bottom line suffer so much.
Right now, the appeal of Ford share is that the earnings are cash rich, the dividend yield is now over 5%, and the forward outlook, while below expectations, is still that of a very profitable very cash generator company. We are going to remain long shares of Ford and potentially short Credit Acceptance Corporation (NASDAQ:CACC) as a hedge against the auto financial boom bubble bursting.
Disclosure: I am/we are long F.
I wrote this article myself, and it expresses my own opinions. I am not receiving compensation for it (other than from Seeking Alpha). I have no business relationship with any company whose stock is mentioned in this article.