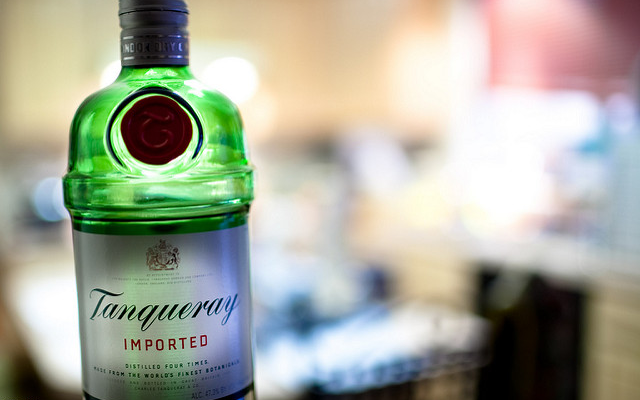 Spirits-maker Diageo (NYSE:DEO) remains one of my largest holdings. Back in February I argued that Diageo's H1 2016 results had made it an even more compelling long-term investment. Since then I have eagerly awaiting for Diageo to release its FY2016 results to see whether the positive story emerging from the first half of the year was reflected in the second half too.
With the full year results out, I am happy to report that this is most certainly the case. Diageo's 2016 seems to have marked a significant positive step in what looks like to be a much stronger growth picture in the future than has been the case in its recent past.
Let's take a closer look to see what I mean.
Solid Top and Bottom Line Performance
As it happens, looking at Diageo's reported revenue performance there is perhaps little for investors to have got excited by. A 3% decline was not exactly what you want to see. Yet what was clear is that from an organic perspective Diageo has continued to deliver robust growth in both revenue and operating income levels: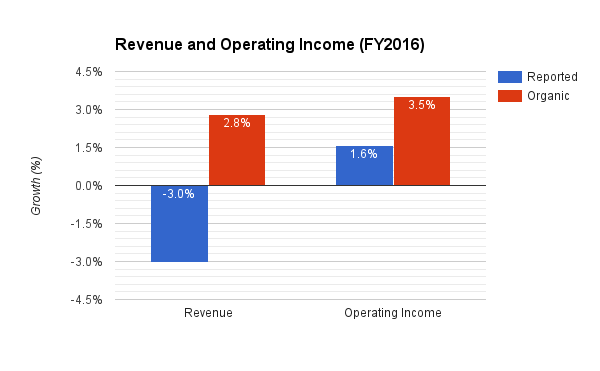 What impressed me more, however, on the revenue front is the attractive mix of organic growth drivers which helped produce that figure. Looking at a waterfall chart of the contributors to revenue change several things become clear. First, that the effects of net disposals and hefty ForEx (foreign exchange) headwinds fed the reported decline a great deal. Yet more encouragingly, organic growth was fairly evenly split between volume and pricing/mix growth: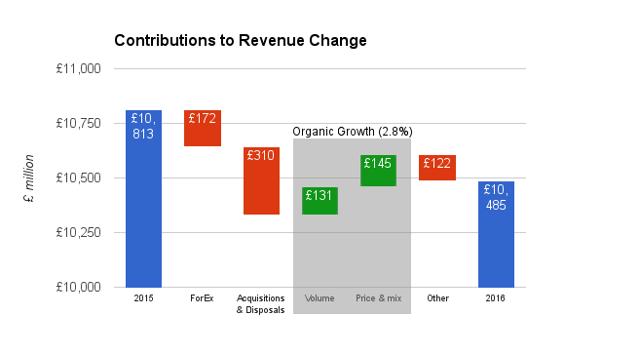 I often have concerns when large, brand-heavy consumer companies present solid organic growth figures after periods of weakness for fear that they have relied too heavily (or exclusively) on price hikes to help get them out of a hole. In Diageo's case, however, this was not true. Diageo managed to generate strong organic growth courtesy of getting consumers to buy more rather than just pay more for their product. This is excellent news by any measure.
Volume Growth Powering Ahead
The positive volume growth story does not end there, however. What was perhaps most encouraging was that there was evidence that this volume growth has also been accelerating as the year progressed: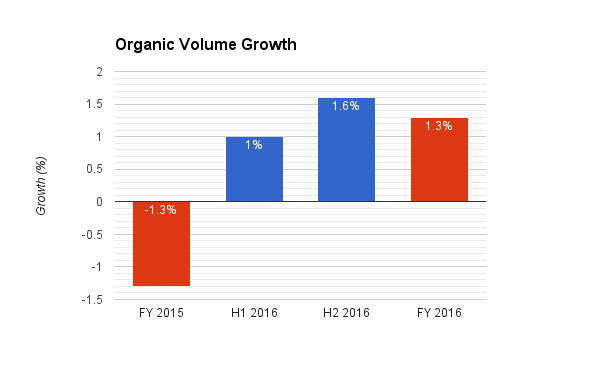 Although the company reported 1.3% volume growth for the year, the second half of the year saw an acceleration of volume growth from 1% to 1.6%. thus not only have they inverted the -1.3% volume decline in 2015 to a 1.3% growth in 2016, they also leave 2016 with increasing volume growth momentum. Hopefully we will see similar trends repeated in 2017.
Lumpy but Improving Volume Growth Globally
This volume growth was not a universal phenomenon. Some regions continue to see volumes decline in 2016: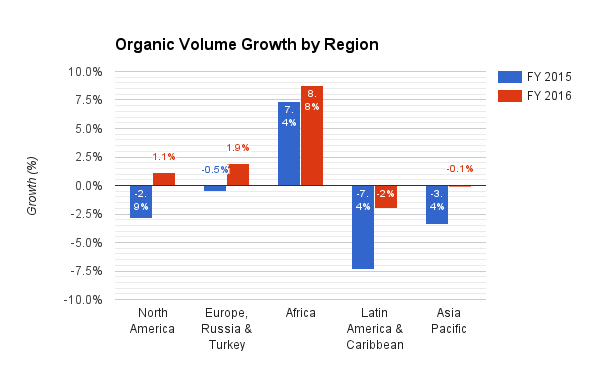 Yet, here is the thing, all regions saw organic volume growth improvement. Diageo's two critical regions-North America and Europe, Russia & Turkey-saw volumes flip from a decline to a healthy growth. Even regions with shrinking volumes-Latin America & Caribbean and Asia Pacific-experienced fairly dramatic improvements in the extent of the volume decline.
This bodes well as we enter FY2017. Ideally, further growth expansion in their core markets will be forthcoming and their still shrinking regions will see at least stable volumes. This, however, we will have to wait and see.
Global Revenue Pushed Higher
Despite a rather lumpy volume story globally, the pricing power of Diageo's brands has meant that they managed to put together organic revenue growth across all regions: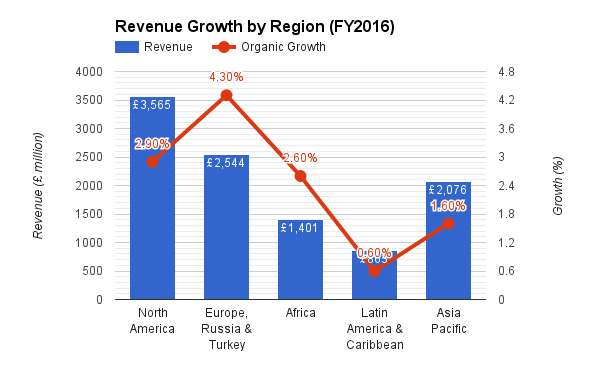 Clearly, it is hard to argue that the performances in Latin America & Caribbean and Asia Pacific were not disappointing. This is especially true in light of the fact that we know that this must have been heavily driven by pricing hikes.
Nonetheless, I would struggle to leave reading this chart without being happy. Diageo's North America segment-a recent drag on growth-has managed to chalk up a strong 2.9% organic revenue growth backed by the robust volume growth noted above. North America's importance is such that its 2.9% growth contributed over 1% to Diageo's total 2.8% growth figure with Europe, Turkey & Russia's 4.3% growth adding a similar amount to the total.
Global Brands Strength
One of my biggest worries historically had been weakness in their global giant portfolio. This portfolio of six mega-brands pull in about 40% of the company's total revenue. Weakness in these brands, therefore, usually do pretty nasty things to Diageo's results.
Fortunately here, Diageo made massive strides of progress with all of their global brands seeing revenue growth improvement: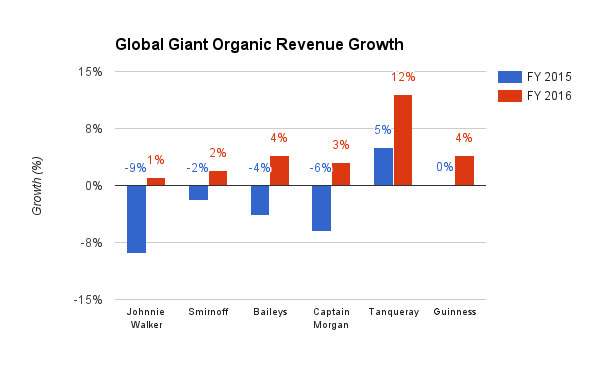 In fact all saw growth coming their way and Tanqueray gin saw their sales growth more than double. Again, I was slightly worried that I would find that this impressive growth picture was supported chiefly by price hikes than volume growth. In fact, this was not the case: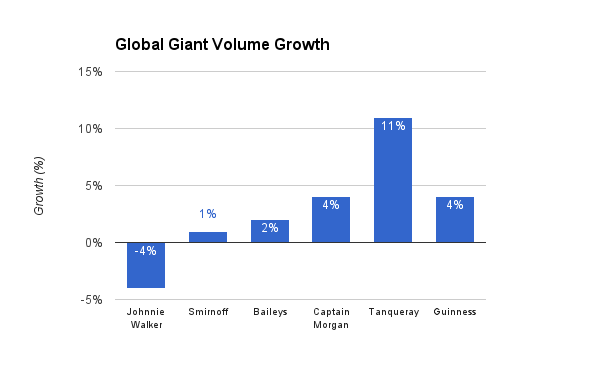 Clearly Johnnie Walker-the world's biggest scotch brand-continues to struggle for volume at present. Yet generally speaking the global brands can be considered to have performance strongly indeed.
Weakness in Scotch and Vodka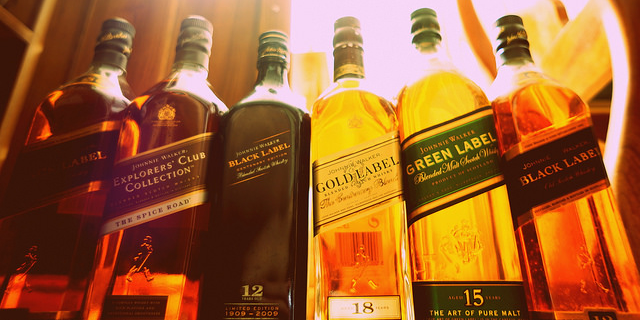 The broader Johnnie Walker story pays to be dwelt on a little. Scotch and Diageo's next largest category, vodka (with its global Smirnoff brand), together make up over 37% of total revenue and continue to see fairly flat organic revenue growth: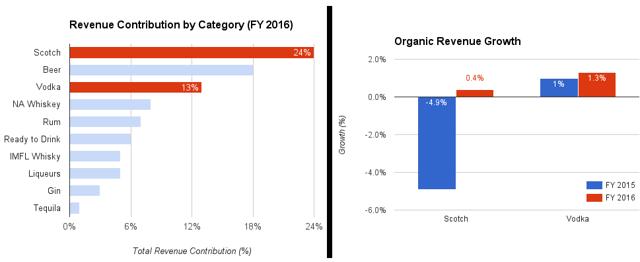 This remains a drag for Diageo. Nonetheless, again it is hard not to reflect on the welcome improvements FY2016 presents to us. In the case of scotch, it is great to be seeing that revenue has not repeated the kind of drop seen in 2015. Yet there is clearly still more that needs to be done to see more impressive growth figures coming from either of these important categories. The question of whether this momentum can be continued into FY2017 is one I will be keen to see answered positively as we wait for Diageo to release results in the future.
Cash Flow Improvements
All told, the trading performance at Diageo left me very encouraged indeed. Happily, the underlying financial performance was not less positive to read. Take cash flows for example.
On first reading I was fairly neutral about what I read. Operating cash flow was in fact flat from 2015. Digging into the revenue figures it was clear why. Currency headwinds combined with the effect of disposals was always going to make it a challenge to generate more cash than 2015. What is more, when I put together the FCF figures things looked much more encouraging. Courtesy of declines in capital expenditure (assisted by the disposals, no doubt) FCF managed to improve further still: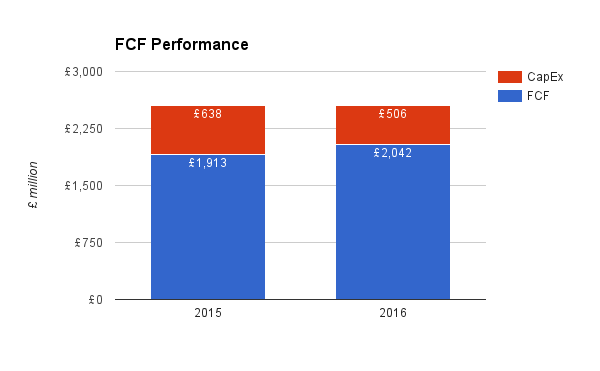 Importantly, therefore, Diageo managed to hold onto the FCF performance improvements seen in 2015 and add a solid 6.7% boost on top: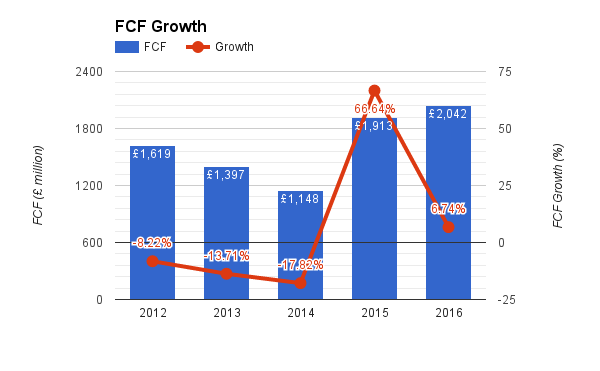 To my mind, this still leaves Diageo will plenty of scope for further improvement in 2017 and beyond. Nonetheless, the progress made in 2016 bodes well. Looking at its cash generating efficiency, a similar picture emerges. In line with many of its consumer staple peers, Diageo generally produced a fairly impressive CROIC (cash return on invested capital) until FCF weakness in recent years.
Calculated by dividing their FCF by the sum of their total debt and shareholders' equity (that is, capital invested) their CROIC has been improving in 2015 and 2016: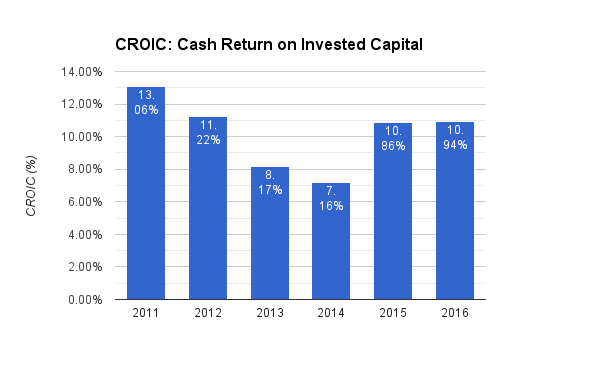 That means that in 2016, for every $100 of capital invested in the business they generated an attractive FCF return of nearly $11. Great. But I'd hope to see this grow further up towards the 13% figure seen back in 2011 with the potential for more to come.
Dividend Coverage Thinning (If Safe)
Further strength to the cash flow generation at Diageo would be very good for a very specific reason too: dividend cover. Diageo continued to have a generous dividend. However, to service this, Diageo currently pays out about three-quarters of it FCF (the same as its EPS payout):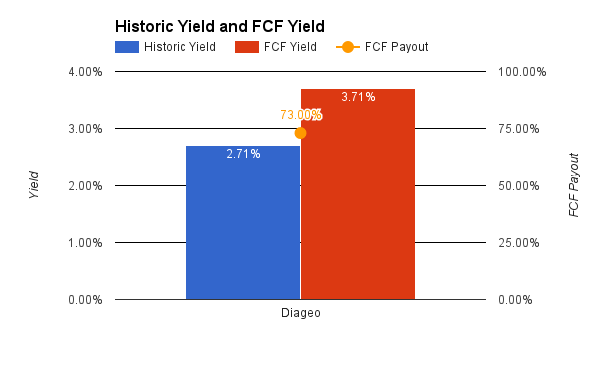 Now ideally this payout ratio will improve in time. Diageo itself wants to target cover of 1.8 to 2.2 times EPS (payout of between 55% and 45%). Consequently, it has been slowing dividend growth recently. As they explained with their FY2016 results:
We slowed growth to 5% consistent with our focus on stabilizing and rebuilding dividend cover…. We would expect to maintain dividend increases at roughly a mid-single digit rate until cover is back in range.
This is an encouraging target as they both wish to rebuild cover whilst also continue growing the dividend. I think this is entirely achievable. In the meantime, the dividend remains safe and likely to continue growing at an attractive pace.
Debt Being Well-Managed
That belief seems supported in one respect: debt maintenance. Like many consumer staples, Diageo likes leverage a lot. Their stable earnings and cash flows tends to lead to attractive interest rates from lenders which they are more than happy to snap up. Nonetheless, Diageo has been managing its net debt (total debt minus cash) quite well in recent years: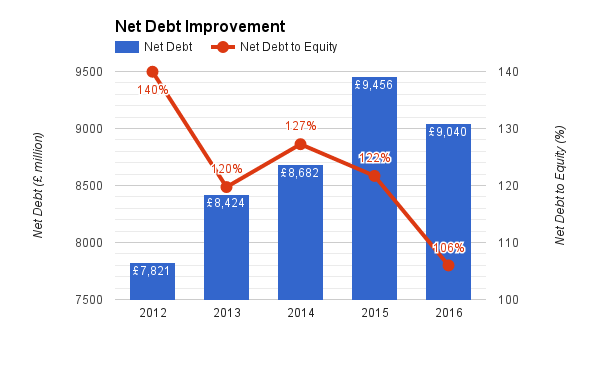 More importantly, however, it has made positive movements in reducing its interest charge exposure with it leaving 2016 with an effective interest rate of 3.3%, down from the 3.5% in 2015:

Although Diageo has not really had a debt problem in recent years, it is welcome to see them continuing to manage their leverage more effectively. Ideally I'd like to see debt and interest levels continue to make modest but consistent declines in coming years.
Conclusion
Diageo's FY2016 results made for good reading. Improvements were discernible almost universally. Organic growth has returned to a healthy pace and was very encouragingly supported by both volume and pricing improvements. Core geographies like North America and Europe, Russia & Turkey as well as core categories like scotch and vodka either saw robust growth or at least a stabilization over the course of 2016.
More encouragingly still, H2 2016 appeared to suggest that Diageo was leaving the year and entering FY2017 with the pace of improvements accelerating. This is great news. The company remains in fantastic financial health with a strong balance sheet and healthy, growing cash flows.
Yet is there still value in the shares as they are currently priced? Well, certainly both the underlying London-listed shares and ADRs have seen price hikes in the last couple of months: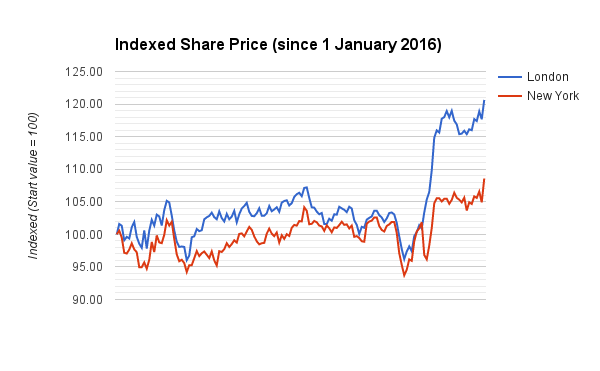 Naturally, the weakening GBP against the USD has reduced the effect of the underlying share price appreciation for ADR holders since Brexit.
Nonetheless-even after the current run-up-I still think that there is value in the shares today after their FY2016 results. Updating my May valuation (read the article for more on how I achieve this) to reflect these results, suggests that a fair value of £23.50 per share in the London-listed shares and a $123.75 fair value price for their ADRs. With current prices at £21.80 and $117 respectively, this suggest there is more room for Diageo's shares to rise yet. Certainly in the uncertain global economic environment we currently are faced with, Diageo looks a solid pick. After its performance in FY2016, this is even more strongly the case.
Notes
Unless otherwise stated, all graphs and the calculations contained within them were created by the author. Creative Commons image reproduced from Flickr user vox_efx (Tanqueray) and aneil4lom (Johnnie Walker).
Disclosure: I am/we are long DEO.
I wrote this article myself, and it expresses my own opinions. I am not receiving compensation for it (other than from Seeking Alpha). I have no business relationship with any company whose stock is mentioned in this article.