My Current Rating: Sell
Two days ago, I argued the case for a short GBP/NZD position. My argument was predicated on the fact that prospects over rate cuts by the Bank of England would place pressure on the GBP. Moreover, the kiwi dollar has been a currency that has continued to show strength against the pound during its fall. Subsequently, my trade was triggered with the following targets:
Entry price: 1.85898
Take profit: 1.76
Stop loss: 1.9090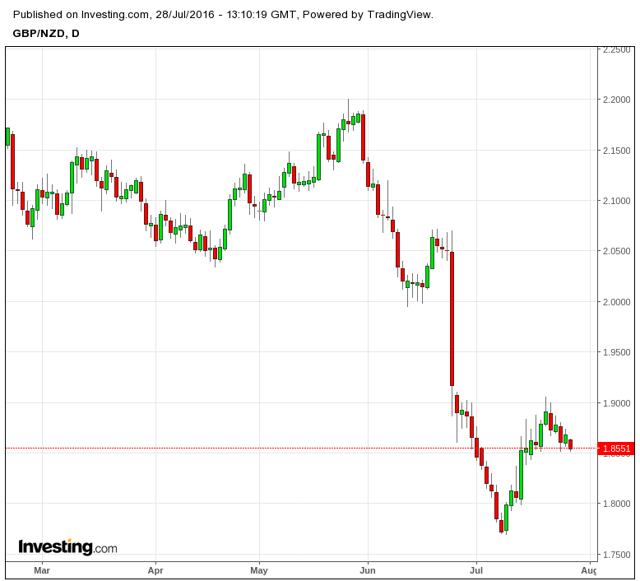 At the time I set a limit entry order, the GBP/NZD pair initially trended downwards by 100+ pips to break the entry price. However, we are now seeing the price stay around the 1.86 range. It is likely that there could be significant consolidation before price falls further (hence the wide stop loss).
It is important to remember that as a key currency, the GBP has a much larger trading volume than the NZD. In this context, the direction of this pair is very much dependent on GBP weakness rather than NZD strength.
As far as the kiwi dollar is concerned, while the Federal Reserve has left interest rates unchanged at its most recent policy meeting, the possibility of a rate hike in September has not been ruled out. Should higher rates be on the table, then one could see the US Dollar climb higher as investors flock to a safer currency given higher rates. While this could present downward pressure on the kiwi dollar, the same could be said for the British pound.
However, as I argued in previous posts, "safe-haven" currencies are not necessarily what they used to be. For instance, the kiwi dollar gained on the yen on Tuesday as expectations grew that Governor Haruhiko Kuroda is expected to boost asset purchases further to boost inflation rates.
In all, I am sticking to my guns on a short GBP/NZD trade. While there could be some consolidation in the short term, I do not see the currency breaching 1.90 to the upside, and remain bearish on the basis of holistic trends in the currency.
Disclosure: I am/we are short GBP/NZD.
I wrote this article myself, and it expresses my own opinions. I am not receiving compensation for it (other than from Seeking Alpha). I have no business relationship with any company whose stock is mentioned in this article.
Additional disclosure: Please note that foreign exchange is a fast-moving and volatile market which is not suitable for all investors. The above analysis reflects the author's opinion at the time of writing only. The author's stated views/positions should not be taken as any form of investment advice, and the author may subsequently modify his views/positions on the basis of new information.