I recently wrote an article on ground leases, which are, in my view, a great alternative to bonds. I explained that while ground leases are in many ways similar to bonds and enjoy a stable and predictable stream of cash flow, they have historically achieved much stronger returns. Unfortunately, there are today no REITs that exclusively invest in ground leases and many pointed that out in the comment section. The investment thesis was hence non-actionable for many.
In the article, I mentioned that one alternative to ground leases is the net lease, which share many characteristics and does not have a materially different risk profile. Today, I want to dig deeper into this asset class, as many REITs specialize in net leases and individual investors can easily gain exposure to them. They present, in my view, a good alternative to bonds and I feel that many overestimate the risk profile of these assets and do not realize that the real difference to a bond is relatively small.
Net Lease Overview
A net lease, often also called the triple net lease [NNN], is one of the safest lease structures in commercial real estate investments and provide significant protection to the property owner in many aspects. Despite its popularity, it is still commonly misunderstood by the investment community as a pure equity investment, when really it is not much different from a fixed income investment.
What are some of the major risks of real estate investments?
1. Potential unexpected events that increase operating expenses such as the maintenance, property taxes or the insurance…
The net lease solves this risk, as the tenant is responsible for all of the costs associated with a property. Unexpected events are at the risk of the tenant and the landlord is not responsible for any operating expenses. It provides a predictable and stable stream of income with long-term leases and very little hassle or management requirements.
2. Potential unexpected events that decrease the net operating income such as the deterioration of a specific location, the default of a tenant or a macro economic downturn.
In this case, it is the REIT structure that mitigates these risks. Since REITs often own and manage large portfolios composed of billions worth of net leases, they are widely diversified and able to significantly mitigate away the risk related to one specific property. During a recession, tenants will keep on paying their pre-agreed rent just like they would keep paying their interest on bonds. The long-term lease protects against these changing market movements and the REIT structure against property specific risks.
So overall, note that the Net Lease REIT structure already eliminates or mitigates many of the typical real estate related risks and therefore provides a much more stable investment that resembles more a bond.
So what is the real difference in risk profile between a Net lease REIT and a bond?
In both cases, there is an agreement between two parties to lend something in return of a cash return. In the case of bonds, the lender lends money and receives interest in return. In the case of a net lease, the land owner "lends" the property and receives rent in return. The terminology is different but the general concept is identical. There is a contractual agreement that obligates the borrower/tenant to pay interest/rent to the investor. So both have only low cash flow risk. Moreover, just as a reminder, REITs, by law, must pay out at least 90% of their taxable income in the form of dividends to its stockholders. It reduces risk and increases the safety of returns as the stockholders are legally entitled to 90 percent of the REIT's earnings each year even during occasional bear markets.
The net lease investor is to a large extend protected from inflation as rents are periodically adjusted upward according to the lease agreement. It is very common for the rent to increase automatically at specific time periods to account for the property becoming more valuable and the inflation loss. Additionally, it is famous that real estate is a good inflation edge in general. Land and building values are adjusted upward as the demand for the specific property increases but more supply cannot be provided in the specific infill location. Moreover, building material prices increase with inflation and hence replacement costs become more expensive.
The typical bond provides however zero protection against inflation and the investor is at large risk.
It could be argued that the net lease is safer than the bond because it is "backed" by real estate, which will always be there even if the tenant would default. The real estate can then be released to another tenant in the worst-case scenario. The principal is not lost. This is very different if a borrower defaults on your bonds. As long as the location is well selected, the tenant has a good credit rating and the building's layout is not too specific to one user, a net lease seems very safe relative to a bond in the case of a default.
The largest misunderstanding about REITs by the market is the irrational fear of interest rate increases. This is one of the reasons why today REITs often trade at below their net asset value, investors are scared of interest rate increases but that is a large misconception. Studies from NAREIT actually show that share prices of listed Equity REITs have more often increased than decreased during periods of rising interest rates. In the 16 periods since 1995 when interest rates rose significantly, Equity REITs generated positive returns in 12. The reason is that changes in the level of interest rates often reflect changes in the level of economic activity. A better economy results in a higher occupancy, rent growth and overall superior business fundamentals for REITs.
I am not saying that REITs will not get hurt if interest rates would increase, however the above study clearly shows that the fear is disproportionate to the real implications of an interest rate increase. A conservatively financed REIT with well-structured maturities and low levels of variable interest rates is likely to not do any worse than other common stocks.
What about bonds? They are at much higher risk if interest rates would be increased as it would result in an immediate loss of value. The interest payments of a typical bond do not increase over time and provide hence no protection against this risk.
Short-term volatility risk
This is one risk where you can argue that the bond wins over the Net Lease REIT. Even though the income is fairly stable and the private market valuations as well during most time periods, the public valuation of a REIT can vary greatly over the short run. The REIT perception still suffers many misconceptions which causes excess volatility in the public market.
One could however also argue that a bond today could lose tremendous value and show tremendous downside volatility if the rates were ever raised.
To me, it is not clear which one is the least risky. What I know is that bonds are exposed to significant risks today including the potential increase in interest rates and inflation and do not yield much at all to compensate for the risk undertaken. In many cases, bonds do not provide any real return after inflation and taxes to their investors in today's market environment.
I think that bonds are very overvalued. If I had an easy way, and a non-risk way, of shorting a whole lot of 20- or 30-year bonds, I'd do it. But that's not my game, and it can't be done in the kind of quantity that would make sense for us. But I think that bonds are very overvalued. I'll put it that way. —Warren Buffett
Buffett made this statement relatively recently, May 4th, 2015, on CNBC. Buffett is known for not taking short positions, but in this interview, he revealed that he would short this one asset class: bonds. This again is quite strong and hints that bonds are not as safe as you might think.
On the other hand, despite the stronger short-term volatility, the net lease REITs seem to have a very risk averse business model and possess many attributes that mitigates significant risks. The Net Lease REIT is actually quite similar to a bond from a risk profile standpoint. So why would you choose the net lease over the bonds?
Stable cash flow with additional upside potential
Despite all these risk-mitigating factors explained above, the net leases still typically achieve much higher total returns than bonds as a result of the following 3 elements:
Unlike bonds, the cash flow increases over time automatically. It is very usual for a net lease to have built in rent escalations in the agreement to protect the land owner from inflation and account for the land becoming more valuable over time. A 2% increase in cash flow per year is pretty common.
The initial yield of a net lease is typically higher than the yield of bonds with the same credit and duration. Often the initial yield of a net lease might be 5.5% while the corporate bonds of the same company may sell at a 4% yield.
Since land prices increase over time, you will achieve much higher returns on average than bonds. You enjoy the benefits of the equity and fixed income worlds. Your cash flow is fixed by contractual agreements and increased automatically, and additionally, the value of your investment can gain value over time. A well-located piece of land in an infill location can appreciate 2-3% a year, which provides an extra component of return to the net lease owner.
Here is an example of return performance that can be achieved by a well-managed net lease REIT: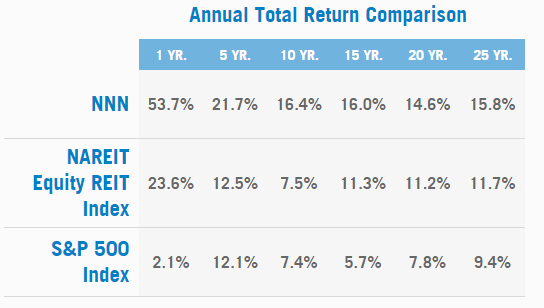 Source: NNN
NNN represents National Retail Properties (NYSE:NNN), which is one of the largest net lease REITs. It is just an example of a Net Lease REIT and it does show a significant outperformance over not only bonds, but also over almost any other asset class.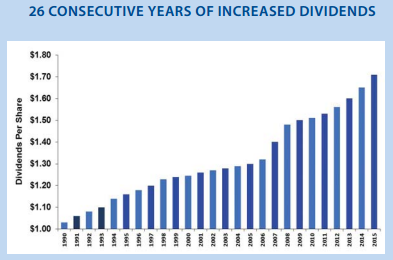 Source: NNN
At the same time, the cash flow has been very consistent and the dividend paid to shareholders substantial. Note that the dividend has been increased for 26 consecutive years and it did not even decrease during the Great Recession. This proves once again how low the cash flow risk is when the REIT is well managed and the properties well selected. Dividends were increased in the middle of the financial crisis when lots of bonds were defaulting!
NNN is widely diversified and owns over 2000 properties throughout the USA with a 99% occupancy rate. Its portfolio has a long average remaining lease term of over 11 years, a strong balance sheet and an investment grade rating from all major credit agencies.
Again, I am not here recommending you to invest in the share of National Retail Properties, I just wanted to use this example to illustrate the points that I made in the above comparison.
Final thoughts
The fundamental difference between a bond and net lease is much smaller than many think. Both have relatively low cash flow risk due to contractual agreements that protects the investor and provide predictable cash payments.
Bonds today in many cases are so overvalued that they not provide any real return after inflation and taxes to their investors. They do not provide any protection in case of severe unexpected inflation either and are at risk of large losses if eventually the interest rates would go back to historic levels. If today, you need the income and are unwilling to take additional risk, I would recommend you to study further the net lease market, which is a great alternative in my view.
A net lease can offer the stability of a bond investment with the return benefits of an equity investment. The risk profile is below than average, but returns have historically been superior to average. Isn't this exactly what everyone is looking for?
Disclosure: I/we have no positions in any stocks mentioned, and no plans to initiate any positions within the next 72 hours.
I wrote this article myself, and it expresses my own opinions. I am not receiving compensation for it (other than from Seeking Alpha). I have no business relationship with any company whose stock is mentioned in this article.