After last autumn's E. coli outbreak at Chipotle (NYSE:CMG) things are not as they used to be for the restaurant chain. Instead of rising comp sales Chipotle reports dropping comps, margins are substantially lower and instead of beating estimates Chipotle is missing them. Case in point: The most recent quarter, where revenues missed by 5% and EPS missed by 7%. Nevertheless I believe the second quarter was not too bad, and Chipotle's recovery is on track.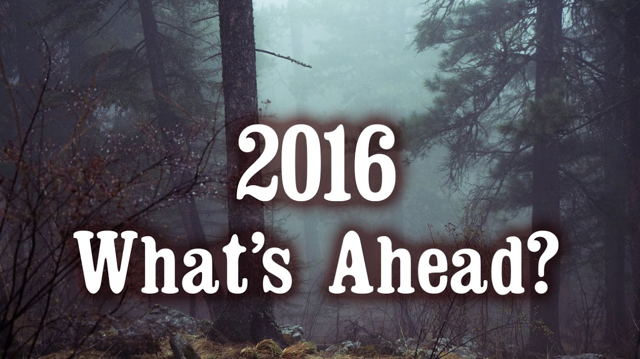 With revenues of $1.0 billion Chipotle reported a top line decline of 16.8% on a year on year basis, comprised of a comp sales decline of 24%, partially offset by a higher restaurant count.
The 24% same restaurant sales drop can be attributed to a 19% decline in traffic and a lower average price tag mainly due to promotions Chipotle offers to bring people back into their restaurants. One of Chipotle's promotional activities is Chiptopia, which was rolled out at the beginning of July (thus Chiptopia had no impact on Q2 results). Management has stated that Chiptopia led to a 200 to 300 base point increase in traffic already (in comparison to the June level), despite being rolled out just three weeks before the earnings report. This, in combination with Chipotle's overall comps trend, positions the company to report better results in the current (third) and the next quarter.
In Q1 comps declined by 31% yoy, in Q2 comps declined by 24% yoy. With the E. coli outbreak being further in the past and with the added traffic thanks to Chiptopia, I believe Q3 will show a comp decline of less than 20%, probably in the mid to high teens. July comp sales were down 19% yoy so far, with July traffic being down 15% yoy. Even if August and September comps don't improve further, the decline will be in the high teens area. In combination with more restaurant openings this could mean that revenues come in less than 10% below 2015's Q3 results (the comp sales decline - revenue decline difference was 700 base points in Q2).
The next positive is that Chipotle's restaurant level operating margin is in the mid teens again, well above where it was in the first quarter, and not too low in comparison to the operating margins we see from other restaurant chains.
From a free cash flow of -$1 million in the first quarter (made up by $62 million in operating cash flows minus $63 million in capital expenditures) Chipotle's free cash flow situation improved dramatically over the last quarter: Q2 operating cash flows totaled $117 million, capital expenditures totaled $64 million in the same quarter. This means free cash flows stood at $53 million, or more than twice as high as the company's net income.
With $270 million in cash and short-term investments, $370 million in long-term investments and no long-term debt at all, Chipotle's balance sheet remains very strong. Despite the E. coli induced crisis and a very fast pace of new restaurant openings Chipotle has hundreds of millions in the bank and keeps producing vast amounts of free cash flows. I expect Chipotle to continue its recent share repurchase activities as the cash position and free cash flows the company generates easily allow the company to do so. Chipotle's shares also are not really higher than they were when the company started its recent share repurchase spree, on which the company has spent $700 million so far (equal to about 5% of the company's current market capitalization), thus it would make sense for the company to continue repurchasing shares before share prices increase too far from the current level.
With the company's restaurant count barely above 2,000 and international expansion just having started, the long-term growth outlook remains good. Chipotle will very likely be able to increase its restaurant footprint by ~10% annually for years, and can additionally leverage its ShopHouse and Pizzeria Locale concepts much further.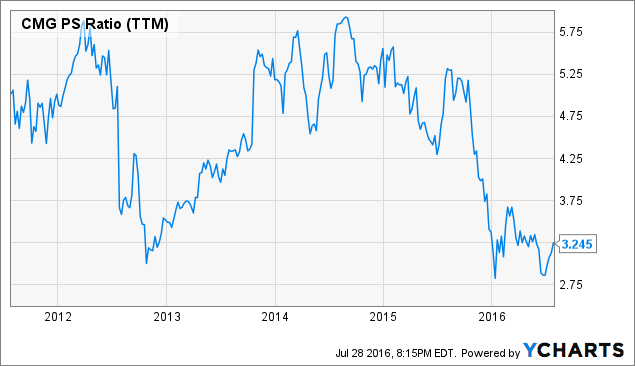 Looking at Chipotle's valuation we see that the company trades at 3.2 times trailing revenues, which is not a high valuation relative to how the company was valued in the past: At the end of 2012 Chipotle was trading around the current valuation as well, but apart from that Chipotle has been trading above $4 times sales most of the time over the last five years.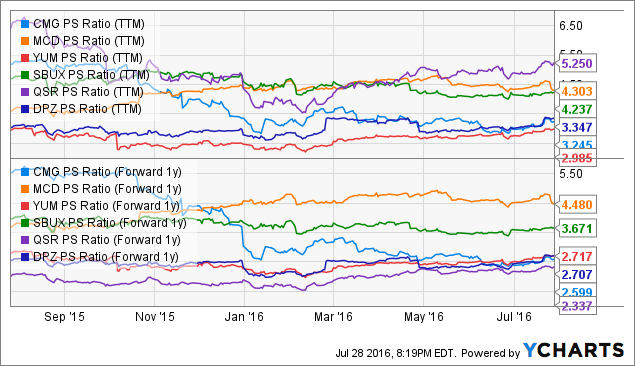 Chipotle's current valuation is not only rather low in comparison to how the company was valued in the past, it is also low in comparison to the valuations of its peer group. Among Chipotle, McDonald's (NYSE:MCD), Yum (NYSE:YUM), Starbucks (NASDAQ:SBUX), Restaurant Brands Int. (NYSE:QSR) and Domino's Pizza (NYSE:DPZ), the company has the second lowest trailing price to sales multiple (Yum is valued the lowest) as well as the second lowest forward price to sales multiple (QSR is valued the lowest).
I believe this shows a compelling valuation for Chipotle, which has a great track record, a good long-term outlook and which seems successful in overcoming the E. coli issues.
Takeaway
Chipotle missed estimates, but the second quarter's results show huge improvements over the first quarter numbers: Higher earnings, higher margins, better comps, positive free cash flows are all great, and management's comments regarding July comps are encouraging as well.
Investors can expect continuing shareholder returns thanks to high cash flows and a huge net cash position, and additionally the company's valuation is rather low in comparison to Chipotle's historic valuation as well as relative to the company's peers.
Disclosure: I am/we are long CMG.
I wrote this article myself, and it expresses my own opinions. I am not receiving compensation for it (other than from Seeking Alpha). I have no business relationship with any company whose stock is mentioned in this article.