In regards to my last article on Bloomin' Brands (NASDAQ:BLMN) I am downgrading my rating from 'Hold' to 'Strong Sell' as I along with other analysts such as Paul Westra from Stifel Nicolaus have a negative short to medium term view of macro-economic factors that will affect the restaurant industry.
The restaurant industry is often seen as the canary in the coal mine and is one of the first industries impacted from slowing global growth and sluggish employment trends. Furthermore, BLMN announced major investment plans that it has acted on in Brazil, which is currently experiencing bouts of strong stagflation, high unemployment and high inflation. This is negative for BLMN's bottom line although it is positive from a financing perspective as the stronger dollar helps keep costs low. However on net, the negative impact of weaker sales and high capex requirements is not a positive development which should chip away at earnings.
A survey released by Stifel Nicolaus also shows that the average decrease in comp sales of 150 to 200 basis points in 2Q16, which is the basis of their view that this is the start of a U.S. recession. Stifel also showed data that restaurants led the recessions in 2000 and 2008/09 as well. Here is the full list of downgrades by Stifel, it is worth noting that Stifel doesn't cover BLMN: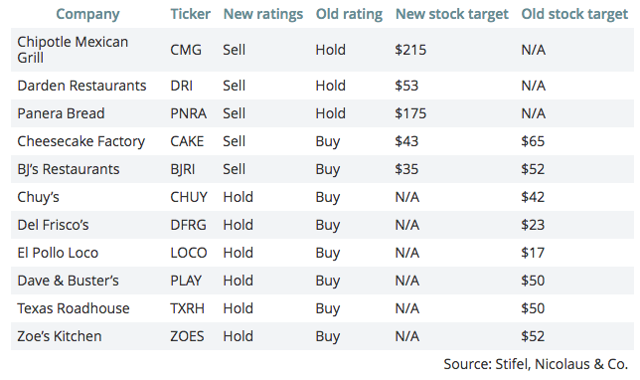 Furthermore, it is also apparent that comps sales are on a clear downtrend: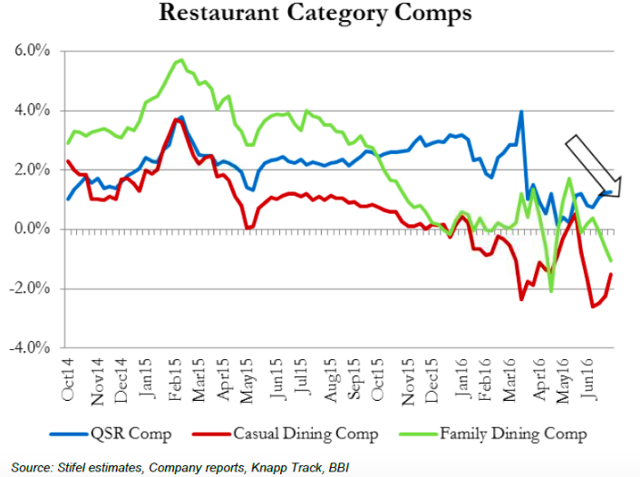 BLMN is under the Casual Dining Comp category (red line), which is currently experiencing the most negative sales among all restaurant categories.
There is also a clear divergence between the SP500 Restaurant index and the SP500 in aggregate, suggesting that areas more sensitive to discretionary consumer demand and more easily replaced by strong substitutes such as cooking at home are impacted first.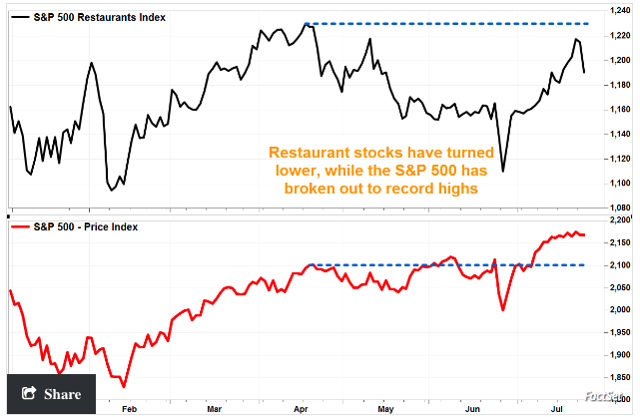 In summary, I am initiating a price target of <$10 over the next 18 months for BLMN and consider its risky investment in Brazil as a likely failure that will not be value-accretive due to the cost of capital outstripping the return on investment with a deteriorating Brazilian economy and Real that has no end in sight.
Disclosure: I/we have no positions in any stocks mentioned, and no plans to initiate any positions within the next 72 hours.
I wrote this article myself, and it expresses my own opinions. I am not receiving compensation for it (other than from Seeking Alpha). I have no business relationship with any company whose stock is mentioned in this article.