We had two (not so bold) predictions this week. One prediction was that the yen would jump after the BOJ meeting and the other that GDP would miss estimates today based on the Fed's dovish commentary Wednesday. Both materialized and are market risks.
Here's what we said this week on the Yen on July 26th:
The BOJ meets and will have an announcement to update their policy on Friday. We think the BOJ is totally maxed out. We've reported that the BOJ is running out of bonds to buy in Japan (Fed Prays). That tells us that whatever they decide to do this week, they are already at full throttle. That means the yen should strengthen against the dollar. Until recently there was a very tight correlation between a strong dollar/yen and a strong US stock market (NYSEARCA:SPY). For that reason we are bearish on US stocks. (Pepsi Max Rating)
Here's what we said on the GDP on July 27th:
We would guess that the change in [Fed] language that didn't change could mean that Friday's GDP number could be weak. The economy may not pick up in jobs and GDP. Inflation is picking up however. We think that underlying fundamental backdrop is for stock market risk.
Let's do a quick review of events today:
Yen is strong today.
The BOJ made no change to their bond buying plans and instead just said they will increase ETF purchases.
We reported several times that the BOJ is maxed out. There are no more bond SELLERS to buy from in Japan. That's why Japan went with ETFs instead of bond.
That has disappointed investors expecting a big stimulus boost that would weaken the yen. That disappointment is driving the yen higher.
Market Risk To A Strong Yen
We pointed out that the yen reaching and crossing below 100 dollar/yen is a major risk for a several of reasons:
1. It would frustrate Japan's policy makers that all their stimulus failed to drive the yen lower.
2. It will push a frustrated government to toy with the idea of weakening their currency. That will anger US finance ministers. Japan would be accused of being a currency manipulator. If it happens the US will levy penalties and tariffs against Japan.
3. 100 dollar/yen will be a chart breakdown of US dollar denominated investments for Japanese investors. They will more quickly sell those investments when they see this crossover point. It will remind them their investments are losing money.
Here's an amazing grid. This shows the amount of investment of US Treasuries by Japan. You can see it's just starting to turn down.
We think this has further to go on the downside especially if the dollar drops below 100 yen. Keep in mind this is despite Japanese investors having NO bonds to buy at home. Even with that they are selling bonds in the US.
| | | | | | | | | | | | | |
| --- | --- | --- | --- | --- | --- | --- | --- | --- | --- | --- | --- | --- |
| | 2015 | | | | | | | 2016 | | | | |
| $Billions | Jun | Jul | Aug | Sep | Oct | Nov | Dec | Jan | Feb | Mar | Apr | May |
| Japan | 1197 | 1200 | 1197 | 1177 | 1149 | 1144 | 1122 | 1123 | 1133 | 1137 | 1142 | 1133 |
| Month over month | -1.4% | 0.3% | -0.3% | -1.7% | -2.4% | -0.4% | -1.9% | 0.1% | 0.9% | 0.4% | 0.4% | -0.8% |
| Cumulative | -1.4% | -1.1% | 0.0% | -1.9% | -4.0% | -2.8% | -2.4% | -1.8% | 1.0% | 1.2% | 0.8% | -0.3% |
Behind China, Japan is the second largest US treasury buyer. There is no close third place buyer. If Japan sells it can move market rates higher even if the Fed doesn't raise rates.
Or, said another way, especially if the Fed doesn't raise rates to control inflation bond holders will sell as the inflation risk increases.
4. If Japan intervenes in their currency that will cause a currency war. Currency volatility is a market risk and usually associated with down markets.
Here's the yen. We said earlier in the week that we thought the yen would fall back within the down trend. It did. We expect it to continue down and test that 100 mark. That is a serious market event.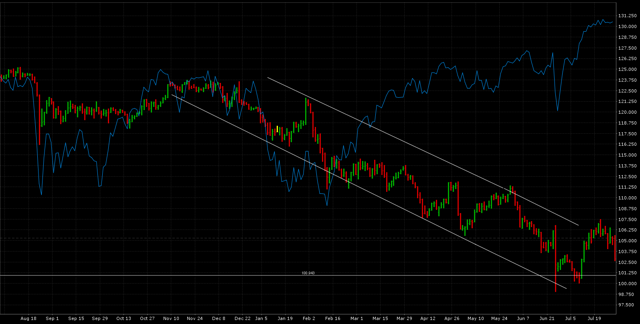 When the yen reaches down to that 100 mark we think it will cause Japan to increase their desire to intervene with the currency. We think it will cause Japanese investors to sell the US market.
We think 100 dollar/yen is a market risk event.
GDP Missed Estimates
We put out a quick note around 3pm yesterday when we realized the Atlanta Fed dropped their GDP target. They are heavily watched.
We wrote earlier this week that we thought the 2.6% GDP estimate could be high. We thought that because the Fed sounded much more dovish than any of the Wall Street Journal Fed-preview-leaks earlier in the month.
Here's the GDP chart. It's slowing.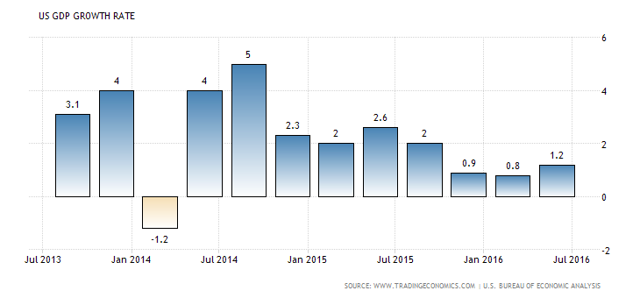 The estimate of 2.6% actually came in at 1.2%. That is a huge miss. It even missed the Atlanta Fed's estimates that they lowered smack in front of the GDP report.
Look at the last seven months. What do you see? I see little waves up and down but progressively slower.
We said earlier this week (here and here) that we thought the Fed's more dovish language could be because they already had this number in hand on Wednesday.
Despite the mounds and mounds of global quantitative easing nothing is working. That is a major economic risk. If these GDP numbers continue to slow there are no more monetary tools to drive growth. (I hear Jaws music as these GDP waves get smaller and smaller).
This confirms for us that the breakout was a short squeeze.
The breakout of the market post July 8 jobs was a short squeeze of massive proportions. The market is not being driven by fundamentals.
Here's the chart of the massive options interest into Brexit and July 8th's jobs report.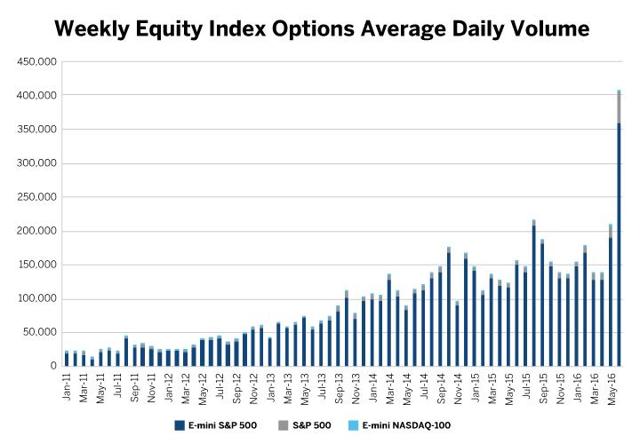 Source: CME.
This massive options position was likely caught short going into Brexit. They needed to cover on July 8th. The July 8th jobs move was not because investors loved the number.
The smoothed jobs number confirms a slowdown just like GDP
The jobs number was a 2 month slowdown (as we've shown repeatedly) making the last three months clearly slower than any time in the last year.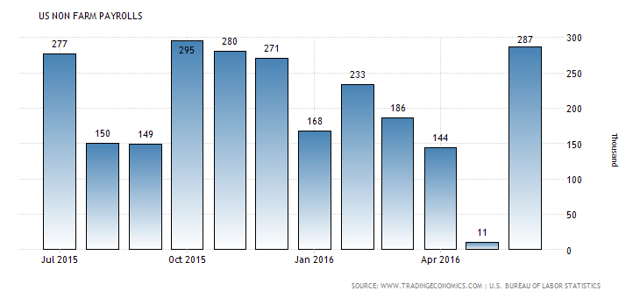 Smoothing out the strike in May and June gives you 149. 149 for two months plus the 144 in April was slower than any time in the last year.
We can now see that just like the jobs numbers the GDP numbers are also proving to be slow.
That is not a good economic scenario.
Inflation making US yields the worst in the world!
That slower jobs and GDP growth is in the face of faster inflation.
PCE, the Fed's core measure has picked up recently. It reports again August 2nd. Nobody cares but if it continues it will raise yields on their own with out Fed help.
Conclusion
Slowing growth, rising inflation, selling foreigners, is not a recipe for up markets. Even past bubbles were associated with growth. This bubble is not.
We remain bearish.
Please be safe.
If you want Elazar's analysis on Seeking Alpha, scroll to the top of the article and hit "Follow." Elazar also writes real-time pieces as news is reported. If you want to be among the first updated check the box for "Real-time alerts on this author" under "Follow."
Disclaimer: All investments have many risks and can lose principal in the short and long term. This article is for information purposes only. By reading this you agree, understand and accept that you take upon yourself all responsibility for all of your investment decisions and to do your own work and hold Chaim Siegel, Elazar Advisors, LLC, bestideas, their related parties, and its authors harmless.
Disclosure: I am/we are short SPY.
I wrote this article myself, and it expresses my own opinions. I am not receiving compensation for it (other than from Seeking Alpha). I have no business relationship with any company whose stock is mentioned in this article.