J.C. Penney Corporation (NYSE:JCP) announced on Thursday, July 21 an imminent corporate governance change and will appoint current Chief Executive Officer Marvin Ellison, 51, to the additional role of Executive Chairman of the Board. Ellison will officially succeed his mentor and former JCP CEO, Myron "Mike" Ullman, beginning August 1. This transition comes as no surprise, as it falls right in line with the firm's strategic turnaround plan designated in 2014.
Ullman served as the JCP CEO from 2004-2011, prior to the appointment of Ron Johnson, previously an executive from Apple (NASDAQ:AAPL) and Target (NYSE:TGT). Johnson's controversial tenure, an attempt at a radical revitalization of the JCP brand, resulted in a series of negative comp-sales, massive accumulation of debt, and a personal absence from the wall of former CEO portraits at the JC Penney headquarters. While CEO of JCP, Johnson commuted by private jet to the TX headquarters several days a week. Johnson was eventually fired in 2013, after a 51% decline in the share price. Ullman was brought back on board immediately, hired Ellison, and the transition began. In August of 2014, Ellison was appointed CEO, while Ullman remained as Chairman to serve as a mentor throughout the leadership transition.
According to Ullman, "Over the past year and a half, (Ellison) has proven himself to be the right leader for our Company, as we have made significant progress in implementing the changes needed to rebuild JC Penney into a successful, modern retailer with a profitable and sustainable business." Ellison's early success with his turnaround plan earned him great respect among retail executives.
The below chart shows the fluctuations in JCP's stock price over the past year, as well as the significant downward trend in the debt-to-equity ratio, during Ellison's first as the JCP CEO. The holiday season earnings were described as Lazarus-like, with the stock soaring, along with a 25% plummeting of short interest in JCP shares.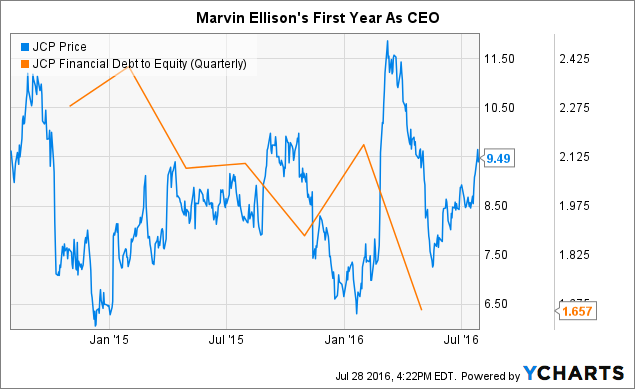 Following the positive surprise JCP's Q4 '15 earnings was a quarter with an earnings slump across a slew of retailers, including competitors Macy's (NYSE:M), Kohl's (NYSE:KSS), and Gap Inc (NYSE:GPS). This impacted JCP, as well, with the stock price dropping from a spring high of nearly 12 to 7.26 by May 16. JCP missed their top-line expectations for Q1 '16, but topped bottom-line estimates. The stock since has recovered some of the losses, closing at 9.49 on July, 28.
After Ellison takes on additional responsibility with the dual-role as Chairman/CEO, Ullman will retire. Ellison joined JCP in 2014 after a tenure as Executive Vice President of The Home Depot Inc.'s (NYSE:HD) U.S.-based stores. Prior to his Home Depot role, Ellison spent 15 years at Target Corporation in operational and assets protection roles. Originally a Tennessee resident, Ellison has his BA from the University of Memphis and his MBA from Emory University.
Under Ullman's mentoring, Ellison's three key strategic priorities for turning around the JCP brand are now: private-label brands, revenue-per-customer, and omnichannel growth (a particular focus on the e-commerce side). Ellison has previously stated his ultimate strategic objective of achieving $1.2B EBITDA by FY '17.
A major obstacle to achieving this objective is the current amount of debt, particular in ratio to EBITDA. As of April, JCP had the highest debt to EBITDA ratio (10.1) of any major department store chain. This contrasts severely with the ratios for major competitors such as Macy's with 2.3, Kohl's with 2.0, Nordstrom (NYSE:JWN) with 1.6, and Dillard's (NYSE:DDS) with 1.2.
One of the major strategic financial initiatives taken to reduce the EBITDA ratio has been restructuring and reduction of the massive debt accumulated during the Johnson era. In June, JCP completed the refinancing of its secured debt, which combined with other changes, is expected to result in $110m reduction in annual interest savings annually. The company has also done a sale/leaseback deal on their sprawling corporate campus that is far too large for the company's current corporate employee count of ~3000, nearly half of it's peak after a series of layoffs over the prior few years. The campus lease deal will also contribute to an immediate reduction in debt.
Other initiatives under Ellison's impressive tenure to drive top-line sales have been the re-introduction of appliances after a thirty-year-plus hiatus, in addition to new partnerships with private companies Ashley Furniture, Empire Flooring, and Sephora. A re-focus on the home division has been a major priority, as consumers shift spending away from apparel.
In the official company statement, Ellison, who also serves as a director on FedEx's (NYSE:FDX) board, commented, "Mike has demonstrated great leadership, twice as CEO, and for the past year as our Executive Chairman. For someone who started his retail career as a $4.35 per hour store security officer, it is a blessing and an honor to be named Chairman of JC Penney." With Ellison now taking full control with his added Chairman role, JCP investors can only expect his strategic transformation of the JCP brand to accelerate, as more initiatives will undoubtedly follow.
Disclosure: I/we have no positions in any stocks mentioned, and no plans to initiate any positions within the next 72 hours.
I wrote this article myself, and it expresses my own opinions. I am not receiving compensation for it (other than from Seeking Alpha). I have no business relationship with any company whose stock is mentioned in this article.