By Scott Tzu
It was only days ago that we wrote an article asking whether or not BlackBerry (NASDAQ:BBRY) had some hidden catalysts going forward or whether the stock was simply going to be dead money from this point on. We concluded that, while the company has been dead money for a while, that would likely not be the case in the future.
Since that article, shares have appreciated meaningfully, to the tune of almost 15%.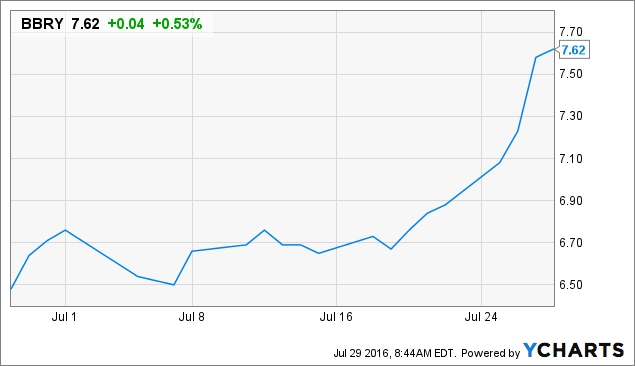 BBRY data by YCharts
Over the last two days, since writing article, we received two nice pieces of validation to our thesis that BlackBerry may not be dead money after all.
First, the company is pushing forward with another one of its Android-based (NASDAQ:GOOG) (NASDAQ:GOOGL) phones that it had already announced it was going to release.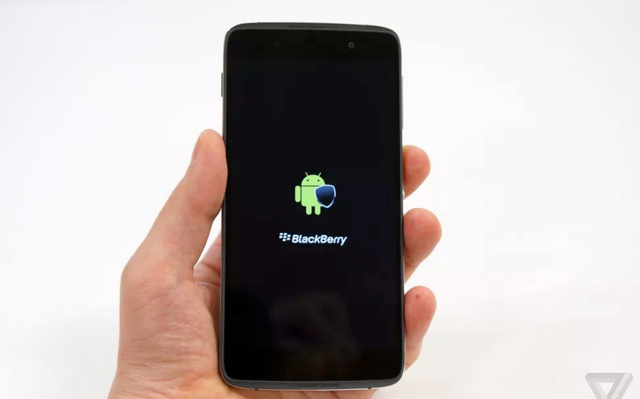 (source The Verge)
The DTEK50 is supposed to be the most consumer ready and most secure way to use the Android operating system. The phone itself has received "pretty good" first reviews as the Verge reported,
What company in 2016 advertises a phone as having a touchscreen? BlackBerry does. Now, I know it's because the Canadian mobile granddad distinguishes between its keyboard and touch devices, but does that really need to be on the box?

BlackBerry is this week introducing its second Android handset, the DTEK50, which is being promoted as "the world's most secure smartphone." I've just gotten to try it out for myself and it has frankly surpassed my expectations. If BlackBerry could just get out of its own way and present its devices without trying to inflate pedestrian features, I think the company might have a pretty good device on its hands.
This suggests that John Chen thinks that the hardware segment has, or eventually will, bottom and that the company is not going to give up its hardware segment despite focusing mainly on software.
There's more to come, too. Verge reported that BlackBerry has three new Android phones that it is prepping for release:
BlackBerry isn't ready to give up on Android. The company is reportedly planning to release three new Android phones this year, which will come out one per quarter for the next three quarters, according to VentureBeat. That's a lot of Android on BlackBerry, especially considering the company's first Android phone, the Priv, completely flopped this past year. The company only sold 600,000 units during its first quarter of 2016.
Like the article says, Chen wants to gain trust through security in hopes that their cash will follow. The primary goal can remain software, though.
For instance, we saw it as a net/net positive that although Blackberry phones are out of the U.S. Senate, that the company secured a software contract with the U.S. Senate. This is the direction the company wants to move in.
Speaking of software, it also was reported yesterday that Apple (NASDAQ:AAPL) had poached a BlackBerry executive for use in its self driving vehicle segment. Popular Science reported,
Apple is back at it again, ramping up its efforts to develop a self-driving car. The company has hired Dan Dodge, former head of Blackberry's automotive software group, according to Bloomberg.

This hire marks a shift in strategy for Apple, says a Bloomberg source familiar with the project's plan. The project will focus less on building an Apple-specific car - though this will not be abandoned - and more on developing an autonomous operating system.
Now that we know it's about the software in the car and not about the car itself, BlackBerry gets a little more interesting as a candidate. Especially because QNX is already a main player in in-dash systems. Look at these QNX projections from Statista.
Projected global QNX automotive infotainment operating system sales from 2011 to 2020 (in 1,000 units)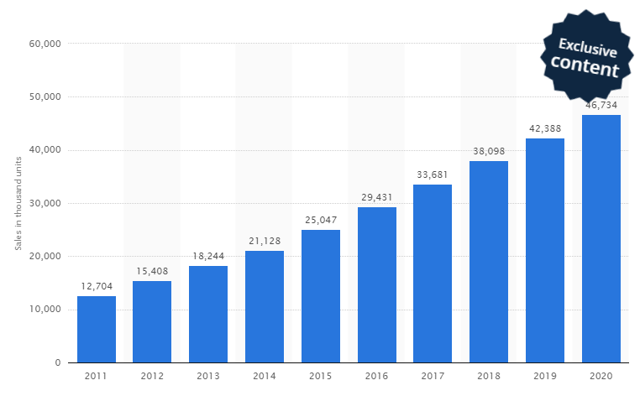 This statistic gives a forecast of worldwide QNX automotive infotainment OS sales from 2011 to 2020. The forecast shows that such sales will exceed 25,000 units by 2015. Many passenger cars are equipped with different operating systems for the various devices installed in modern motor vehicles, including navigation and driver-assistance systems, in-car smartphone holders and entertainment systems.
Previously, in a different article we had speculated as to whether or not BlackBerry was looking at Apple executives or vice versa based on the location of one of Apple's new autonomous driving vehicle project buildings, which was located in the same office complex as BlackBerry. The idea was laughed at back then and we think the article may have actually been denied for publishing because it was such a stretch. Now, it seems like it isn't.
This poaching of an executive, while probably not an overtly positive item for BlackBerry, lends credibility to the company's extremely popular QNX operating system that is finding its way into a majority of smart car in-dash systems.
It is easy to try and discount BBRY and say that they don't have anything going on, but it is clear that a lot has been going on behind the scenes. Chen seems committed to his vision of having at least one or two hardware offerings and the company's involvement in the in-dash segment of the automotive market means that not only are larger companies like Apple paying attention to it, but that BlackBerry itself has real chances for growth by firming and solidifying QNX use in vehicles.
This news was promising. We saw the price of the stock move up significantly just over the last three days, from the mid six dollar region to the mid seven dollar region.
As we stated in our last article,
The bleeding will stop at some point, and while revenues may fall even lower, the company does not need a robust top line for its stock price to appreciate. We think that since Mr. Chen is compensated millions in stock, he is very aware of this. The company really only needs to carve out a section of its business to produce high margin profitability. Anybody in the technology sector will tell you that any type of "software as a service" is going to produce those margins. The only question now is whether or not Chen is going to be able to execute and make it happen, eventually.
As investors, we continue to like that BlackBerry has a significant sum of cash on hand (over $2.2B) and we continue to be optimistic about the company finally curbing some of its losses and poor performances and certain segments.
BlackBerry is showing signs of promise.
Disclosure: I/we have no positions in any stocks mentioned, and no plans to initiate any positions within the next 72 hours.
I wrote this article myself, and it expresses my own opinions. I am not receiving compensation for it (other than from Seeking Alpha). I have no business relationship with any company whose stock is mentioned in this article.